Jewelry Buying Guide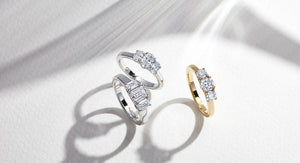 Buying jewelry can be an overwhelming process but it doesn't have to be. With a little bit of research, it's easy to determine what would make a great jewelry gift or would be a good purchase for personal wear. When choosing jewelry, it is a good idea to focus on the style, quality and look of the piece. It should match the personality of the wearer and be something that is comfortably within your budget.
TABLE OF CONTENTS
Gemstone Varieties
Natural Gemstones
Gemstones come in many varieties. They can be natural, lab-created, or imitation. Natural gemstones are mined from various locations around the world. Oftentimes, colored gemstones like rubies and emeralds can be enhanced by heat treatment to improve their color and clarity. Moreover, these treatments are typically permanent. Other types of treatments may not be permanent, so it is always important to ask about the quality of the natural gemstone.
For colored gemstones, many jewelers will grade the gemstone based on characteristics like color, clarity and sparkle. For colorless/white diamonds, it is best to purchase GIA or IGI certified diamonds that are graded based on their cut, color, clarity, carat, and other qualities. Understanding the quality of the natural gemstone being purchased helps to make a better purchasing decision. With Clarity strives to use only AAA certified, high quality gemstones that are all natural. Most With Clarity gemstones have been heat-treated, which is a permanent process. Curious to know which certain gemstones in the market are treated, and what typical method(s) give their gorgeous beauty? Access our comprehensive chart:
Laboratory Created Gemstones
Manufactured or lab-created gemstones can have the same physical qualities and will most likely look the same as natural gemstones. However, with testing a gemologist can help you truly recognize the (even miniscule) differences between a natural gemstone and a lab-created gemstone. We must say though, lab created gemstones do not have the same value and rarity as a natural gemstone. Natural gemstones can take billions of years to form, whereas lab gemstones can take form in a few weeks depending on type and carat weight.
Imitation Gemstones
Other jewelers can also use other materials to create gemstone look alikes. These can be made with materials like glass, cubic zirconia, or other materials to give the look of a gemstone. However, these alternatives do not have the value and sometimes even the visual appeal of natural gemstones. We would recommend this option to those who are on a small budget, or are in the market for fashion gemstone jewelry.
Gemstone Jewelry Metals
Gemstone Jewelry is typically set in precious metals like gold and platinum. Generally, 14kt gold and 18kt gold are the preferred metals when it comes to gold. This is because they have the optimal blend of purity and durability. Anything below 14kt may not have the durability or the beauty of 14kt and 18kt gold. With Clarity crafts jewelry with high quality and eco-conscious white gold, yellow gold, rose gold, and platinum.
White Gold: Has a silvery-white gleam and is typically plated in rhodium, another white metal, for an added layer of shine and durability.
Yellow Gold: A classic and traditional choice that has a warm golden glow.
Rose Gold: A unique choice that has a metallic pink hue.
Platinum: A premium metal that is both durable and dense. It is a heavier metal and is a great choice for engagement rings and wedding bands
Metal combinations & pricing
All metals look beautiful with most gemstones and diamonds. To help get you started with some inspiration, some popular combinations are diamonds with platinum. When considering pricing, 14kt gold is the most affordable, while platinum is the most expensive. Metal pricing is dependent upon how rare the metal is. All metals used by With Clarity have a guarantee of durability and quality. Moreover, we try to use eco-friendly sources of metal.
Gemstone Jewelry Styles: Necklaces & Earrings
Necklace Styles
Gemstone jewelry comes in many varieties and styles. When choosing jewelry, it is important to select a piece that has lasting appeal, value, and durability. Necklaces come in many varieties and can be simple or complex. The most simple varieties are solitaire styles that have a single gemstone held by a bail on a chain. Complex varieties can have several gemstones, and diamond accents. Simpler necklace styles can be worn on a daily basis with nearly any outfit. Since only durable and precious metals are used to craft necklaces, they can withstand daily wear.
Earring Styles
Earrings are also available from simple to complex styles. Simple styles are gemstones or diamonds that come in a variety of shapes and are held on the ear with a post backing. These are fuss-free and perfect for everyday wear. They are a great complement to casual outfits. But larger sizes and fancy shapes like princess, and cushion can be used to complete a formal outfit.
Earrings also come in many varieties like hoop. Finding a look that you love, is the first step in differentiating among these many styles. Classic combinations are diamonds paired with gemstones for alternating color and pattern. Finally, bands and rings can be beautiful purchases. Whether they are additions to an existing set or an upgrade, there are many options available.
Gifting By Occasion
Jewelry can be a great gift for an occasion since it is a gift that will stand the test of time and bring delight to the wearer. While any jewelry can be perfect for any occasion, there are some varieties that are more popular for certain times. We also linked some curated gifting catalogs to make it easier!
Anniversaries
For relationship or wedding anniversaries, many choose to gift a diamond band. The number of diamonds on the band can commemorate the years spent together. Or, the diamond band can be an upgrade or addition to an existing band and ring set. Other popular gifts for anniversaries are gemstone jewelry like gemstone rings. For certain wedding anniversaries, particular gemstones are traditionally given. Although jewelry of any kind is welcome, most prefer to gift pendants or earrings. Halo styles are especially popular as they have both significance and wow factor.
Birthdays
Birthdays are another great occasion for jewelry gifting. Pendants, earrings, and rings are all popular gifts for this occasion. Typically, it's a good idea to choose their favorite gemstone, so they are more likely to wear it everyday. With Clarity recommends these popular gemstones: (natural or lab) diamond, blue sapphire, and ruby. They can be a memorable gift that is gorgeous for special days or daily wear. Other popular gifts are those that correspond with the birthstone for that month (check out our Birth Gemstone Chart). This tradition began in ancient times where the month of birth determined which would be an ideal gemstone to wear and provide luck/good fortune to the wearer. Earrings or pendants are an excellent choice to showcase birthstones.
Push Presents
Many choose to commemorate the birth of a child with jewelry. Jewelry can be a sentimental reminder of that precious and special time. Furthermore, selecting the birthstone of the child is an excellent way to create a beautiful memory. Halo earrings can carry special meaning. However, during this occasion, it is especially important to get a piece of jewelry that the parent and/or mother likes to wear. So be sure to focus on her style and taste.
Valentine's Day
Valentine's Day jewelry can be a special way to celebrate your love. Red colored gemstones like ruby and garnet are traditional gifts. We also recommend getting jewelry that has some sentimental meaning such as an These styles represent your unique love story. Earrings can also be great gifts. Not only will she be able to wear them everyday, but she will also treasure them as a staple in her wardrobe.
Or perhaps, Valentine's Day is also a chance to show some love for yourself! No worries, we got you covered too! Show up for yourself by gifting something you find gorgeous. The options and possibilities are endless when you are shopping for yourself.
Mother's Day
The key to any mother's heart is a beautiful piece of jewelry. Finding something that reflects her tastes will be something she truly treasures. Key pendants, solitaire pendants are great ideas. We recommend timeless styles that can be worn or passed down for generations to come. Many also choose to gift their mom's favorite color gemstone like green peridot or purple amethyst.
Graduation
Graduation from school or college is a big step towards entering the "real world." A classic jewelry gift can be a great way to celebrate. Choose jewelry that is a classic addition to his/her wardrobe. Something that they can wear to work or interviews, or even as an upgrade to daily outfits. We recommend stud earrings or solitaire pendants. In a classic sapphire or ruby, they can be striking and memorable. For the most timeless gift, diamond studs can be a perfect lifelong addition to her jewelry collection.
FAQs
What is the best way to clean jewelry?
The best way to clean jewelry depends on the type of jewelry and material it is made of. However, some common methods include:
1) Soaking in warm soapy water
2) Use a soft-bristled brush and mild soap to gently scrub
3) Wiping with a soft cloth and jewelry cleaning solution
4) Ultrasonic cleaning
It's important to avoid harsh chemicals, extreme heat, and rough handling, as these can damage delicate jewelry.
What does a warranty typically cover in jewelry?
A jewelry warranty typically covers defects in materials and workmanship. This can include issues such as broken clasps, loose stones, and tarnishing. Some warranties may also cover accidental damage, such as a broken chain. However, wear and tear, loss, and theft are usually not covered. It's important to review the terms and conditions of the warranty before making a purchase, as coverage may vary depending on the jewelry brand and retailer.
What is the best type of jewelry to gift?
The best type of jewelry to gift depends on the recipient's personal style, taste and preferences. Some popular options include:
1) Necklaces are a versatile option and suitable for almost every type of occasion. A diamond solitaire pendant, especially, is something you can't go wrong with.
2) Rings are a classic gift that can be sentimental or fashion-forward. Consider adding the birthstone of the recipient to make it more special.
3) Earrings, especially hoops, are always a chic option that can be dressed up or down.
4) Bracelets with symbolic charms are timeless gifts that can be worn frequently.
5) Personalized jewelry is another way to make a lasting impression. You can consider opting for a monogrammed necklace or an engraved bracelet.
It's also important to consider the recipient's lifestyle and preferences for metal types (e.g. gold, silver, rose gold) and gemstones. A thoughtful gift should reflect the person's individual style and make them feel special.
What type of jewelry is best for daily wear?
For daily wear, jewelry that is durable, comfortable, and low maintenance is best. Some popular options include:
1) Stud earrings: A simple and classic option that is comfortable and easy to wear.
2) Chain necklaces: They are versatile and can be dressed up or down.
3) Bangle bracelets: A stylish option that is easy to slip on and off.
4) Hoops: They can be worn for casual or dressy occasions.
It's also important to consider the type of metal used, as some metals may cause skin irritation or react with other products. Choosing hypoallergenic options, such as stainless steel or titanium, can reduce the risk of skin irritation.