All About Hailey Baldwin Bieber's Engagement Ring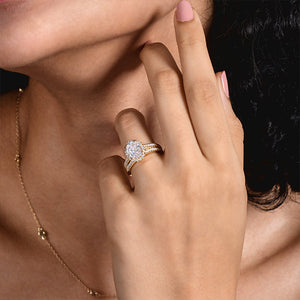 Hailey Baldwin Bieber 
Hailey Baldwin Bieber has been engaged to Justin Bieber since the summer of 2018, after knowing each other since 2009. Hailey Bieber is an American model born in 1996 that inspires millions of people around the world.
Celebrity fashion and beauty trends have always been a source of inspiration for many, and engagement rings are no exception. Hailey Bieber's impressive and stunning engagement ring immediately caught people's attention worldwide.
Let's discuss in depth all the details that make Hailey Bieber's ring such a showstopper.
Everything You Need to Know about Hailey Bieber's Engagement Ring 
Diamond Cut
The cut of Hailey Bieber's engagement ring is an oval cut diamond. The elongated design of the oval cut is known for making the diamond appear even larger than it actually is. The oval shape also naturally helps the wearer's fingers look thinner.
Carat Weight
The exact carat weight of the diamond on Hailey Bieber's engagement ring is still unknown, but experts estimate it to be somewhere between 6-10 carats. This comes at an approximate cost of $500,000.
Setting of the Ring
Hailey Bieber's engagement ring has a traditional and classic setting - the solitaire setting. This is where there aren't additional diamonds on the band, just the solitaire main diamond. It's a stunning setting where the diamond is the main focus.
Metal and Band Style
The band of Hailey Bieber's engagement ring is the most common traditional yellow gold. More specifically, 18k yellow gold. 
With Clarity Engagement Ring Alternatives
If you are inspired by Hailey Bieber's engagement ring, we've put together a list of amazing With Clarity alternatives.
Conclusion
No matter what engagement ring you decide on, ultimately it needs to be unique to you and your preferences. It's okay to be inspired by celebrity engagement rings, as long as you ensure that your sparkler represents your personal relationship. This is where ring customization by With Clarity comes into the picture.
Where you buy your engagement ring from is extremely important. It should only ever be a brand like With Clarity that allows you to Home Preview any two engagement rings of your choice.
With Clarity also has free shipping, hassle-free returns, and a lifetime warranty. Something like a lifetime warranty should be non-negotiable for something as important as an engagement ring. With Clarity also provides consultations with diamond experts that help make your engagement ring shopping experience a breeze.


FAQs
Which is the best cut for a solitaire engagement ring?
There are a few cuts that work well for solitaire engagement rings, however, round, brilliant-cut diamonds are the most popular option. Other cuts that work well include the cushion cut, oval cut, pear-shaped cut, and the princess cut.
How much should you spend on an engagement ring? 
The amount you spend on an engagement ring should come down to your budget, along with your partners' preference. You can usually always find something that fits within those guidelines. The average cost for an engagement ring is over $6,000. However, many couples spend between $1000 to $5000 on their engagement ring.
What does a solitaire engagement ring symbolize?
The solitaire engagement ring is one of the most popular options for a reason. One of these reasons is what it symbolizes. Traditionally, it's been known for showing eternal love and dedication towards the love of your life. Additionally, it symbolizes commitment and faithfulness, making it such a great option for an engagement ring. Purity and strength are also characteristics of the solitaire ring, which is exactly what most couples want and need in a marriage.

Which is the most popular diamond cut for an engagement ring?
The most popular diamond cut for an engagement ring is the round brilliant diamond. They provide more sparkle than any other cut due to the way light reflects off them. Their shape is universal and works in almost, if not all setting styles. It's a classic diamond cut that will never get old.