What Is a Channel Set Engagement Ring and Are Channel Set Diamonds Right for You?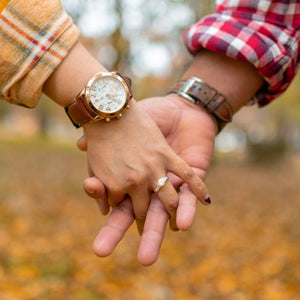 No pressure: How many types of settings for engagement rings can you name? Most people have heard of a few styles — halo, solitaire, pavé, maybe even the occasional split shank. But there are a lot more styles out there, which means you have a world of opportunities to customize your ring so it fits the person who's going to wear it forever. One of the most underrated is the channel set engagement ring.
What is a channel set engagement ring?
A sophisticated, classic and versatile choice, the channel set engagement ring is essentially a type of pavé engagement ring. (Remember, pavé is from the French word for "paved," as in paved with diamonds, indicating a number of small stones set closely together to create a field of sparkle.)
In this setting, a row of small stones is set in a channel, or groove, within the band, so the gems are bordered by two bands or rows of metal. Because of the secureness of the design, channel set stones don't have prongs or bars between them to hold the gems in place. This creates a clean, bright look. There are many options for accent stones, but princess cut stones are most common for channel settings.
Benefits of a channel set engagement ring
Why should you consider a channel set engagement ring? Two words: Maximum sparkle. The accent stones make for a gorgeous effect. Even better: You can get more sparkle for less money, because smaller accent stones are cheaper than a bigger center stone. Choosing a channel setting might allow you to save money on the focal stone while ensuring that your ring remains a showpiece.
Channel set engagement rings are also easy to clean. Because there are no prongs or bars between stones, it's harder for dirt and germs to make their way in. Aggressive cleaning isn't necessary, and the secureness of the setting ensures the stones will withstand a routine freshening-up.
And how much do you value your peace of mind? Because channel settings are the most secure of pavé bands, you're less likely to lose an accent stone (and less likely to have to replace all of them to ensure they match). So you can have confidence that a channel set ring is up for everyday wear.
How does the price of a channel set engagement ring compare to pavé?
The price of a channel setting depends on a few factors. Aside from the main stone, the price can fluctuate depending on the number and size of accent stones. You can game the system a bit to keep the price within your budget while maximizing sparkle and preserving the overall effect.
Comparison #1: This channel set is actually cheaper than this very similar pave ring. But they have similar sized stones on the band.
Comparison #2: This other channel set is more expensive than this similar pave ring because the side stones are much larger.
The prices of channel set wedding bands can differ for the same reasons.
Who should consider a channel set engagement ring?
Although the primary concern when shopping for an engagement ring is whether you're going to love wearing it everyday, there are some secondary factors to consider. A channel set engagement ring might be the perfect choice for you, even if you've never heard of it before now, if any of these apply to you:
People with active jobs where their rings could get banged around or dirty. Check out our guides to the best engagement rings for teachers and the best engagement rings for nurses and doctors.
People who want more sparkle but can't afford a big center stone. The accent stones in a channel setting will create a beautiful field of shimmer and, like all pavé settings, can make the focal stone look larger.
People concerned about the security of their accent diamonds.
Anyone who just likes how channel set looks! And if you do, you're not alone. Channel set engagement rings are universally beloved and utterly timeless — classic without being staid, attention-getting without being ostentatious.