A Guide to Buying a Custom Gemstone Engagement Ring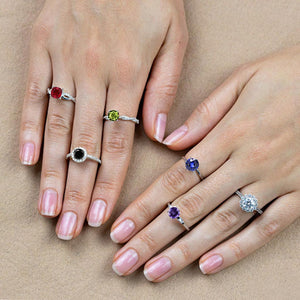 Do you wish for an engagement ring that shines brightly? Or do you simply want a great diamond alternative? Whatever you want, consider it granted with a custom gemstone engagement ring.
Gemstones are quite popular because they make a splendid alternative to diamonds for people who want a splash of color. Engagement rings are emotionally significant pieces of jewelry, and it is no wonder that people want them to be as exquisite and unique as possible.
Fortunately, there are plenty of options in gemstone engagement rings for women and even men to choose from. If you're looking for the most popular gemstone options, here are some you should consider.
Popular Gemstones
Moissanite
Naturally-mined moissanite is very rare so what you will find most commonly now is lab-created moissanite. It is a diamond stimulant, is an excellent thermal conductor, and scores 9.25 on the Mohs hardness scale.
Moissanite is environment-friendly, cheaper per carat, and also an ideal choice for daily wear. Although they categorize as colorless, they can project a grayish or even yellowish hue.
Blue Sapphire
Blue sapphire is one of the most popular choices in custom engagement rings and vintage engagement rings. Sapphires come in an array of rainbow colors, including blue. As for our favorite blue sapphire, it weighs 9 on the Mohs hardness scale, meaning that it is highly durable.
The natural blue sapphire can also be violet or greenish-blue shade, while lab-grown blue sapphires are without tint and sport the purest blue shade.
Ruby
Ruby has been the king of gemstones for centuries. They fetch the highest price per carat against all colored gemstones. They can change hues from purplish-red to orange-red. Rubies often undergo heat treatment to make their color more intense, while incandescent lighting can make them appear deep red.
Weighing 9 on the Mohs scale, rubies are also incredibly hard and durable.
London Blue Topaz
A London blue topaz is typically darker than Swiss blue or topaz or aquamarine, sporting a unique medium blue shade. It weighs 8 on the Mohs scale, meaning it is slightly less hard and less durable when compared to other gemstones.
Blue topaz is very rare naturally, so it has to undergo heating treatment to get that dark blue shade.
Peridot
Peridot is only available in green color and can range from lime green to green with a tinge of brown. It has a medium hardness, weighing 6.5 to 7 on the Mohs scale.
Aquamarine
Belonging to the gemstone family of Beryl, aquamarine is typically available as a pale soft blue shade. People popularly refer to it as the gem of the sea, with its excellent clarity and a bright sparkle. Most aquamarines in the market today are faceted, but jewelers commonly cut these as cabochons too.
For an aquamarine crystal to feature the intense blue color, it must weigh more than five carats.
Amethyst
Amethyst, highly valuable mineral quartz, features a range of purple hues. It's a semi-precious gemstone featuring medium hardness with a score of 7 on the Mohs scale.
Black Diamond
Beautiful and unique, black diamonds get their color from dark inclusions present in the gemstone. Most black diamonds undergo heat treatment and are extremely hard, with a score of 10 on the Mohs scale. Highly durable, black diamonds are a statement piece in any jewelry.
Customization Process
Engagement is the most momentous occasion in a person's life. It is only befitting to have jewelry that does justice to the emotional significance of that day. What could be better than a custom gemstone engagement ring?
Fortunately, at With Clarity, you have the advantage of customizing your ring. Here you can get your dream gemstone engagement ring. With us, you will not have to pay any fee for the design process nor face an obligation to purchase.
From allowing complete contribution from start to finish to promising excellent clarity, you will find everything you need at our store.
Here are the steps to follow to customize your dream ring:
1. Start by sending a detailed description or image of your dream custom diamond engagement ring.
2. We will provide a free quote based on what you send.
3. We will send a 3D-modeled real picture of your ring. Your feedback and revisions will be welcome at this point.
4. With your permission and approval, we will initiate the ring-crafting process and keep you updated along the way.
Popular Gemstone Shapes
Once you have decided on your gemstone, you must select other features of your gem. You must begin this process by first choosing the shape of your desired gemstone. Popular shape options include:
Round – features around fifty-sever to fifty-eight facets for maximum brightness, sparkle, and fire
Princess – features a sharp square and geometrical shape, with strong and singular lines. It also resembles a pyramidal shape, carrying beveled four sides
Cushion - elongated cushion cut lab diamond is a distinctly old mine, with a rounded square shape
Emerald - most popular as a step cut. Due to the step cut, this stone produces a hall of the impact of the mirror
Oval - this is round, elongated brilliant cut
Pear - brilliant combination of marquise and round cut
Popular Metals
Platinum - is hypoallergenic and highly durable, which is why it is more expensive and more popular than other metals.
Yellow gold - best for traditional style lovers
White gold - offers a more contemporary appeal while being a cheaper alternative to platinum
Rose gold - exquisite and extremely unique. For standing out in a crowd while exuding romantic vibes, rose gold with its warm pinkish tint is the best choice.
Buying Tips
When designing your custom diamond gemstone ring, you must draw inspiration from parts of your relationship. What sort of a bond do you two share, what struggles did you overcome to be together, what sparkle do you add to each other's life, etc? By reflecting on some of these things in your custom engagement ring, you will make it truly one of a kind.
Choose to engrave to make it even more personal and special.
Consider your partner's likes and dislikes before finalizing the decision.
When it comes to capturing the significance of your engagement to the love of your life, you cannot choose a better way than a custom diamond engagement ring. A custom design helps you create the dream ring while also capturing the essence and the beauty of your bond in it.
If not for a diamond, your best alternative options could be a ruby ring, black diamond engagement ring, aquamarine ring, or an amethyst ring.
FAQ's

Can engagement rings have colored gems instead of a diamond?
Yes, other colored gems like sapphires make a classic option for engagement rings.

Is it cheaper to custom-make an engagement ring?
If your engagement ring has zero or very little markup, the custom-made ring will fall 20% cheaper for you.
What gemstone is better than a diamond?
Moissanites have more brilliance than diamonds, which is why moissanite engagement rings are fairly popular.
Which gemstone is the best alternative to a diamond?
White topaz is an excellent alternative to a diamond.