5 Reasons You Should Propose with an Aquamarine Ring this Spring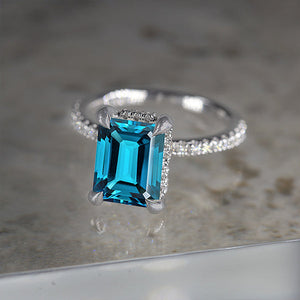 For most people, spring is a welcome arrival. Cold weather gives way to warmth and sunshine. And for people who already live in a warm climate, spring often brings less rain and more flowers. Either way, springtime symbolizes renewal after a period when everything seems relatively dead. Spring is all about baby animals, the fresh growth of plants, and the welcome sun.
TABLE OF CONTENTS
In part because of the renewal symbolism, spring is a great time to pop the question. You and your intended may have spent the whole winter wishing you could go outside and enjoy some nice weather. But with the increased time indoors comes great conversations. By now, there's a great chance that you thought your relationship through and decided it's time to take the next step.
Naturally, a major consideration for planning a marriage proposal is the engagement ring. While most couples still choose a diamond ring, this isn't the best option for everyone. Many of us want something special, either to give or receive. Aquamarine is a great choice for a unique spring engagement ring.
Here's why.
Aquamarine is the spring gem
One of the best reasons to choose an aquamarine engagement ring is that the stone itself screams spring. Aquamarine is the birthstone for March, which is the beginning of spring for most people. Plus, if she is a March baby, then the symbolism goes even deeper.
Similarly, there's something romantic about proposing with a spring gem. When she looks at the ring, she will think about the weather and the time of year when you asked that all-important question. And at the same time, it'll remind her about when you both decided to take your relationship to the next level.
Aquamarine has a vibrant color
It's easy to talk about how aquamarine is a spring gemstone because of its status as the birthstone for March. However, the color itself is almost as important. In early spring, many of us notice that the sky has regained its intense blue. Similarly, as we venture out into nature, we find that water is also regaining its color. This is especially true near the ocean, Mountain Lakes, and even our local rivers.
Depending on your taste and budget, aquamarine comes in several shades of blue. Sometimes, the blue is so light that it's almost imperceptible. But you can also get aquamarine with a deeper hue that would remind you of deep water. Any of the several aquamarine shades are lovely in a ring.
You can get many sizes, shapes, and designs
Besides the diverse city of hue within aquamarine, this stone has a lot of flexibility. Larger aquamarine crystals are relatively common, so you can buy a stone that's under a carat all the way up to several carats. While larger stones will always be more expensive, you can often make a statement without breaking the bank.
Likewise, aquamarine is easy to cut and comes in many shapes. Choose a classic round or oval stone, or get something more creative. For instance, an emerald-cut three-stone ring makes a bold statement. Add some romance with a rose gold setting, or get a vintage-inspired look with filigree and Milgrain. With enough creativity, the design options are endless.
It's a durable gem
Not every gemstone is appropriate for engagement rings. Some gems, like pearls or opals, are very soft and scratch easily. And if you're going to wear a ring every day, like most women will with engagement rings, you want something that can withstand the wear and tear.
With a hardness of 7.5 to 8 on the Mohs scale, aquamarines have what it takes to look great after years of regular wear. In fact, relatively few gemstones are harder, like diamonds. And of course, you don't have the beautiful colors in a diamond. Aquamarine strikes a nice balance between wearability and style.
Aquamarine is affordable
Arguably, one of the biggest drawbacks of a diamond engagement ring is that you can easily pay an arm and a leg for relatively small stones. While the finest quality aquamarines are not cheap, you can get something much larger and much better quality for the same amount of money you'd pay for a diamond.
Of course, there are a couple of ways you can take advantage of this cost-efficiency. The first way is to get more stone for your money. This works especially well if you want a large main stone and diamond accents or a bold design for the setting. The other way to take advantage is by purchasing a small aquamarine stone for a ring that will ultimately be very affordable. Either way, you'll create something special.
Care and maintenance
Once she says yes, she will need to take care of the lovely ring you've given her. Because aquamarines are a durable gem, they don't require delicate handling. However, you should be careful about using ultrasonic cleaners or other power. These can damage both the stone and the setting.
On the other hand, who brings need occasional cleaning and maintenance. For cleaning, she can periodically place the ring in a small bowl with warm and soapy water. Then, she can take a soft-bristled toothbrush and dislodge any dirt if necessary. In addition, rings should be regularly inspected by a jeweler to ensure that the stone settings remain secure. You don't want to lose stones from that gorgeous ring.
Final thoughts
Aquamarine is a great choice for an engagement ring, especially if you're proposing in spring or she was born in March. The spring vibe and lovely cool blue color make any setting special. Plus, you'll get a durable, affordable, and colorful alternative to a diamond engagement ring. Best of all, the colorful aquamarine can be part of almost any design.
FAQs
What does an aquamarine ring symbolize?
An aquamarine ring will remind you of springtime and renewal. It's also a romantic stone that can make any woman feel like a princess.
Is aquamarine a birthstone?
Yes, it's the birthstone for March. This is really appropriate when you consider the color of the sky as spring rolls around in March.
What is the most important factor to be considered when choosing an aquamarine?
For fine jewelry, you should always pick a high-quality gem. The side if you want a lighter or a darker color for your aquamarine. Then, go for a size she will enjoy at a price you can afford.
Is aquamarine durable for everyday wear?
Yes, it is. Aquamarine is a very hard gemstone. However, you should always take care of it so that your jewelry looks nicer for longer.