Top 5 Simple Pearl Pendants for Everyday Wear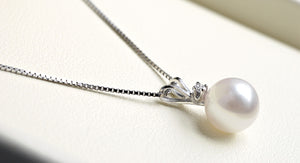 It's challenging to find jewelry that is simple and can be worn everyday. Pearls exude elegance and sophistication while remaining simple and perfect for everyday wear. If you're searching for a simple, elegant piece, then consider a pearl pendant. It goes with everything, adds a touch of elegance and they're beautiful.
TABLE OF CONTENTS
The Benefits of Pearl Pendants
Pearls are a timeless piece of jewelry that elevates any look. Not only do pearls look great, they are durable and versatile. A pearl is tough–it resists chipping and breaking. Wearing it actually helps its hydration and luster. Locking your pearl jewelry away in an airtight container can dull and dehydrate your pearls. Another benefit of pearl pendants is that they go with everything. Whether you're dressed up or down, a pearl pendant is the perfect accessory.
Our Favorite 5 Simple Pearl Pendants
Choosing the Right Pearl
While pearls are a classic accessory, you might be wondering how you choose the right pearl. There are a few factors that come into play when evaluating pearls, including its size, luster, shape and color:
Size:Pearls are measured by their diameter in millimeters. The average cultured pearls on the market today are between 7 and 7 1/2 millimeters. In general, the larger the pearl, the more valuable.

Luster:This refers to the combination of surface brilliance and its deep-seated glow. The luster of good-quality cultured pearls should be bright and not dull. Look at the pearl – you should see your reflection clearly on the surface of a cultured pearl. Chalky or dull pearls are low quality.

Shape:PCultured pearls are grown by oysters and created by nature, so it's rare to find a perfectly round cultured pearl. And if you do, it's considered valuable. While you'll see many round (or nearly round) pearls in jewelry, you'll also see some with irregular shapes, such as freshwater pearls.

Color:Rose Silver/White Cream Gold Blue/Gray cultured pearls occur in colors from rosé to black. While color is a matter of preference, rosé or silver/white pearls tend to look best on fair skin tones, while cream and gold-tone cultured pearls are flattering to darker complexions.
You'll also want to purchase a pendant that reflects the style and personality of the wearer. Select a design, metal, and necklace length that meshes with the wearer's personal style.
Everyone Needs a Pearl Pendant
You can't go wrong with a pearl pendant – it elevates your look, adds a touch of elegance, and is versatile enough to go with any outfit. Pearls are durable necklaces as well, but do require some care. Pearls are also porous and can become damaged from chemicals and acids such as hair spray, perfume, or household cleaners. Get ready before you put on your pearl jewelry. When it's time to remove your pearls, gently wipe the pearls with a soft cloth to remove any oils and protect them. Don't toss your cultured pearl jewelry into your jewelry box. Instead place cultured pearls in a cloth bag or wrap them in tissue when putting them away.
You want your pearl pendant to last for years, so it's important to evaluate the quality and invest in a quality piece of pearl jewelry. Check the color, shape, luster, and size of any piece of pearl jewelry that you're considering. Pearls are beautiful and will make the perfect addition to your jewelry collection
FAQs
What is the difference between natural and cultured pearls?
Natural pearls grow in the wild without the help of humans. Natural pearls are extremely rare, and most of the larger natural pearls available to buy are antiques. Cultured pearls are grown in pearl farms that are created with human help.
Is it safe to wear pearl jewelry regularly?
It's safe to wear pearl jewelry regularly. If you do wear your pearl necklaces often, try to have them restrung annually because the inner thread will start to deteriorate over time.
Does pearl become dull with frequent wear?
Pearls are meant to be worn, and wearing your pearls helps their luster. Pearls that are locked away in airtight containers could become dull and dehydrated.
How expensive are pearl pendants?
Pearl pendants vary depending on the type of pearl and how rare it is. The average cost of a quality pearl pendant is $350 to $600.