Amethyst Cost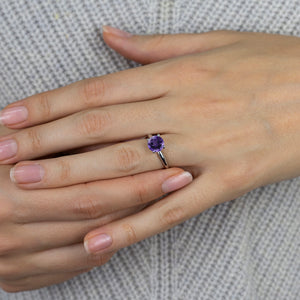 TABLE OF CONTENTS
When did Amethyst Become a Popular Option?
Until the 19th century, amethysts were as valuable and expensive as other popular gemstones. This was until a large deposit was discovered in Brazil. This discovery lowered the financial value of the gem but allowed it to be more frequently used in jewelry. These gems are often found in rings designed at the beginning of the 20th century as well as the Retro era (the 1940s and 1950s).
Synthetic amethyst was developed during World War II using the hydrothermal method. These synthetic untwinned quartz crystals were first used for oscillators used in radios, watches, and other electrical appliances. Although synthetic and natural amethyst stones gained popularity throughout the 20th century, they just recently gained popularity as an engagement ring or even as stud earrings.
Famous People Who have Worn Amethyst Engagement Rings
Other than the fact that amethyst is considered the February birthstone, Hollywood has seen an uptick in untraditional engagement rings in the last decade. Gemstone engagement rings versus traditional white diamond engagement rings are becoming more popular due to their unique colors, styles, sizes, and cost. Amethyst has always been a symbol of royalty and power, so it's no surprise they are a part of this movement.
Alicia Keys wore a Fred Leighton amethyst and diamond ring to the 2009 Oscars.
Zoe Saldana wore an 80-carat amethyst ring from Lorraine Schwartz to the 2011 Academy Awards. As well as a white and yellow gold amethyst ring to the 2012 Vanity Fair Oscar Party.
What People Like About Amethysts versus Other Gemstones:
Amethyst stands out from other gemstones due to its tendency to have a unique metallic luster. What creates the valued purple hue and makes the luster of amethyst stand out is the presence of iron and aluminum. However, if you are looking for a translucent luster, lab grown and treated amethysts can be made to your clarity preference. Moreover, they are much cheaper than natural white diamonds.
Pricing
There are many factors that influence the amethyst price. Much like white diamonds, amethysts are graded in various categories ensuring you find the highest quality stone for your price range.
Size/Carat Weight
Compared to other gemstones, amethyst in large sizes is not priced that much higher per carat than smaller sizes. This presents the perfect opportunity to create a bold and unique design for your piece. Keep in mind, the smaller sizes often have a much richer color profile. This makes it easier to match sets of differently sized gems.
Clarity and Color Grading
Most faceted amethyst gemstones are free from inclusions that are visible to the naked eye. Minor inclusions are often overlooked in amethysts of high quality and rich purple color. Due to the fact the inclusions are what give the stone its color. The highest quality color is considered strong reddish-purple or purple without brown influencing the hue. The lighter shades of purple are considered lower quality as inclusions and color zoning is more visible to the naked eye.
Gemstones are assigned a grade of AAAA, AAA, AA, A, or B. AAAA is very rare and accounts for only 1% of amethysts. They are eye-clean and have a distinctive deep purple. With Clarity only uses gemstones that are of AAA quality. This represents the topmost percentage of gemstones that are used to craft jewelry. AAA gemstones are chosen for their exceptional hue and color that is rich and vivid.
Cut Grade
Amethyst can be cut into a variety of shapes such as round, princess, oval, pear and so many more. Most cutting styles are created in standard sizes for mass-market jewelry. For example, a round shape should have 16 facets just like a typical white natural diamond. Keep in mind, amethysts are harder to polish, and this affects the cut
Style
The style of amethyst jewelry often reflects the Art Deco and Retro eras of the 20th century with a modern twist. With Clarity carries amethyst rings up to 3 carats with metal settings of white gold, yellow gold or rose gold. Prices for amethyst engagement rings up to 3.05 carats range from approximately $400 to $2,000. Customizable rings range from approximately $300-$3,000. With Clarity has five online collections of amethyst rings available for you to browse and purchase.
Origin/Source
Amethyst comes from many sources, both natural and lab grown. Brazil is the main location of natural amethysts, but Russia and Africa produce some of the finest amethyst. If you are concerned about the origin of your amethyst, lab grown amethyst is of the same quality and is ethically sourced.
FAQs
Where does amethyst come from?
The majority of natural amethysts come from Brazil, Uruguay, Russia and Africa.
How is amethyst graded?
Amethyst is graded based on its color, cut, carat weight, and clarity. Out of these, color is the most important factor. Most high-quality amethyst stones are eye-clean (no visible flaws) with an intense purple hue.
Can amethyst be cut into an oval shape?
Yes! Amethyst can be found in a variety of other shapes, such as round, princess and pear (among others).
Is amethyst a birthstone?
Yes, it is the birthstone for the month of February.