All of the Different Styles of Emerald Earrings, Explained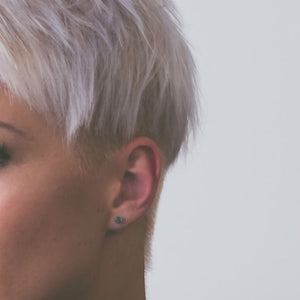 The bling-bling sparkle of diamond earrings are definitely attention-grabbing, but what if you're looking for a more subtle, sophisticated look? Enter: emerald earrings.
Emerald earrings are a great gemstone choice for everything from anniversaries to birthdays. Emerald is the designated May birthstone, and earrings of this gem come in everything from studs to hoops, giving you plenty of options when shopping for the perfect present. Ready to start shopping? Here's everything you need to know about earring styles before you buy.
Styles of Emerald Earrings
Every emerald gemstone is unique with its own look — just like the person you're buying for.
That said, there aren't an infinite number of emerald earring styles to choose from. You have three main options: emerald stud earrings, emerald drop earrings and emerald hoop earrings.
Emerald Stud Earrings
Emerald studs are made by attaching the gemstone to a short post without any visible attachments to the ear, giving the illusion that they're "floating." They're often small and discrete, making them a good choice for someone who likes simple jewelry or just wants to give off a subtle look.

Emerald stud earrings might seem plain, but there are many, many styles to choose from, ranging from stud earrings in a bezel setting to cushion-cut and multi-stone earrings. There are even styles shaped like triangles made with emerald pave stones.
Emerald Drop Earrings
Emerald drop earrings are what they sound like: they "drop" below the earlobe. Like stud earrings, they're typically designed with a post that goes through the ear — they're often free-flowing without any additional attachment to the ear, though some have an o-ring that attaches to the back keeping them in place.
Emerald Hoop Earrings
While emerald stud earrings are subtle, hoop earrings command attention. These attention-getters come in a variety of styles, but typically far into two categories: full hoops or J hoops.
Variations in the styles of emerald earrings
Every style of earring — studs, drops, and hoops — all have multiple different variations, so you're not just stuck with one or two options for each.
Take hoop earrings, for example: Full hoops are exactly what they sound like: earrings that create a full circle when worn with an attachment or clasp. These attachments and clasps keep the earring from snagging on something (and ripping the ear in the process — ouch!). J hoop earrings are also exactly what they sound like: hoops that hang down off the ear in a J shape without a clasp to connect the earring together. These are typically not as large as some of the full hoop earrings, so the risk of snagging is low (though it can still happen).
Stud earrings also come in different variations, ranging from one solitaire gemstone to halo versions with a main gemstone in the center, surrounded by multiple pave emeralds. Like with diamond engagement rings, adding a halo to emerald earring styles can make the earrings look considerably bigger (without the bigger price tag).
How to Find the Right Earrings
You really can't go wrong when searching for earrings featuring these gorgeous green stones, but all of the options can be a bit confusing. That's why With Clarity's expert gemologists are available to walk you through the emerald-buying process — and explain which earrings are best for your style and budget.