All of the Different Styles of Sapphire Earrings, Explained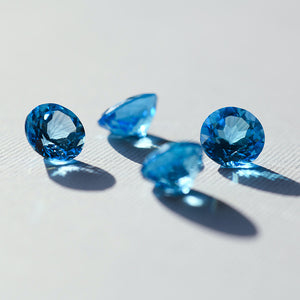 When it comes to a gift that is personal, meaningful and could conceivably last forever, it's hard to beat a pair of gemstone earrings, particularly natural sapphires. The deep blue gem is particularly trendy right now, having found its way onto the newly engaged fingers of Lady Gaga and Meghan Markle in the past year. And it's easy to see why: The gorgeous cerulean color is striking and extremely versatile, coming in a variety of shades and hues. It's found in many vintage pieces, so can be styled to evoke the past or look totally modern. And while some gems can be relatively fragile, the sapphire is second in hardness only to the diamond, making it an excellent choice for everyday wear, like in a pair of sapphire earrings.
And the great thing is that you needn't be shopping for someone who's headed to the altar to indulge in one of 2019's biggest jewelry trends. A pair of sapphire earrings makes a great present for any special occasion, from anniversaries to birthdays to graduations. The gem has a storied significance dating back to antiquity. To European royals, sapphires were said to connote wisdom, virtue and faithfulness; they were believed to protect the wearer from infidelity and misfortune and to ensure a harmonious life. To the Ancient Greeks, sapphires were associated with the wise god Apollo and the planet Venus. Today, sapphires are the birthstone for September, associated with the Taurus and Gemini signs.
---
Styles of sapphire earrings
If any of that sounds like it might appeal to someone you know, why not explore the different styles of sapphire earrings, so you can make the perfect choice.
Sapphire stud earrings
Sapphire stud earrings come in a number of shapes and sizes, including round, oval, star and emerald (or princess) cuts. Round sapphires are the most traditional cut and are usually more expensive, but oval earrings are a popular choice as they appear larger on the ear. Square-shaped sapphire stud earrings offer a modern look: Emerald (or princess) cuts are square or rectangular. Less faceted than the brilliant round or oval, this cut displays gorgeous, deep color because of the larger facet surface area.
The carat, size and shape of sapphire stud earrings will determine the cost. Read more about how to buy sapphire stud earrings here.
Sapphire drop earrings
Sapphire drop earrings "drop" below the earlobe slightly. Typically, these are simple pieces where some kind of adornment like a gemstone, charm or bead drops directly from the base of the earring. These are usually fairly simple pieces and, though it hangs below the lobe, the ornamental piece is stationary or in the very least, movement is limited because it comes right off the base. They can be good for formal or more casual occasions, based on the size of the gem and the simplicity of the design — larger styles tend to be more casual.
Sapphire hoop earrings
Hoop earrings are a classic style that can also work as a formal or casual look; smaller hoops that fit closer to the ear tend to look more traditional and conservative, while larger hoops are a popular choice for casual wear. Both can be extremely striking, particularly when incorporating gemstones like sapphires. You can personalize a look by choosing a hoop base in silver, rose gold, yellow gold or platinum, or choosing a distinctively shaped hoop such as hexagonal or the "J hoop."
---
Variations in the styles of sapphire earrings
But the basic style isn't the only thing you'll choose when shopping for sapphire earrings. The different earring types have variations in their style, so you can further personalize your pick to the person for whom you're shopping. These are biggest variations in sapphire earrings you should know about:
Studs with halo vs. without a halo
To maximize sparkle, you might want to consider a set of sapphire stud earrings with a "halo," in which small pavé diamonds encircle the sapphire. In addition to adding dazzle, the benefit of this style is that it can make a smaller stone seem bigger. It's also a more formal look, if you want to give a gift fit for formal occasions versus everyday wear.
Sapphire hoops: full hoops versus J hoops
Sapphire hoop earrings come in two basic styles: The "full hoop," in which the hoop shape is more of a complete circle, extending back to the earlobe; and the "J hoop," in which the hoop resembles more of a half-circle, or J shape. Both styles can look more formal or casual; it just depends on the wearer's preference.
FAQs
How much do sapphire earrings cost?
The cost of sapphire earrings will vary based on the quality grade of the gem, the metal type selected, and the overall style – for example, halo, three-stone, solitaire, etc. They can have a starting price of approximately $175 and can go beyond $5000.
Where to buy sapphire earrings?
Sapphire is a precious gem that is highly sought-after; therefore, it is important to buy from a reputed brand that offers products backed by a certificate of authenticity. Also, make sure the brand of your choice has a hassle-free refund and return policy in case you're unsatisfied with the purchase.
How to clean sapphire earrings?
Cleaning your sapphire earrings is easy. Simply dip them in a bowl with warm soapy water for about 20 minutes. Then, use a soft-bristled toothbrush to remove dirt and grime, and pat dry with a microfiber cloth. Never use any abrasive or harsh chemicals that could damage the gemstone and the polish of the metal. It is also advisable to have your sapphire earrings professionally cleaned once every few years.
What is the best metal for sapphire earrings?
The answer to this depends on your personal choice. However, we recommend platinum and white gold to create a color contrast that instantly catches the eye.