Guide to Clip-On Earrings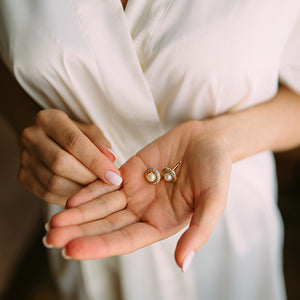 Clip-on earrings are a great jewelry option for those who don't have their ears pierced, have skin sensitivities, or can't wear pierced earrings. Today's clip-on earrings aren't like your great grandma's. Today's clips come in a variety of comfortable styles for stylish earring options. Keep reading to learn more about clip-on earrings.
What Are Clip-On Earrings?
Clip-on earrings became popular in the early 1900s when ear piercing was more rare. Trendy "flapper-style" hairstyles in the late 1910s and early 1920s featured short, cropped hair that showcased the ears. As a result, clip-on earrings found continued popularity among young women of the 1920s and 1930s. Larger earrings that were fashionable for Victorians were swapped out for simple, architectural shapes, as the Art Deco style peaked in popularity. In the mid-1900s, clip-on earrings were the most popular form of earrings and came in a variety of styles.
In addition to being more common in the 1950s, clip-on earrings meant that heavier earrings with more elaborate designs could be worn without fear of stretching the earlobe out. This continues to be one of the benefits of clip-on earrings today. In addition, they work well for people who don't want to get their ears pierced, are worried about stretching out their ear lobes, or have metal allergies that prevent them from wearing earrings. With more men and women wearing jewelry, clip-on earrings are a sought-after jewelry option!
Clip-on Earring Mechanism
Early clip-on earrings didn't have as many mechanism options as today's earrings. They're a comfortable option to wear earrings without having piercings. Here are some popular backing options
Screw-back clip-ons: These were the original style of clip-on earrings. They feature a simple, small screw on the back side of the earring that presses the back of the earring to the lobe. One benefit of this style is that they allow you to adjust them for your comfort. You can adjust the screw to either tighten or loosen the earring to a more comfortable position.
Resin pad clip-ons: This design is a newer style, and it's likely the most comfortable. As a result, you can wear these frequently. Instead of a typical "clip," you adjust the gap of the clasp for your earlobe thickness. This style works well for smaller earrings, such as huggies because the "clip" isn't as bulky as other designs. If you wear this style of clip-on earrings, make sure they're properly adjusted so the earrings don't fall off.
Invisible clip-ons: This style is also a newer style of clip-on earrings. It's a good option for people with metal allergies or find other styles of clip-on earrings uncomfortable. This is because the clip-on backing is made from clear acyclic or resin instead of metal. You slip the clip-on onto your earlobe and it stays in place. This is also a comfortable, lightweight option.
Ear cuffs: Ear cuffs have increased in popularity as having multiple piercings has also become more trendy. While ear cuffs aren't traditional clip-on earrings, they let you achieve the look of multiple piercings and stacking earrings without having piercings. You'll find a variety of styles of cuffs and can be adjusted for comfort. You simply adjust for your ear by pinching the ends of the cuff together. Slide the cuff on the thinnest part of your ear lobe and slide it up until it feels snug and doesn't move too much.
Mini clips: This style of earring works well for cute, daintier earrings that are lightweight, and they're comfortable for people with smaller earlobes (like younger people). Mini clips have a wedge-shaped hinge that stays in place by a tension bar. It's important to note that this particular style is not as adjustable as others because you have to adjust the tension of the hinge.
Sliding spring earrings: Slide spring earrings look like normal pierced earrings. Instead of a typical earring post and back, you slide the "back" of the clip-on earrings away from the front and affix it to your ear lobe. This style works well for lightweight hoop earrings. It's also more adjustable than traditional hinge earrings because the spring works for all ear shapes. It's important to note that spring styles are typically made from metal, which might not work for those with metal sensitivities.
Clip-on Earring Styles
You can find clip-on earrings in a variety of styles and designs, and some feature diamonds and gemstones. Here are some favorites..
Clip-on pearl earrings: pearl earrings are a classic earring that goes well with a variety of outfits. It's a great clip-on style because they're timeless!
Clip-on dangle earrings: Dangle earrings are great for clip-ons because they make heavier earrings more comfortable. You'll find sleek, long dangle earrings to larger, more elaborate chandelier earrings.
Clip-on vintage earrings: Whether big or small, vintage clip-on earrings are a popular design.
Clip-on stud earrings: Simple studs and small huggie earrings come in clip-on styles so anyone can stay on trend.
Clip-on cross earrings: Cross earrings are a classic design that people are drawn to. You can find more dainty crosses as well more elaborate style cross earrings.
Who Can Wear Them?
Those who don't want to pierce their ears: If you like the look of earrings but don't want to commit to piercing them, then clip-on earrings are a suitable solution.
Those who already have piercings but they have closed: Some used to have their ears pierced but the holes have since closed. Clip-on earrings provide jewelry options without having to get your ears repierced.
Those who have metal allergy: Some people have sensitive skin and metal allergies prevent them from wearing jewelry. Some are allergic to gold, silver, nickel, etc. However, clip-on earrings stay on the surface of the earlobe and won't cause infection within the piercing hole.
Those who don't want their earlobes to stretch or split: Some heavier earrings can stretch or split earring holes. With clip-on earrings you don't have to worry about any earring hole deformity! Plus, they make heavier earrings more comfortable to wear.
Those who suffer from keloid or hypertrophic scarring. If you had a keloid near your earring hole, you can't get it pierced again. Clip-on earrings give you the look of earrings without piercings.
FAQs
Are clip-on earrings bad for your ears?
Clip-on earrings are safe, don't damage your ears, and when attached properly, don't cause any pain or leave any visible marks.
Are clip-on earrings painful to wear?
If your clip-on earrings are attached properly, they shouldn't cause pain. If you're experiencing pain, try adjusting the placement of the earrings.
Which is better clip-on earrings or magnetic earrings?
Both are convenient, easy to put on and to remove. Clip-on earrings tend to be more secure on your ears.
Are invisible clip-on earrings comfortable?
Invisible clip-on earrings work with multiple styles of earrings, from dangling chandelier earrings to dainty studs, and they still hold their shape and hug your ear. You slip the clip-on onto your earlobe and it will stay in place and they're designed to be comfortable.