Men's Necklace Guide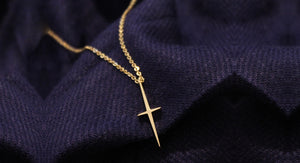 Men's necklaces are versatile pieces of jewelry that you can use to express your personal style. There are many kinds of men's necklaces. Examples include men's cross necklace styles, men's chain necklace styles, and even men's gold necklaces with a pendant. Your style quotient is enhanced almost instantly when you add a necklace to your outfit.
While necklaces are often seen as women's accessories, this is not actually the case. If you love necklaces, you can choose from many different styles and designs of this kind of jewelry to add to your accessories. If you have not yet decided on which kind of necklace you want to get, this guide will help you to find the right necklace for your needs.
The Most Popular Designs of Necklaces for Men
• Dog Tags
This is a unique kind of men's silver necklace that is made to be reminiscent of soldier's dog tags worn to war. This kind of necklace can include information like your name and address, a personal message that has meaning to you, or anything else that you would like engraved on it. This kind of necklace is usually a men's chain necklace that includes two square tags that can be customized.
The engraving that is used for the real dog tag necklace is simple stamping that is easy to read. This is a way of determining who a soldier is if they are not able to talk to anyone or have passed away. When you choose this kind of style, you can select from many materials, but this is a common choice for a sterling silver men's necklace. This is also a really practical necklace that can be worn to do almost any activity.
• Cross Necklaces
Men's cross necklaces are quite common and popular. This particular necklace type for men can be found in a variety of designs, from simple full metal crosses to more ornate ones with embellishments of different stones, including diamonds.
Along with gold chain necklaces, cross necklaces for men were often associated with rap culture, but this kind of jewelry has become much more mainstream lately. The design is quite practical and if handled properly it can look great for years with minimal care.
• Pendant Necklaces
Pendant necklace styles are very versatile, but many men opt to pick this style to get a men's white gold necklace with a cross or maybe a men's silver cross necklace. This kind of style can also be used for men's sterling silver necklaces with a cross. While a cross is one of the most popular pendants to add to this style of necklace, you can also add a feather pendant, an anchor pendant, or even a claw pendant.
Pendants make this kind of necklace personal and unique, and you can choose any kind of personalized option that you want. This is a great choice for making a statement and having fun with your jewelry.
• Beaded Necklaces
While not as commonly worn as other men's necklaces, bead necklaces for men are more common in places that have a tropical or surfer vibe. This is a great way to add some color to your accessories, and these are lightweight necklaces that are comfortable to wear. This is a common choice for those who spend a lot of time in the water or those who do not want to lose their necklace over their head while being active.
This kind of necklace is often shorter and worn more like a choker which can be more practical for those who play sports as well.
• Leather Necklaces
Leather necklace styles might be braided or have designs stamped into them. They can be flat bands of leather or include pendants and small bits of metal or beads. Leather pendants will need to be cared for with leather cleaner periodically, but they are otherwise really practical and can be worn every day. This is a great choice for those afraid of their chain getting caught and breaking since the leather will only stretch and almost never tear.
No matter which kind of necklace you pick, you will want to be sure that you look into the care that is needed for the material it is made of. Different metals need different care, and leather will need unique care that other materials do not.
FAQs
What is the right thickness for men's chains?
Chains can come in many thicknesses, and there is no one thickness that is best. You will want to choose what is comfortable and practical for your daily wear or the width that fits your style best.
What type of necklace style is best for a man?
Men can wear any kind of necklace that they want. There is no right style for men, but you might want to consider practicality when making your choice. If you are very active, you might need a leather or bead necklace.
Are all necklaces unisex?
All necklaces can be unisex. There are many different lengths of chains and necklaces out there to suit people of all shapes and sizes.
Is it ok for a man to wear more than one necklace?
Men can wear more than one necklace if they want, and it is common to wear more than one chain at a time. Wearing necklaces is all about personal preference, so the number is up to you.
Which is the best metal type for a man's necklace?
Metal types can have variable durability, so you will need to consider this when you buy. If you are working outside all day or are very active, a softer metal like white gold might not be practical. Overall, gold is very durable, and so is silver.