Men's Platinum Wedding Bands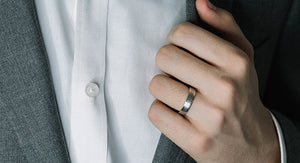 Sometimes couples get so caught up in the engagement ring for the bride that the groom's wedding band may be put on the backburner. However, the decision to purchase platinum wedding bands for men may be one of the most important choices couples can make.
Origin of Men's Wedding Bands
Men's wedding bands were not always a given. It was not until the 20th century that wedding rings were considered appropriate for both men and women. The idea of a men's platinum wedding band surged during World War II. The men would use their rings as a symbol of love and commitment despite being incredibly far away from their spouses in times of war. The ring had a further symbol of eternal love if the soldier was not sure if he would ever return home to his loved one. Since the war, rings for men have become customary. Men's platinum wedding bands, as well as the less shiny platinum men's wedding bands, have become incredibly popular.
Why platinum? Being the rarest of the precious metals and extremely durable, platinum remains a perfect choice for men living busy and active lifestyles. However, with so many choices with men's wedding band platinum, picking a ring is not an easy decision for men to make. Therefore, one of the best tips to offer a man picking his wedding band is to be active in the decision. Typically, couples have complementary wedding bands to represent the couple. With that being said, couples may even go as far as to have matching wedding bands. Men, as well as women, should be certain that they seek out a ring that fits their style and preferences. While it is easy to go along with what looks best with the bride's engagement ring, the groom should make certain that the band fits his taste as well.
The most common choice for men is to have a plain wedding band. While a plain platinum wedding band already makes a statement, men would also have the opportunity to customize the band with engravings of the bride's initials or the wedding date. However, there are no rules saying men cannot accessorize with diamonds or other designs on their wedding bands. It all boils down to taste!
Benefits to Platinum Wedding Bands and Rings
Platinum has many benefits besides it being the most durable precious metal. In comparison to gold, platinum will retain its color while gold will most likely fade and change over the years. Because of the extra durability and the color guarantee, platinum rings are also slightly more expensive than gold rings. Additionally, platinum scratches more easily than gold does. Therefore, wearers of platinum should be sure to take special care of their rings or select gold to better match their lifestyle. Platinum rings may also be heavier compared with other metals, so if comfort is an issue, men are advised to test out rings of different metals. Ultimately, there is not one perfect metal for every single ring. However, based upon a couple's wants and needs, platinum might be the perfect choice for them.
Here at With Clarity, we offer several great options of men's platinum wedding bands:
The Classic Low Dome Wedding Band is timeless, plain, and sleek. This ring is perfect for a man who is looking to show off his love for his spouse without making too bold of a statement. Its traditional style provides a subtle look by remaining thin and lightweight. This wedding band is one of the most popular choices for men as it lacks diamonds, and therefore, it seamlessly becomes part of the man's style without hindering a man's everyday routine.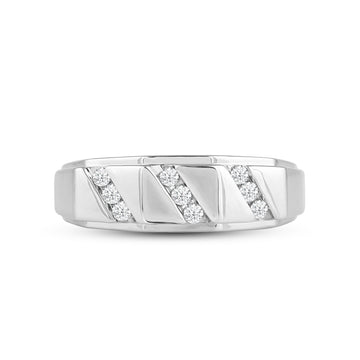 For a bigger statement, the 3 Row Channel Set Diamond Accent Mens' Ring is much thicker than the previous ring. TThis ring's clean-cut profile and geometric simplicity will suit your man's tough but tender masculinity. This ring features a wide and angular band decorated with three slanting channels of round diamonds. The ring narrows toward the back for a comfortable fit.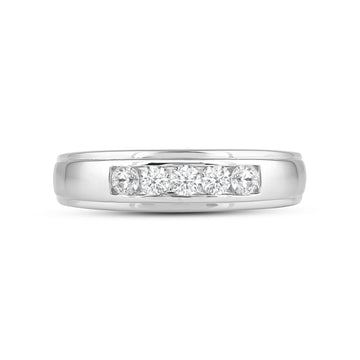 Great as a special occasion gift or as a wedding band, this two-toned ring features an unassuming and versatile profile. Five round diamonds on a channel setting are nestled within a subtly raised white gold ribbon across the front face of a 14K yellow gold band. The polished finish of this ring completes its refined look.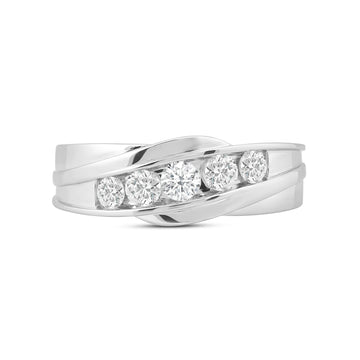 Finally, the Carved Dome Two Color Men's Band gives off a bold look through its two colors of metal. A carved out milgrain pattern separates the two tones of metal for a classic, yet stunning style. This wedding band allows for uniqueness and customization as the buyer is able to pick and choose his metals of choice. Ultimately, this band is perfect for a man who wants to show off his ring without using diamonds which also makes the ring durable and easily cared for.
FAQs
Can I give a platinum wedding band to my husband-to-be?
Yes, platinum is one of the rarest precious metals on earth. It is highly durable, making it the perfect choice for a wedding band. Platinum is also hypoallergenic, corrosion-free, tarnish-free, and rust-free, with a classy patina finish that improves over time. It will not lose color, even if he wears it every day.
How do you make his platinum wedding band special?
The best way to make his platinum wedding band special is by customizing it with a special engraving of a significant date, time, initials, or a quote.
Are platinum wedding bands more expensive?
Yes, platinum wedding bands will be more expensive because this metal is rarer, purer, and has a higher density than gold.
Which is the most popular platinum wedding band for men?
The classic low dome wedding band is one of the most popular platinum wedding band options for men thanks to its timeless and sleek design. It is also lightweight, making it ideal for daily wear.