Simple White Gold Rings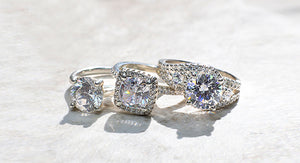 Some people always strive to have intricate and elaborate possessions in all aspects of their life, including rings. Others find beauty in simplicity. Simple white gold rings are definitely for the latter.
What is a Simple Ring?
Even though the name suggests otherwise, simple white gold rings are nothing but simple. They are truly works of art that never go out of style. For example, a gorgeous diamond in a simple setting, or a harmonious three stone ring is something that will always be around.
A common misconception when it comes to simple engagement rings or simple wedding rings is that you are limited when it comes to options. People also think that you are limited with the design and ability to personalize the rings. This is false because you will never run out of elegant and simple ring options to choose from. Each and every simple ring can be as unique as you.
Simple White Gold Ring Variations
As mentioned above, simple white gold rings come with lots of variety, and you are not limited in choices at all. Here are some popular options that can be included in simple white gold rings that make them unique, yet still "simple."
There is no rule that states that an engagement ring has to have a large center stone. Some women who like simplicity prefer a diamond band engagement ring, even though they are mostly used as a wedding or anniversary band.
Having a simple ring doesn't mean it only contains one stone. There are many three stone engagement rings that are still simple but packed full of beauty and meaning. For example, the three stones in this type of ring represent a couple's past, present, and future. Simple rings can be full of symbolism and meaning.
There isn't any specific shape that simple engagement rings must have. It is entirely up to personal preference. There are many distinctive diamond cuts to choose from that can take your simple engagement ring to the next level. Some options for diamond cuts include emerald, princess, marquise, Asscher, and cushion. Any of the above will give simple solitaire engagement rings a unique look, while still keeping it simple.
White gold wedding rings are actually the most common type of wedding ring. It has a very exotic style, due to the white gold's basic composition. It is also a very affordable option for many women, which of course makes it a more popular option. Despite the cheaper price, it doesn't lack at all in style or beauty. White gold engagement and wedding rings don't look like they will be losing their popularity any time soon.
Simple white gold engagement rings
---
Chic East West Solitaire Diamond Engagement Ring
This ring has a playful head which holds the engagement ring with a twisting band. It's a nice effect that still keeps the ring simple, yet adds a touch of uniqueness to it. It's perfect for anyone who wants a classic ring with a bit of flair.
---
Noveau Four Prong Solitaire Engagement Ring
This simple ring is very sleek and defined. It has a smooth finish, with graceful curves that meet at the center diamond. This ring has a very seamless and flowing look to it. The four prong setting brings focus to the dazzling center diamond.
---
Poise Basket Diamond Engagement Ring
This simple ring has a beautiful basket that holds the center diamond in place. It has a smooth finish, and it's very graceful. It's the perfect choice for anyone who wants a simple yet elegant ring.
Simple white gold wedding rings
---
Pave Diamond Eternity Wedding Band
This simple wedding band is overflowing with elegance and beauty. It has small pave set diamonds that wrap around the eternity band. This is a wedding band that will never go out of style and never lose its elegance either.
---
Waving Pave Diamond Women's Wedding Band
This simple wedding band is very unique in the way that it has a waving pattern. It contains pave set diamonds that weave around the wedding band. If you want a unique wedding band, this is a great option.
---
Duet Pave Set Diamond Women's Wedding Band
This is a knife-edged wedding band. It has slanted diamonds accents that cover both sides of the wedding band, making it have double the elegance while still remaining simple. It's the perfect choice for anyone who loves the pave diamond eternity wedding band but wants a something extra.<
FAQs
How to clean a white gold ring?
You can clean your white gold ring by placing it in a mild soap-water solution for about 15 minutes. Next, gently scrub it with a soft, lint-free cloth and rinse it again with clean water. End by drying the ring using a soft, dry cloth.
Which metal is better: 14kt white gold or 18kt white gold?
Both metals have their own advantages, and the choice will depend on your preference. For those who love the look of platinum but want a more affordable price tag, 14kt white gold can be the ideal choice. It is elegant and highly durable. The 18kt white gold has a higher percentage of pure gold, which means fewer skin allergies. It is also lesser prone to oxidization, making it look brighter for a longer time.
When should you re-plate a 14kt white gold ring?
You can consider re-plating your 14kt white gold ring once every three years (to give it a fresh look) or whenever you notice a yellow cast on the metal.
What is better, a 14kt white gold ring or a platinum ring?
Both 14kt white gold and platinum are durable enough for daily wear. However, the choice depends on your personal preference and budget. If your budget allows it, then opt for platinum as it requires less maintenance and is also hypoallergenic in nature. This precious metal ages beautifully and develops a satiny finish known as a patina. The 14kt white gold has a similar look, but it is slightly light grey in color. This metal has a more affordable price tag than platinum and looks beautiful in all forms of jewelry.