A Guide to Women's Wedding Band Cost
There is no wedding without a wedding band. Whether you are searching for the most beautiful wedding band for a bride or groom, there are many factors that come into play. One such factor is its cost.
In this guide, we are going to delve into different types of wedding bands, including the designs and the materials that go into their creation.
First, let's start with the most popular wedding band designs.
Wedding Band Styles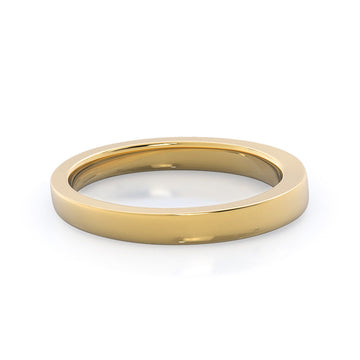 ---
Classic Wedding Band
If you are looking for a traditional design, go for a classic design. Precious metals guarantee a smooth and reflective finish, while the plain design adds more charm to the wedding band. You can go for the textured, satin, matte, or hammered finish, which makes the wedding band more interesting without any shiny effect. The most popular options are 14kt or 18kt white, yellow or rose gold or platinum. Generally, women like the metal that matches their.
Browse all Classic Wedding Bands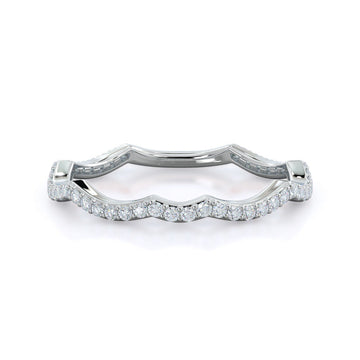 ---
Eternity Wedding Band
Choose the ever-popular eternity design. Since the design symbolizes a forever bond, these wedding bands are the best way to celebrate your wedding. These beautiful wedding bands have been around for centuries and symbolize a timeless bond. The infinity wedding band is one of the most popular designs, especially for the bride. These feature a continuous circle of diamonds around the band for sparkle from all angles.
Browse all Eternity Wedding Bands
---
Channel Setting
If you are looking for a sparkling wedding band, the channel setting is the perfect design. Since channel set stones don't clank against everyday objects, these rings are comfortable for daily wear. They feature diamonds that are set next to one another and encased in a protective edging of metal. This offers a seamless finish without prongs.
Browse all Channel Wedding Bands
---
Pave Wedding Band
The pave setting features a beautiful and continuous line of gemstones. These rings will add more sparkle and charm to your wedding gown. Remember to take care of them because the diamonds are more exposed than other types of settings. The diamonds are held together with prongs that can be shared across diamonds that are next to one another.
Browse all Pave Wedding Bands
---
Twisted Wedding Band
This fabulous design comprises two metal bands twisted together, creating a beautiful curving design. The ring symbolizes the union of two unique individuals who want to stay together for eternity. Twisted bands can be embellished with diamonds or be plain. Some may also opt for mixed metals.
Browse all Twisted Wedding Bands
---
Vintage Wedding Rings
Many vintage designs remind you of the Victorian era. You can get an antique design if you have a taste for luxurious and traditional designs inspired by historical periods. These types of rings may have metal milgraining, engraving and etching. Many are also made special with geometric or floral inspired designs that are carved into the metal.
Browse all Pave Wedding Bands
Wedding Band Metal Types
Platinum: a popular choice for wedding bands, platinum rings are durable and naturally hypo-allergenic.
Palladium: famous for its low-maintenance and natural white color, which doesn't tarnish.
White Gold: brilliant and lustrous metal that compliments all designs.
Yellow Gold: traditional choice for most wedding bands.
Rose Gold: offers a beautiful shade of gold and the hardness/color varies according to the carat you choose.
Silver: one of the strongest and most precious metals for wedding bands.
Titanium: an ideal hypo-allergenic metal for creating timeless and beautiful wedding bands.
Zirconium: a white/grey lustrous metal featuring the same hypoallergenic attributes as Titanium.
Tungsten: an exceptionally strong metal with hypo-allergenic and scratch-resistant capabilities.
Steel: Ideal for people who want a budget-friendly wedding band but results in the creation of a strong and hypo-allergenic wedding band.
Which are the Most Expensive and Which Are the Least Expensive Metal Options?
Out of all these metals, Platinum is the most expensive metal. White gold and Silver are also among other expensive options, while Steel is the most affordable metal for wedding bands. It's important to choose a durable metal like gold or platinum for a wedding band or engagement ring as it will be worn on a regular and daily basis.
How Much Do Women's Wedding Bands Cost?
According to average figures in the USA, the average cost of women's wedding bands is $1,100, whereas the price of an average wedding band for men is $510. Metal types and diamonds can add to the cost of the band. Consider how much you want to wear your band and if you will be wearing it with your engagement ring to determine the wedding band budget.
Who Generally Pays for the Woman's Wedding Band?
While modern couples can decide mutually about who will pay for the bride's wedding band, traditionally, the bride pays for the groom's wedding band and all the gifts for her bridesmaids.
The couple can decide to share the costs together or consider exchanging wedding bands as wedding gifts. Many times, the groom tries to match the bride's engagement ring by purchasing a wedding band that features a similar design as the engagement ring. However, the bride can choose to wear a unique design on her big day.
Lifestyle Considerations
Both the bride and the groom will wear the wedding band almost every day for the rest of their life. That's why choosing a comfortable wedding band is important. You should reflect on your lifestyle before deciding on the most appropriate design.
For instance, if you are fond of playing an instrument or sports, choosing a slimmer wedding band featuring rounded edges will result in a comfortable fit. In case your work involves using your hands a lot, you should go for a solid metal ring and avoid too many gemstones that can become loose over time.
If you work outdoors mostly, avoid choosing an intricate design, which will trap dirt and grime easily.
Diamond Bands Cost
Considering the price of real diamonds, buying a diamond wedding band can be quite expensive, especially if you are on a budget. While the exact price of diamond wedding bands depends on the quality, cut, and shape of the diamond, even a simple diamond ring can cost you thousands of dollars.
If you choose a diamond wedding band with embellishments, the price tag can increase. That's why lab diamonds are becoming affordable and attractive choices for purchasing diamond wedding bands. Not only do lab-grown diamonds look the same as real diamonds, but they are available for a much lower price.
Where to Buy a Wedding Band
When choosing a beautiful and timeless wedding band, pay attention to factors, such as the intricacy of the design, the durability of the metal, and the cost of women's wedding bands.
Many local jewelry stores are selling beautiful and appealing wedding bands at an affordable price. You don't have to buy an expensive wedding brand from a luxury brand when you can find the same quality and designs from a local jewelry retailer.
With Clarity offers the best lab diamond wedding bands for both the bride and the groom. Each one of our designs is proof of our design and manufacturing excellence. We can even craft matching wedding band styles for every engagement ring that we have available on site.
Wedding Band and Engagement Ring Matching
A popular way to buy a wedding band is to match the design of the wedding ring with the engagement ring. For example, if your engagement ring features a square or round halo design, you can choose the same for your wedding band. You can also match the number of stones or diamonds featured on your engagement ring.
Shop Wedding Bands
FAQs
How much do wedding bands cost for her on average?
Wedding bands for her cost around $1,000 on average depending on the metal, diamonds used, and carat of diamonds used. The design also influences the price of the wedding band. Also, the choice between lab grown diamonds and natural diamonds will also influence this number.
How much do wedding bands cost for him on average?
Wedding bands for him cost around $510 on average. Factors like metal type, design, and diamonds influence this number. If adding diamonds to the design, you can expect the cost to go up by several hundred depending on the type of diamond and the size and quality. For less expensive options, opt for lab grown diamonds, not natural diamonds.
Who pays for the wedding bands?
Modern couples today may choose to share the cost of the wedding bands but traditionally the bride pays for the groom's wedding band while the groom gifts the bride her wedding band.
What is the most expensive metal for a wedding band?
Platinum is the most expensive metal for a wedding band because it is hypoallergenic, strong, durable, and offers a patina finish after years of wear that makes the ring look fresh for years to come.