What Future Mothers-In-Law Need to Know If They're Shopping for the Engagement Ring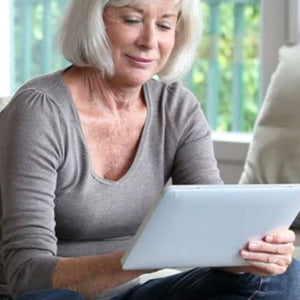 The day has finally arrived; your son has decided to pop the big question, but he doesn't have an engagement ring picked out yet and wants you to help. Or, maybe he just doesn't have the time and you want to take the burden off of him.
Whatever the reason, you're now in charge of picking out the ring he'll use to ask for her hand in marriage. It's an exciting time, but don't get too carried away with ring settings and carats just yet. We're here to give you some things to keep in mind before you start shopping to not only help, but also to ensure you pick out a ring she's going to love forever.
Get tips from your son, and not just about the ring
Your son needs your help, but that doesn't mean he gets to wash his hands of the whole process — not even a little bit. He might know what she wants, but if he doesn't, he might know if she uses Pinterest and what her username might be. Her profile might have an entire board of inspiration for shopping for her — or at least give you a little insight into her interests and personal style.
For example: Maybe her Pinterest boards show that she's really into retro and vintage style. In that case, a ring that looks more antique might be the perfect fit, like the Milgrain Flower Halo Diamond Engagement Ring. Or, maybe she's really into fitness. In that case, looking at low-profile diamond engagement rings might be the better option.
Consider her tastes
Even if there's no Pinterest board, it's pretty safe to assume you've met her. That means you've seen what she wears and your son has access to her closet. Figure out what metal she prefers in her jewelry (is she a yellow gold or a platinum and silver girl?) and if her style is flashier or simpler. Is her style bold or dainty? You don't want to get a ring that completely clashes with her whole style because, ultimately, it should be a reflection of who she is.
And it might be damaging to the relationship, too. Think about it: She might assume her fiance doesn't know anything about her — or worse, isn't paying attention — and it might make her think they aren't on the same page. It might sound a bit dramatic, but marriage is a big commitment. Small things like this might not be insignificant to her.
Bring in some backup
Who knows your son's future wife better than him? Her close family and friends, of course. Even if you don't know your future daughter-in-law's family, this can be a good resource — and a good way to get to know the rest of the family. Recruit her mom or sister or even a friend to help you pick it out. They'll enjoy being part of such an important event, you'll get to bond with a member of the new family that's being created, and you'll get some serious insight to your future daughter-in-law. Win-win-win!
Remember who the ring is really for
Time to address the elephant in the room: The diamond engagement ring you're shopping for is for one person and one person only: your future daughter-in-law. It's really tempting to choose what you think looks best. We've all done this same thing at least once with presents ranging from birthday to Christmas gifts. But only one person will be wearing the ring day in and out (ideally forever), so ultimately the only thing that matters is what she likes. It's about finding the perfect symbol of love for the relationship between your son and his special someone — and that means finding a ring she wants to wear every single day.
Lean on your son for sizing
Rings can be resized, but some styles — like those with pave diamonds on the band — are more difficult to adjust. Avoid the resizing trap by leaning on your son. He has access to her jewelry box and can find rings to help verify her size. It's a lot better that guessing (and being way off). Resizing also costs valuable time. And if he's on a timeline to propose, you might not have the luxury of sending back a ring to get fitted.
Make sure you're shopping in their budget
Don't start shopping without knowing how much your son wants to pay for the ring. Nothing is worse than finding the perfect ring that is ultimately way out of the budget. Once you start looking at diamonds, this is where an expert, like our on-staff gemologists, can help. If you're in the prelim stages of shopping, you can still get expert insights. Fill out the form below with your future daughter-in-law's preferences, and our gemologists will hunt down three diamonds they believe are a perfect fit and send them straight to your inbox.
Also, don't volunteer to pay for the ring for your son. It might be tempting — especially if the ideal ring is expensive and you can afford it — but this is his commitment to his future wife. Ultimately they're making their own family, and the ring should be a symbol of that. Save that money and donate it to their wedding fund, or give them a cash gift toward their future goals.
Don't get offended if she doesn't like it
This might be a toughie, but don't get personally offended if his bride-to-be doesn't like something about the ring you found. It's likely not personal (even if she knows you picked it out). Instead, look at things from her point of view. She's going to be wearing this ring forever, so it needs to be something she really loves and is proud to show off. Don't let ego or hurt feelings get in the way of a relationship you're going to have with her for the rest of your life.
Instead, take this opportunity to show what a helpful and understanding person you are — and maybe even help her look for the ring that makes her happy. We guarantee she'll appreciate the effort. (Plus, you'll get priceless insight into her true style, which means you'll nail every future present.)