Diamond: April's Birthstone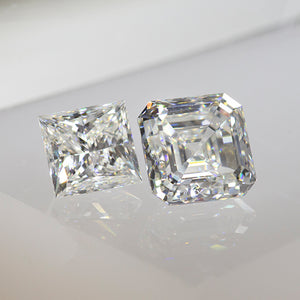 Diamonds are the ultimate gift for any occasion and for those fortunate enough to be born in the month of April, the diamond is their birthstone. Diamonds are believed to endow anyone who wears them with its qualities of endurance, clarity, strength, balance and eternal love. It might surprise you to know that diamonds come in quite an array of colors blue, black, green, red, pink, purple, orange, yellow and brown. In the early 1900's The American National Association of Jewelers published a list, assigning various gemstones to the twelve months of the year. This list is the accepted birthstone list all over the world.
---
What Does The Diamond Birthstone Symbolize?
Diamonds are not only beautiful to look at, but hold an even deeper symbolic meaning. They are the gift of choice as it is believed they endow the wearer with clarity and purity of throught in both mind and action as well as strength and endurance. Diamonds also inspire eternal love and enduring relationships. It is also believed the that diamodns have powers as an effective healing crystal.
---
Popular Diamond Birthstone Jewelry Options
Diamond jewelry is a versatile gift that will last forever. It is a suitable gift for that special person you know, who has a birthday in April, from the toddler to the grandmother. A birth stone can be worn daily to work, or on special occasions. The most popular diamond birthstone jewelry gift options are earrings, necklaces and rings. These three options can provide versatility and lots of options and variety for an April birthday gift. Just remember the four c's of diamond buying carat, color, clarity and cut as these four factors will determine the quality and cost of the diamonds you purchase.
Diamond Earrings are an easy choice that can be a very affordable diamond birthstone gift. There are a wide variety of styles including studs, loops or chandelier earrings. Choose earrings based on the personality of the wearer. Studs may suit a simpler aesthetic, which drops or contemporary styles may be better for someone with a unique style.
Diamond Necklaces are a nice personal touch for gift giving. It is easy to pick a beautiful pendant that can complement any chain. There are lots of new styles to choose from in many different shapes, round, square, heart or key shaped just to name a few. Pendants are a great choice as they can be worn day or night and will be evergreen through the years.
Diamond Rings are a treasure that anyone would be happy and over the moon to receive as a birthday gift this April. There is a good reason why a diamond engagement ring is the preference of most. You can choose from many different designs, you can even make a smaller, more affordable diamond look larger, or go big and get her the diamond ring she always wanted.
Diamond Bands are an exceptional way to celebrate a landmark birthday. Choose one with micropave diamonds for a polished and dainty look. An eternity band can truly make a statement with sparkle all around. Bands are available in a variety of metals like platinum, rose, yellow and white gold making for a versatile gift perfect for anyone.
Regardless of the gift that you choose, diamonds are timeless and make for a memorable occassion. Learn more about jewelry before you make your purchase.
FAQs
What do diamonds symbolize?
Diamonds are believed to represent endurance, clarity, strength, balance, and eternal love.
Diamond is the birthstone for which month?
This stunning gem is the birthstone for the month of April.
Can you wear your diamond ring to work every day?
Yes, you can wear your diamond ring to work daily, as this gem is exceptionally strong. However, make sure to clean it thoroughly once or twice a year at least to ensure it continues to look brilliant.
Where can I buy good quality diamond birthstone jewelry?
With Clarity is a reputed brand that offers a variety of diamond jewelry, including rings, earrings, bracelets, and pendants. Explore our site to find the perfect design for yourself or someone you love.