Natural Diamond Bracelet Guide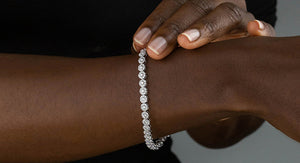 An Introduction to Diamond Bracelets
Diamond bracelets have been increasing in popularity over the years. They represent elegance and sophistication without being too flashy. What makes diamond bracelets so sought after is their rarity. They aren't necessarily hard to come by, but they are quite expensive making them a statement piece that will stand out no matter what the occasion.
There are a few aspects that contribute to the price point of the diamond bracelet but the most important is that it is made up entirely of almost just diamonds. The only metal pieces on a bracelet are the settings and the clasp.
Natural diamonds are a gorgeous choice for your bracelet as they are traditionally high in value and retain that value over time. Their sparkle is unmatched when compared to other color gemstones.
Popular Diamond Bracelet Designs Available
Tennis Style Diamond Bracelet - Let's take a look at the Tennis Style Diamond Bracelet first. It is without a doubt one of the most sought-after pieces of jewelry that exist and it is one of the most well-known styles of a diamond bracelet. You can get them in classic styles or with different designs of diamond settings such as drops, crowns, bezels, and floating.
Designer Diamond Bracelet - Another style is called the designer diamond bracelet. The designer style might not be as sought after, but it is as luxurious if not more so. It is the unique designs of diamonds laid throughout the bracelet that make it so luxurious. They are more of an artistic statement piece than an everyday bracelet like the tennis style. These bracelets usually feature multi-tones of metals or metal that is twisted into unique shapes. If you are looking for something a bit more unique and perhaps one of kind, the designer diamond bracelet might be the right choice for you.
Bangle Bracelets - Bangle bracelets are another common type of diamond bracelet you've probably heard about before, or maybe even worn yourself! The bangle is very stylish and sophisticated, often seen on working professionals. They sparkle beautifully without being too flashy, and usually only feature a single point of diamonds while the rest of the bangle is metal.
Metal Options For Natural Diamond Bracelets
When buying a diamond bracelet, you will need to pick which type of metal you want to accentuate your diamonds. This is very important as it will be making direct contact with your skin and if you have any sensitivities to metals, you will want to choose carefully. Additionally, the precious metal in the bracelet will significantly affect the price point of the piece, and if you are on a budget you may want to choose something a bit more affordable.
Platinum - We always recommend platinum if you have any allergies because it is hypoallergenic and the safest choice. Platinum is also more affordable, in some cases more durable than other metals such as silver, and it has a beautiful shine like white gold but is more white.
Yellow Gold - If you aren't sensitive or allergic to metals, then it comes down to personal choice. For starters, yellow gold is a classic and works well with traditional looks. 18k is going to be an expensive option but for a vintage or classic look, it is a no-brainer.
White Gold or Rose Gold - If you are into a more modern look but still love the durability and luxurious aspect of gold, consider white gold or rose gold. White gold is yellow gold that has been mixed with other metals. However, it is quite durable and has a silver-like shine to it. Rose gold is also a great choice for a modern look. It has a warm pink tint and is essentially just yellow gold mixed with copper.
Silver - Silver is an affordable choice but it is quite soft. It will scratch if not taken care of properly but it can still be quite sophisticated and beautiful.
Gifting Diamond Bracelets
Diamond bracelets are a fantastic option if you would like to give someone a gift that they can wear life long. Additionally, you can always buy yourself a diamond bracelet when you want to spoil yourself. However, buying a diamond bracelet can be kind of tricky so here are a few points you should keep in mind.
Tips on Purchasing a Diamond Bracelet
The first step to buying a diamond bracelet is determining the size. Some bracelets such as bangles can not be adjusted in size. It is always best to measure your wrist beforehand to determine the correct length of the bracelet for yourself.
If you decide to go with naturally mined diamonds rather than lab-grown, make sure the brand is reputable and has IGI or GIA certifications. Diamonds are expensive and when paying the price you should have the clarification that they are genuine.
If you are buying a gift for someone make sure you know their style preferences and then go off that. Start with their favorite or preferred metals and then decide on the style of bracelets afterwards. If you are stuck, a Tennis Style diamond bracelet is a choice you simply cannot go wrong with.
Storage and Care for Diamond Bracelets
No matter what kind of bracelet you buy, it will need to be cared for. The instructions will vary depending on the type of metal and the style of bracelet you have purchased. Ideally, store it in a box or container that is padded with a soft material such as felt and with nothing that will react with the metals or scratch the surface.
FAQs
How should a diamond bracelet fit?
If you can fit a single finger between the bracelet and your wrist, you have the perfect fit of a diamond bracelet on your wrist. If it is too tight to fit a finger, you might need to go a size up, and if you can fit more than one, then size down.
How many carat diamonds does a bracelet have?
The amount of carat diamonds a bracelet has depends on the type of diamond bracelet. A Tennis Style diamond bracelet will typically have between 3 and 4 carats, but other styles might have between 2 and 10 carats.
Can I wear my diamond tennis bracelet every day?
Yes, you can absolutely wear your diamond bracelet every single day. Just be sure to clean and store it properly to maintain its sparkle and overall condition.
Which metal best suits a diamond bracelet?
The best metal for a diamond bracelet is the metal that suits your preference and your budget. If you have allergies, go with platinum, if not, go with the metal that fits your budget. If you aren't on a budget, go with the color that you prefer. If you still can't decide, platinum or white gold will always compliment a sparkly diamond bracelet without being too conflicting with other metal tones in the mix.