Understanding Diamond Prices & How to Budget For a Diamond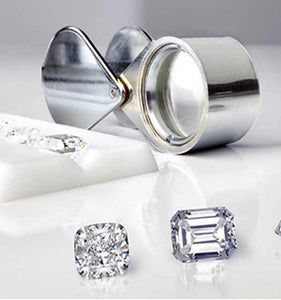 Diamond pricing is set by suppliers and diamond cutters as well as supply and demand conditions. Diamond pricing starts from the mine. As diamonds are harvested in their rough form from mines all over the world, they are sold for purchase to diamond manufacturers at auctions known as sights. The purchasers are diamond manufacturers known as sight holders. There are 79 sight holder manufacturing companies, the majority of whom are from India. At various points during the year, these sightholders attend rough buying auctions and purchase rough diamond. This is the first time a price is set.
The diamond manufacturing process is an expensive one. Diamond manufacturers must deploy skilled labor and technology in order to precisely cut and polish diamonds. Now the assumption here would be that manufacturers set diamond prices. However, that's not exactly the case.
In order to standardize and regulate diamond pricing, an organization known as Rapaport helps moderate diamond pricing. The Rapaport organization meets with rough suppliers, manufacturers and retailers to determine the supply and demand conditions. Based on those conditions, the organization sets suggested Wholesale diamond prices for all combinations of Carat, Color and Clarity. This report, which is updated and published weekly, is known as the Rapaport Price List.
From here, manufacturers will provide pricing for the diamonds they distribute within the market. These prices are typically either a discount or premium to the wholesale pricing recommendation provided by the Rapaport Price List. Prices will vary because oncut, color, clarity, carat and other attributes such as polish, symmetry, length-width ratio and fluorescence.
Diamond pricing has become extremely competitive since the standardization via GIA. Therefore, it is important to know that the average diamond margin is approximately 7% - 12%.
---
Diamond Pricing Value
Our tips to find the best value in any diamond price budget:
1. Consider fancy shapes. They are fashionable, symbolic and are typically 10% less expensive than their round cut counterparts.
2. Buy online. Apart of massive selection, online jewelers cut out extra supply chain layers such as retailers and brokers. This reduces the price.
3. Size Down. Try and find diamonds with just below the target carat size. For example, if you're interested in buying a 1.00ct diamond, try and purchase a 0.90 - 0.95ct diamond. The difference in size is small and the price difference is quite large.
4. Perfect Has Its Price. You don't need a D color and IF clarity diamond. The differences in color and clarity grades are quite small, but the price differences are substantial. Balance the 4 C's to achieve value.
5. Buy Loose. If you'd like to work with a local jeweler on a ring setting, consider buying the diamond elsewhere. Sometimes the package deal can be more expensive than the individual components.
6. Price Compare. Many jewelers offer diamond price matching and if you can find the same diamond report elsewhere, they'll match the best price.
7. Don't settle. With Clarity either possesses or has access to almost every GIA certified diamond in the world due to major supply relationships. If you don't see it in our inventory, simply ask us and we can most likely get you that special diamond at the best price, guaranteed.
FAQs
How are diamonds priced?
Diamond pricing is set by suppliers and cutters and of course, is governed by supply and demand cycles. The pricing process starts from the mine itself. Also, the value of a diamond is determined by the famed 4C's like carat, color, cut, and clarity.
Are lab grown diamonds less expensive than natural diamonds?
Yes, lab grown diamonds are 40-50% less expensive than natural diamonds.
What is the most affordable diamond shape?
Cushion cut diamonds are one of the most affordable diamond shapes with a beautiful brilliance that is reminiscent of the popular round cut. Fancier shapes usually come with a lower tag price than the most expensive round shape diamond.