Emerald Cut vs Cushion Cut Diamonds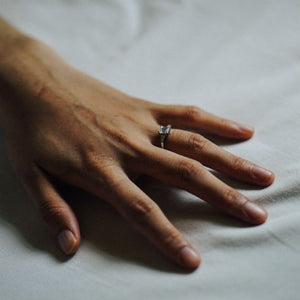 Diamonds come in many different shapes, colors or sizes, so if you are in the market for a particular loose diamond and have a problem finding it, chances are, you are not looking in the right places. Two of the more popular cuts for diamond rings are emerald cut diamonds and cushion cut diamonds. If you are unable to decide on one or the other, then the information below may be of great help to you.
Both diamonds are exquisite and come with their own stylish design, but there are some amount of differences between the two. Emerald cut diamonds are also known as step cut diamonds, because of their parallel looking facets. Looking into the emerald cut diamond rings, you can see the flat surface illuminated through its opaque exterior if it is of a high grade quality. For a 5 carat emerald cut diamond, there is an absence of the brilliant facets that are present in other diamonds, so any natural inclusions that are present will be missed. It sparkles less and has less color, so getting a lower grade color is possible.
An Emerald cut diamond ring is extremely elegant and will give off a dramatic flash of light. Diamonds on a 2 carat Cushion cut diamond, on the other hand, are much more sparkly, with the facets set in the same way as a brilliant cut diamond. Diamond Cushion cut engagement rings are great choices for any type of ring for a fiancé, but especially great for a halo setting. The setting is a large open table, so unlike the emerald cut, it may be more expensive to get a stone with a higher grade of clarity. The cushion cut is fancy, but has a soft side, so it cannot be evaluated by the numbers. The best way to choose cushion cut diamonds is by getting an evaluation done, or by using reviews from someone who has already bought one.
A Cushion diamond ring is now even more popular than before, even though the cuts are so confusing. It is important that you understand the terms (modified, chunky, classic, broken glass, large or no culets, broken glass, square, rectangular and old minders) that go with cushion cut halo diamond engagement rings and understand what they mean, before you can safely purchase one.
Give the origin of Emerald cut diamonds? Why might these diamonds cuts be good for engagement ring settings?
Emerald cut diamonds were originated in the early part of 1400. Cutters would smooth and slice off rounded surfaces to reveal a table cut diamond. After that, cutters began to smooth off the rounded edges and making table cut diamonds into emerald cut diamond engagement rings, as they were cheaper and could be made to reflect more light. These stones were ideal for making engagement rings, as in some instances, they cost less than the traditional diamonds.
Are there any similarities between the two diamond cuts?
A Cushion cut diamond, which are also known as old mine cut, is a square cut diamond that has its corners rounded. This cut has been in existence for almost two hundred years. In the first century in which it existed, it was the most popular cut diamond that was available. Up until the early part of the 20th Century this diamond was the preferred diamond for cushion cut diamond engagement rings.
The light on a Cushion diamond, or one that is used on a cushion cut diamond ring, has a thicker pattern than its modern counterparts. Its larger than normal culet can be seen through the table. This gives the diamond a distinctive look that results in it being preferred by many. The emerald cut has what is considered to be steps. Several similarities exist between the two, including the table, they both possess, dramatic flashes and long lines, as well as the effect of a hall of mirrors. For those who would like to know what is a cushion cut diamond, then a cushion cut diamond engagement ring is a great choice for someone who wants an engagement ring that they can cherish forever.
Top choices for emerald cut and cushion cut engagement rings
Pear shaped diamonds have undeniable romance. But that doesn't mean every yellow gold pear shaped engagement ring is the same style. Check our 10 of our favorites below. You'll see that even with this same diamond shape and metal combination, one ring can look dramatically different from the next. And that means you can find the perfect ring to suit your style.
Tapered Cathedral Solitaire Engagement Ring
This is a beautiful ring that is available in 14 and 18k rose, white and yellow gold as well as platinum. It features a simple, yet elegant band with four prongs to fit your diamond of choice, whether round, princess, asscher, emerald, radiant, pear emerald, asscher, marquise or oval.
Grace Solitaire Diamond Engagement Ring
A beautiful alternative to the two above. A more solid ring base which boasts an open solitaire setting with spiral accents on the metalwork. Available in all the popular diamond colors and shapes.
Side Stone Diamond Engagement Ring
An elegant and simple piece of jewelry that would accentuate any finger, big or small. This ring features accent diamonds on both sides which meet at the center.