With Clarity vs. Blue Nile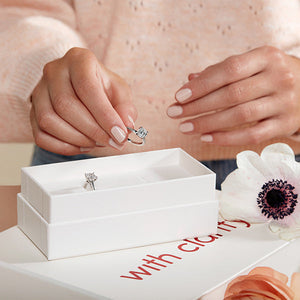 It's easy to be overwhelmed by all of the options when it comes to buying fine jewelry. You've likely heard of big names, like Blue Nile jewelry, but we're here to tell you that With Clarity is certainly another brand that you should consider.
With Clarity has two driving factors when it comes to online jewelry shopping; excellent quality and reasonable prices. Our origin story begins with the search for our own fine jewelry, specifically, an engagement ring. After wading through tons of traditional online jewelers who tended to be a little impersonal, we knew that there had to be a better way. A way to offer all the benefits of in-person shopping with the convenience of online. The result was a genuine experience that's transparent and convenient, plus delivers high quality while forgoing the high markups.
We know that a dazzling diamond means more to someone than just a gem. Similarly, we believe your fine jewelry buying experience should be more compassionate than simply pressing "buy now." This is why we're deliberately choosing exceptional offerings that include ethically sourced and lab diamonds, both loose and set, for affordable prices and features like Home Preview and build-it-yourself options within the buying process. This way, you'll be confident you've made the best choice!
| | | | | | | |
| --- | --- | --- | --- | --- | --- | --- |
| | 1 CT. Lab Grown | 1.5 CT. Lab Grown | 2 CT. Lab Grown | 2.5 CT. Lab Grown | 3 CT. Lab Grown | 3.5 CT. Lab Grown |
| With Clarity | Starting at $1,842 | Starting at $4,010 | Starting at $7,819 | Starting at $9,464 | Starting at $23,177 | Starting at $35,382 |
| Blue Nile | Starting at $2,235 | Starting at $5,649 | Starting at $11,462 | Starting at $19,789 | Starting at $23,179 | Starting at $35,884 |
The Benefits of Home Preview
We know that shopping online is touted as the way of the future. But when you're choosing something as significant as an engagement ring or fine jewelry, it's imperative that you make a perfect choice! This is why we've combined the best of online and in-person with our Home Preview experience.
Online shopping offers you a wider selection and the opportunity to custom design your dream piece of jewelry. However, we know that online things aren't always as they appear, and sometimes products look different in person. Home Preview lets you put these worries aside, taking your ring for a test drive before you commit.
It all starts with a Home Preview box that includes two rings totally customized by you! Next, your jewelry will be shipped to your home, unlike other stores that only let you virtually try on pieces. Try it on (for real), take a selfie, solicit feedback, or simply see how it feels going about your normal routine. In three days, ship it back and let us know if you've fallen in love or want to make some changes to your custom diamond jewelry. It's the most convenient way to take the opaqueness out of online shopping for exquisite pieces.
Confidence Thanks to Consultation with Diamond Experts
We know you're great at selecting designs and styles that best suit you. But we understand that choosing the perfect diamond based on clarity, color, and cut can be tricky. This is why we offer consultations with diamond experts.
Certified gemologists take the guesswork out of choosing the perfect lab-grown diamond or natural diamond. It's easy to schedule an appointment and meet with a helpful expert who can guide you while answering all of your questions. It's the perfect way to choose your ideal diamond like a pro, with a seasoned pro's knowledge and compassionate guidance.
Customer Care That Actually Cares
Speaking of gemologists, you can rest assured that everyone at With Clarity cares about more than simply selling a beautiful piece of jewelry.
We care about the customer experience, from start to finish. Applying our knowledge in a helpful and considerate manner is the goal of our seasoned gemologists, whether you're looking for a lab-grown or natural diamond. Our design experts know a thing or two about design, but they also know the significance of each customer's unique story and wishes. Often we are able to marry these two into a meaningful and gorgeous piece of jewelry that you'll cherish forever.
Our customer standards, from returns to warranty, exceed the basic offerings to provide you with an authentic and compassionate experience from browsing to buying and beyond. Learn more by reading With Clarity reviews.
| | | | | | | |
| --- | --- | --- | --- | --- | --- | --- |
| | Returns | Shipping | Warranty | Financing | Resizing | Communication |
| With Clarity | 30 days | Free shipping | Lifetime | With Clarity Credit Card | Free within 30 days of purchase | A+ |
| Blue Nile | 30 days | Free shipping | Lifetime | Blue Nile Credit Card | Free within 12 months of purchase | A+ |
Why Choose With Clarity?
Whether it's engagement rings, wedding bands, or just a gorgeous piece to add to your collection, With Clarity is waiting to help you on your jewelry journey.
You'll notice that we have lots of satisfied customers and plenty of five-star With Clarity reviews. We believe this can be attributed to our mission, which was so strongly influenced by our story. We learned from our own journey of trying to find the perfect engagement ring. From this experience, we knew we needed to commit to quality, affordability, and a comfortable shopping experience. We think our A+ BBB rating and feature as one of the fastest growing companies in the diamond jewelry industry proves we are well on our way to fully realizing our dream of creating the most ideal fine jewelry shopping experience possible.
Our wide selection, including both earth-mined and lab-grown diamonds, features loose stones as well as gorgeous jewelry designs. Not all companies, like Blue Nile, for example, offer loose lab-grown diamonds. We believe the ability to browse, custom-build, and home preview your jewelry helps to ensure you walk away with the perfect piece to commemorate your occasion. But our commitment to you doesn't stop there. Our policies concerning warranties, returns, and insurance, as well as our customer care services, offer continued support for your gorgeous jewelry. These are just a few of the ways we're deliberately different in jewelry and online shopping.
FAQs
Does With Clarity sell real jewelry?
Yes! We sell quality diamonds that include both natural and lab-grown specimens. You can choose from loose gems or have them set in an array of designs.
Where is With Clarity jewelry made?
We manufacture all our products in New York with meticulous care.
Is With Clarity a good company?
We have an A+ BBB rating and a great deal of 5-star reviews from our happy customers. Want to know more? Feel free to reach out to our customer care team!
Is With Clarity legit?
Our natural diamonds are certified by the GIA and our lab-grown diamonds are certified by IGI. We're a real company that provides excellent quality fine jewelry backed by exceptional customer service.