With Clarity vs. Clean Origin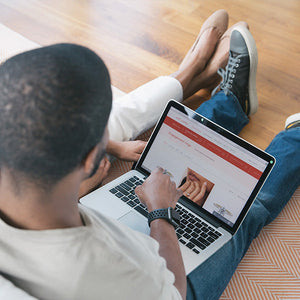 Fine jewelry is not just a fashion statement or a financial investment. It complements any outfit, giving you much-needed confidence and making you feel special. It also holds unmatched emotional value.
And while many brands like Clean Origin offer fine jewelry, we are here to acquaint you with With Clarity. Along with GIA-certified natural diamonds, the brand also sells lab-created IGI-certified diamonds. The areas of expertise include loose diamonds, customized wedding bands, and engagement rings with diamonds and gemstones.
With Clarity is the mastermind of a couple who wanted a more unique and personal ring buying experience. Founded in 2013, the company offers a unique service of trying the rings from the comfort of your home.
Reasons to Consider With Clarity
Many jewelers offer a wide range of diamonds, gemstones, and precious metals. Their selection of designs is overwhelming. However, they also charge exorbitant prices for even the most simple pieces.
Here are some reasons why you must consider shopping at With Clarity.
If you are looking for jewelry with reasonable pricing without any compromise on quality, With Clarity is your go-to store. Being an ecommerce store that offers diamonds online helps With Clarity save a lot on overhead costs. They pass on these savings to the customers.
Consider the costs of some of their most popular diamonds. Clean Origin diamonds are priced much higher than With Clarity diamonds of the same size and clarity.
| | | | | | |
| --- | --- | --- | --- | --- | --- |
| | 1 CT. Lab Grown | 1.5 CT. Lab Grown | 2 CT. Lab Grown | 2.5 CT. Lab Grown | 3 CT. Lab Grown |
| With Clarity | Starting at $900 | Starting at $1,500 | Starting at $2,300 | Starting at $2,900 | Starting at $4,200 |
| Clean Origin | Starting at $1,100 | Starting at $2,200 | Starting at $1,700 | Starting at $2,400 | Starting at $4,000 |
Home Preview: The home preview service is what makes With Clarity stand out from others. You can select two rings and customize them for shape, style, and design per your requirement. The company delivers the replicas to your doorstep. You can try the rings, consult family and friends, take selfies, and try them for three days before making a decision.
Consultation with Diamond Experts: You can schedule a consultation with the diamond experts at With Clarity. They answer all your questions and help you find the perfect diamond. Just select the diamonds and pick a time to see them virtually or in person. Talk to their senior gemologist to learn more about your choice of diamonds.
Customer Care That Cares: The customer care team at With Clarity is composed of experienced gemologists. They work around your needs to find the perfect diamond for you. They offer guidance on diamond selection, jewelry design, metal choice, lab-grown and earth-mined diamonds, and much more. They can help you find the perfect jewelry for any occasion and even craft custom jewelry if necessary.
When you compare Clean Origin reviews and With Clarity reviews, you will see that both brands offer gorgeous and impressive collections. However, With Clarity offers a more unique and personal experience.
Take a look at the value propositions of the two companies to pick the one that best suits you.
Returns
Shipping
Warranty
Financing
Resizing
With Clarity
30 days all products
30 days loose lab diamonds and lab diamond rings
Free Shipping
Lifetime Warranty
With Clarity Credit Card & Affirm
30 days from the date of purchase
Clean Origin
100 days
Free shipping
Lifetime warranty
Affirm Financing
Within 100 days of purchase
Why Shop At With Clarity?
After being dissatisfied with their own ring-buying experience, a couple created With Clarity.
Anubh Shah, one of the founders, discovered that the jewelers were impersonal and online shopping was intimidating while perusing the collection of engagement rings for his better half.
For couples like himself, choosing wedding bands was more than simply an in-person or online jewelry shopping experience; it was something they would cherish forever. He wanted to provide them with an alternative.
With his significant other, Anubh has crafted a superior experience for you. So, whether you are looking for engagement rings, wedding bands for women, or men's wedding bands, this jewelry online shopping journey is like no other and one you will never forget.
Here are some of With Clarity's special features:
With Clarity offers a unique combination of technology-enabled 3D printing with jewelry shopping, both in-person and online. Technology and compassion are what define With Clarity.
They have a combined experience of more than 100 years. With this experience comes the knowledge and expertise for better sourcing and pricing.
The team is committed to convenience, transparency, sustainability, and high quality. And all this at a reasonable price.
With 100% lab-grown diamonds, your purchase is 100% conflict-free and 40% cheaper than other jewelry stores.
They have thousands of customers backing them up with 5-star reviews. Some With Clarity reviews claim it is their best online jewelry experience and even recommend it to friends and families.
With Clarity has been accredited A+ by BBB and is one of the fastest-growing diamond jewelry companies.
The team of dedicated gemologists inspects and curates every stone to perfection. They also help you find one that will best suit you.
Whether you are looking for natural diamonds or lab diamonds, With Clarity has ready-made and custom jewelry options. Talk to them about your custom diamond jewelry requirement, and their experts will craft one for you.
Whether you are looking for loose stones or gorgeous jewelry designs, With Clarity has both earth-mined and lab-grown diamonds. So, you can have customized lab diamond jewelry or gemstone rings according to your style, need, and budget.
They have one of the best customer services. For general information like returns, warranty, insurance, and more, you can visit their site. For more specific inquiries, you can contact them via email, chat, or call. Their helpline number is 844-234-6463, where they are available to provide quick answers to all your queries.
With Clarity is a jewelry company that has amassed an enormous client base in the short time since its inception. Their popularity is growing, and with their passion and quality, it is set to rise higher.
The knowledgeable and helpful crew works hard to provide a hassle-free jewelry purchasing experience that you will appreciate alongside your uniquely crafted jewelry.
Their commitment to sustainability and transparency is noteworthy, as is their jewelry, designed to complement your special occasions.
FAQs
Where Is With Clarity located?
With Clarity is located in New York. Their complete address is 38 W 48th St, New York, NY 10036, United States.
Are With Clarity Diamonds real?
With Clarity sells a range of genuine, high-quality diamonds. They have earth-mined as well as lab-grown diamonds.
Are Lab Diamonds Worth Buying?
Absolutely. Lab diamonds have the same luster and shine as natural diamonds. It's hard to differentiate between the two, and only the eyes of the experts can make the distinction. They are a cheaper alternative to earth-mined diamonds, which can get quite expensive.