Affordable & Alternative Engagement Rings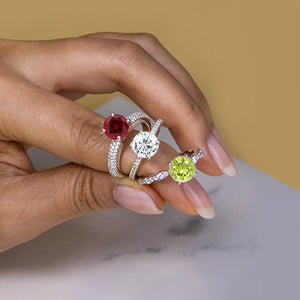 When you think engagement rings, your mind will generally go to the classic solitaire diamond engagement ring. However, these days young brides to be are often more interested in a ring that says something about them than they are following said traditions. This is great news for those who are shopping for an engagement ring on a budget. Read on to know affordable and alternative engagement rings.
Changing Engagement Ring Trends
If you have been shopping for engagement ring options, you may have noticed that not only are more couples opting for moissanite rings, but more couples are choosing colored gemstone engagement rings to announce their love to the world. Another choice that couples may choose to help them control the cost of the perfect engagement ring is to buy preset diamond engagement rings. Essentially these rings have a set price and design, and usually have a quicker turnaround time than customized rings.
What's the Most Expensive Engagement Ring Option?
With a few exceptions, a diamond engagement ring is generally more expensive than other gemstone alternatives. There are a few exceptions to this rule, for example, if you are shopping for extremely rare and valuable natural colored gemstones. Precious stones like sapphire, emerald, ruby, and natural mined diamonds will generally be the most costly stones you will look at.
Control your Diamond Cost with the 4C's
If you have done your research, you will know that there are ways to control the cost of your natural mined diamond engagement ring:
1. Limit the carat weight of your diamond. Maybe go with an "off-size" carat weight versus a popular carat weight like 1 carat.
2. Go for a lower grade clarity or color grade. To know the best balance of diamond grades for your ring and budget, we recommend asking our expert gemologists. Contact our team here.
3. Be strategic with shape. Select a shape that make your stone appear larger than it actually is. For example, oval and pear diamonds tend to look bigger because of their elongated shape.
4. Relay on illusory ring settings. Halo ring settings enhance the size of the center diamond because it creates a frame of diamonds.
Certainly, there are ways to reduce the cost of your diamond if you are set upon a mined diamond ring, but you may find that there more savvy options than saving on the size or quality of your diamond.
More ways to use the 4C's (carat, clarity, cut, and color) to buy the perfect stone: 4C's of Diamonds Guide
Like the Look of White Diamonds? Try Lab Diamonds or Moissanite.
Lab Grown Diamonds
Lab created diamonds are an accepted way to control the cost of your diamond engagement ring. Often, you can find lab created diamonds that fit your budget as they are generally a third of the cost of similar natural mined diamonds. Since this diamond alternative has gained popularity, you will find a variety of colors, cuts, shapes, and carat weights.
Moissanite
If you want another similar diamond alternative, moissanite may be the gemstone for you. Moissanite tends to be 20% to 50% cheaper than natural and mined diamonds. Moreover, they have a rainbow-like sparkle to them. Whereas, lab created diamonds have the same chemical, visual, and physical properties. In our experience, it's always wise to be upfront if you choose to gift your partner a lab created diamond.
Alternative Engagement Rings: Colored Gemstones
You may have noticed many modern brides are choosing colored engagement rings over the traditional diamond engagement ring. Choosing a semiprecious gemstone engagement ring is a particularly practical choice. London blue topaz, amethysts, and peridot gemstone rings make stunning engagement rings without a hefty price. Even precious gemstone engagement rings like aquamarines and black diamonds can cost less than a similarly sized natural diamond engagement ring.
Other Ways to Control The Cost of Your Engagement Ring
Consider Alternatives to Expensive Jewelry Stores. If you are looking to buy your engagement ring on a budget, you may want to consider shopping online. Brick and mortar jewelry stores usually have higher prices because they have extra costs like their physical store and storing inventory.
Consider Your Metal Choice. You will find that platinum is often more expensive than a unique rose gold setting. Palladium is a less expensive metal choice for replacing white gold. When it comes to 14 karat or 18 karat, the latter is more expensive because it contains more gold. However, keep in mind, more gold in a metal can make it more malleable for everyday wear.