All About Miranda Kerr's Engagement Ring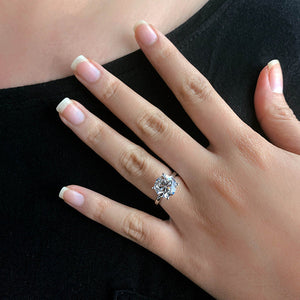 For decades celebrity engagement rings have been inspiring brides-to-be. Just take Elizabeth Taylor, for example. Though she was engaged a whopping ten times, all of her rings never failed to catch our eye. Notably, The Elizabeth Taylor Diamond is a "celebration of marriage" ring that is still considered timeless and beautiful today.
Fast forward to modern times, and celebrities' rings still have us dreaming of designs for our own sparklers. Much like Miranda Kerr's glamourous round-cut diamond ring from then-fiancé Evan Spiegel. Kerr's a supermodel who certainly knows fashion, so Spiegel couldn't opt for just any engagement ring. But what in particular makes her gem such a lovely source of inspiration? Let's discuss it! 
TABLE OF CONTENTS
Miranda Kerr's Demure Diamond
While many celebrity rings tend to be over the top and opulent, we love how understated Kerr's ring is. At an estimated 2.5 carats, it's seemingly just the right size. The round cut is a classic choice that ensures the ring she plans to wear every day for the rest of her life won't go out of style. Plus, the round brilliant cut packs a punch when it comes to sparkle!
However, her ring isn't a solitaire. It is actually a three-stone engagement ring. Atop the slender shoulders of the platinum band sit two more diamonds flanking the center stone. They're tapered baguettes that follow the form of the band brilliantly. They also offer just a hint of vintage flair. Estimated to have a combined weight of around .22 carats, they bring the total carat weight of Kerr's ring up to approximately 2.72 carats.
The platinum band itself is plain and delicate, which we love in today's world of blinged-out celebrity jewelry. We're unsure of the ring's special meaning, but we know that three stone rings carry romantic symbolism. Often representing the couple's love is their past, present, and future.
Her now husband Evan Spiegel indeed did a fantastic job with this classy, understated, and feminine ring. Understandably though, we may not all have nearly $60,000 to spend on an engagement ring. Don't fret, though, With Clarity has some great Kerr-inspired alternatives that won't break the bank. 
With Clarity Alternatives
What we love most about Kerr's ring is the classic beauty and the subtle femininity that stand out in today's more-is-more world.
There's just something about a baguette diamond. They add extra sparkle while complementing the thin shoulders of a delicate band. This gorgeous three-stone ring is nearly identical to Kerr's with a center round brilliant nestled between two baguettes. However, the band has a bit more shine thanks to round pave set stones trailing off the tapered baguettes.
We love geometric shapes like baguettes, but sometimes you want a softer, more feminine silhouette. In that case, this three-stone pear diamond engagement ring will surely catch your eye. The luminous round center stone sits between two pear-shaped diamonds. They're pretty and petite, a perfect complement to the dainty band.
Baguette diamonds tend to give off romantic vintage vibes, as does rose gold. Put the two together, and you have an Old Hollywood ring that will sweep her off her feet. This ring possesses Kerr's round center stone flanked by two baguettes but goes off script with the rosy hue of the band. And we're here for it! We also like that the baguettes aren't tapered, giving them a touch of Art Deco design.
Some words that come to mind when looking at Kerr's ring are elegant, sophisticated, and understated. Three characteristics that this three-stone diamond engagement ring has in spades. From the perfectly sized round brilliant gem in the middle to the gracefully tapered baguettes on either side, this ring has a subtle beauty that makes it a timeless heirloom piece.
Marquise cut diamonds are unique and alluring; just look at how they draw the eye in this three-stone ring. They complement the rounded shape of the center stone yet offer just enough contrast. Speaking of the center stone, its double claw setting is equally remarkable. We adore this one-of-a-kind statement ring!
Want to go bold and brilliant with your three-stone ring? There's no denying this ring is breathtaking. The side stones are triangular, giving edgy vibes that contrast with the round center and round pave set stones along the band. With so many diamond details, there is no shortage of sparkle on this stylish piece.
Simplicity meets secret glamour. While this ring possesses the understated beauty of Kerr's when viewed straight on, it has little details that make it pop! We're smitten with the pear side stones accentuating the round center diamond, poised atop a slender band. However, when viewed from a side angle, you notice the hidden diamond accent set into the slim lines of the decorative setting. It's positively enchanting!
We always have and always will love celebrity engagement rings. But it's important to remember that your ring doesn't need to be an exact replica. Instead, it should be unique to you. Take only inspiration from others' designs, then fill in the details with your personality and tastes.
With Clarity's ring customization can help you design a piece that speaks to your love and journey as a couple. Plus, with our Home Preview, you get to see your design up close and personal before you commit. Customer care includes free shipping, easy returns, a lifetime warranty, and consultation with diamond experts. This ensures you'll love our engagement ring-buying experience.
FAQs
How many carat diamond does Miranda Kerr's engagement ring have?
It's estimated that her center stone is around 2.5 carats, with the baguette side stones measuring approximately .22 carats combined.
What style is Miranda Kerr's engagement ring?
Kerr's engagement ring is a timeless three-stone diamond design. It features a round brilliant center stone with tapered baguette side stones.
Are three-stone engagement rings still popular?
Three-stone engagement rings have never truly fallen out of favor; they're considered a classic.
What is a baguette diamond?
A baguette diamond is a diamond cut in a long, rectangular shape. They tend to be slender and can be tapered or square.