Best Engagement Rings for a Gemini
Astrology is fascinating, and those who study it believe your zodiac sign can reveal characteristics of your personality, how you express yourself, and your fashion preferences. Today we'll highlight the gemini sign, so if you love a gemini, we're here to help.
Gemini have birthdays between May 21 and June 21, and it's represented by the twins, Castor and Pollux (known as the Dioscuri in Greek mythology). Geminis are known for being playful and intellectually curious. They often juggle a variety of passions, hobbies, careers, and friends. People often consider gemini the social butterflies of the zodiac because they can talk to anyone about anything. Find them out and about bouncing between happy hours, dinner parties, and nights out on the town.
In terms of style, the Geminis have an eclectic, attention-seeking, fun sense of style and make their own fashion rules. You'll see Geminis in bright, contrasting colors, lively prints, and sparkling sequins. Their clothes often push boundaries, and their style is playful and eye-catching. In terms of jewelry, they'll mix and match different pieces of jewelry to create their own look. Think mixed metals, colorful jewels, and eye-catching sparkle.
Engagement Rings for the Gemini in Your Life
We've taken what we know about the Gemini sign to create a list of stunning engagement ring options. An added benefit for these designs is your ability to customize the metal (platinum or 14K or 18K yellow, rose, or white gold). Some designs also allow you to swap out the cut of the center stone for additional customization.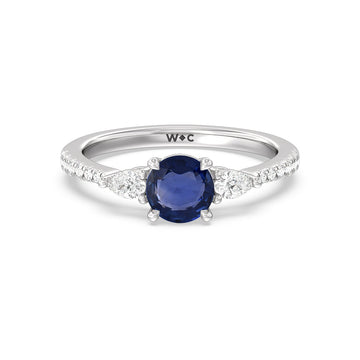 ---
This ring is ideal for a Gemini because they're social butterflies and this intense, glittering ring will start plenty of conversations. It features studded shoulders that lead to a pair of pear-shaped lab-grown accent stones. Sitting at the center is a round Sapphire with a rich and vivid hue.
---
The Gemini in your life will love this ring because they generally enjoy being the center of attention, and all eyes will stay on her when she's wearing this ring. A split shank design which alternates between smooth metal and the diamond-accented band. The two portions gracefully come together to meet a perfectly set halo around the center diamond (0.25 to 10 carats).
---
The Gemini are known for their twin personality with sometimes conflicting traits. This setting features a princess-cut center stone in your choice of size (0.25 to 10 carats) with two pear-cut diamonds on either side of the center stone. The two different cuts create contrast in this bold, eye-catching engagement ring setting.
---
A modern twist on a simple solitaire that rises up to the center stone (0.3 to 10 carats) in a criss-cross pattern. Geminis tend to be indecisive and change their mind, so this ring allows you to wear it with the pear pointing up or pointing down.
---
This engagement ring is inspired by the Gerbera flower petals with its striking marquise, lab-created blue sapphires. The Gemini in your life will love it because as a twin zodiac sign, they deal with opposing forces of light and dark. The ring echoes that feeling with the mixture of sapphires and diamonds. The blue sapphire under-halo adds a little hidden detail to make this a memorable engagement ring. It's available in 14K, 18K yellow, rose, or white gold and platinum with 0.10 carats in the setting.
Closing Points for Gemini Engagement Rings
You have plenty of factors to consider when you're picking an engagement ring that's unique to you. Here are a few more considerations that are often afterthoughts. Select a metal that fits your taste, skin sensitivities, and budget. For skin sensitivities, consider platinum for its hypoallergenic properties. If budget is on your mind, consider lab-made diamonds. They're an affordable alternative to earth-mined diamonds and feature the same sparkle and brilliance. Carefully research brands and only buy from a reputable brand. Some brands, like With Clarity, allow you to have rings sent to your home so you can try them on and see how they look and feel. They also offer free shipping, a lifetime warranty, easy returns, and opportunities to consult with diamond experts. All of these benefits make shopping for an engagement ring a breezy, easy experience!
FAQs
What type of engagement ring should I pick for a Gemini?
Geminis love being the center of attention and have a fun sense of style. They're often represented by the twins, Castor and Pollux, so rings that have two contrasting cuts, metals, or gemstones would be fitting. In addition, Geminis would like eye-catching rings that have a unique design, glittering diamonds, or intensely-hued center stones that can start conversations and ensure all eyes are on them.
What does a blue sapphire symbolize?
Blue sapphires are said to bring luck, loyalty, happiness, and love. They're becoming more popular for engagement rings based on their beauty and symbolism.
Are halo diamond engagement rings outdated?
Halo diamond engagement rings are not outdated. Instead, they're a classic, popular engagement ring setting. Halos are the second most popular type of engagement ring with the most popular being the solitaire.