Best Engagement Rings for a New Year's Eve Proposal in 2022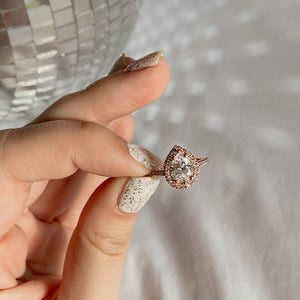 Getting engaged signifies the start of something new - a new journey with your one true love! What better way to bring home the symbolism of an engagement than with a proposal on New Year's Eve? NYE is indeed the time of fresh beginnings, new starts, and goals. All these things are very fitting for a festive proposal that will create lasting memories.
TABLE OF CONTENTS
Say Yes to These New Year's Eve Engagement Rings
If you're looking to end the year on an extra-brilliant note for you and your significant other, we've got the perfect way to ensure you have a sparkling New Year. We've handpicked our most dazzling recommendations, sure to get a "Yes," so you'll soon be jotting down your ultimate wedding goals!
Inspired by Nature
Just as nature begins each spring anew, your new life together can start with an NYE proposal! This gorgeous Lily ring features Moissanite, a more sustainable and ethical choice for eco-conscious brides. A delicate petal-shaped setting gently hugs the center stone for a fresh, unique look. The sleek band is modern and classy, sure to suit any taste.
Aquamarine symbolizes happiness, hope, and harmony. So you can see why it is a perfect fit for an engagement ring! This lovely gemstone ring features a gorgeous blue Aquamarine surrounded by radiant diamonds in a star pattern. We love how this celestial ring stands out from other contemporary engagement rings. Your proposal is arranged in the stars; we just know it!
Best of Sophistication and Elegance
Talk about sophistication. Ovals are historically associated with elegance thanks to their elongated, graceful shape. This stunning ring is no exception. Features such as the halo and cathedral setting enhance its classy charm. Set on a slender band, the gems look positively opulent. It's a ring fit for a princess.
Consider this hidden halo engagement ring if your partner wants something a little more demure. A petal-like band inspired by nature is covered in glittering accent diamonds. All are pointing to the radiant center stone. Below the central gem rests a hidden halo, crafted from a collar of luminous diamonds that adds sparkle and allure when the ring is viewed from any angle.
For the Love of Glamor
Two Tone Bypass Ruby Ring
The deep, red color of rubies is undeniably the color of love. We love the Old Hollywood vibes. A gorgeous ruby center gem offers this glamour ring. The unique bypass setting is intriguing, adding extraordinary detail. Lined with glittering diamonds in a pave setting, we love how this ring perfectly marries both new and old. Much like we carry the happy memories of the past year into the New Year!
Smooth, lustrous metal. Graceful, sweeping lines. Radiant, round diamonds. This ring is the epitome of glamour! A split shank band is a beautiful nod to modern style, as is the cushion-shaped halo framing the round center stone. Both bands sweep together to intertwine before meeting the setting, representing two souls meeting and becoming forever woven together.
Vintage Charm
Vintage rings often have that cherished heirloom feel but are also timeless. This vintage leaf diamond engagement ring is a perfect example. Its sophisticated solitaire design is classic. However, the leaf motif of the band has distinct vintage vibes, especially with the milgrain detailing. Pave diamonds enhance the sparkle of this ring and complement the round, brilliant center stone, giving it an overall romantic feel.
The scrollwork is decidedly vintage, and we love how its intricate design enhances the beauty of this ring. The delicate work is offset by the milgrain border with its uniform pattern. Everything detail of the band draws the eye up to the breath-taking center stone, held in a six-prong crown-shaped basket. Scrollwork embellishes the band's sides, making sure this ring is eye-catching from every angle. If your partner loves historic charm, they'll adore this engagement ring.
A New Shopping Experience for a New Year Proposal
Considering popping the question on NYE? with clarity can take some stress out of your experience. Consult with our gemologists to learn more about natural and lab diamonds. They're knowledgeable about both, and their friendly guidance can help you choose the perfect stone for your ring. WithClarity's design experts can help you custom design a ring, starting with the stone or the setting. It's a unique experience that leads to a one-of-a-kind ring representative of your love story.
Our Home Preview is the ultimate test-before-you-buy. Choose two rings to include in your custom box. They'll be shipped to your home so you can look at them up close, take photos to show your loved ones, and see how they feel, letting you decide if it's true love before you commit. We like to think we take the stress out of engagement ring resolutions!
FAQs
Is proposing on New Year's Eve a good idea?
A New Year's Eve proposal is one of the most exciting and special ways to start the New Year! Because friends and family are often gathered, it can make the occasion an extra heartfelt holiday and engagement.
Which colored gemstone is best for an engagement ring?
Which colored gemstone is best for your ring depends on your style and preferences. Generally, sapphires, rubies, aquamarine, and emeralds are the most popular.
Are vintage engagement rings popular?
Vintage engagement rings have lasting popularity and never truly go out of style. Their timeless design makes them a fantastic choice decade after decade.
What is better – solitaire or a halo engagement ring?
Solitaire engagement rings are the classic choice, offering traditional appeal. Halo engagement rings tend to be more modern, perfect for the trendy bride.