What Are Filigree Engagement Rings?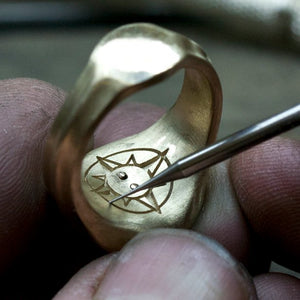 Filigree engagement rings can be considered as having an intricate, ornamental design that is formed from metal. In the world of jewelry, the meaning of filigree is very distinct. An embellishment, in which a delicate, pliable, fine, thread of precious metal is used with either platinum or palladium, curled or twisted into the specific design and then soldered on the face of the jewelry.
Oftentimes, these result in gorgeous and intricate motifs, which create a beautiful, lacy look on wedding and engagement rings. Even though the designs can also be found on handcrafted engraved jewelry, filigree is somewhat different from engraved jewelry. The process of filigreeing involves laying embellished metal atop a piece of jewelry, while the process of engraving involves carving a piece of jewelry to get a decorative result, as is popular on an art deco filigree engagement rings.
Why are filigree engagement rings special?
Rings are experimented with by their color and fragility. The result of these experiments is the use of metalwork to produce gorgeous, seemingly delicate, filigrees with center stones, such as diamonds, gemstones or pearls. Beautiful antique rings from the Edwardian era are cherished today, because of their elegance and intricate design. There can be several reasons why one would choose a filigree engagement ring. One of these reasons is that gemstones are more expensive than precious metals.
The positives of filigree rings
Filigree rings can be a cheaper way to use embellishment on a ring. The design can add accents to center placed gemstones or smaller diamonds. Filigree rings are romantic, old-fashioned, and can be used to bring a new dimension to an otherwise normal, or common engagement ring. When it comes to vintage filigree engagement rings, they can be the perfect choice for a discerning bride whose aim is to have her ring stand out. Antique filigree engagement rings are also popular choices for brides, as they encompass a different era and have a distinctive look.
What are popular ring settings used with filigree engagement rings?
Some of the most popular filigree engagement ring settings include pear-shaped stones, knotted setting, halo cushion cut, and black diamond, to name a few. Asking to see the most charming rings would uncover rings that were designed before the 1950s.
When were filigree rings considered "vintage"?
How the vintage filigree engagement ring, with which many jewelers prefer to use the term "vintage" engagement rings came about is because of the need that arose out of the Victorian Era. Rings that were designed and made in 1940 has a filigree look like those made in the Edwardian era. The popularity of the filigree diamond engagement ring came about with this era. Brides who want that Victorian look.
When it comes to engagement rings the beauty is judged by the quality of the rings. The higher quality rings are more expensive and also more beautiful and durable. After you have decided on what you need in an engagement ring, then you can decide on what your budget is. Antique engagement rings filigree can be done with any intricately designed ring and some of the styles that you can choose from are listed below:
All of the rings listed above are great choices for filigree engagement rings, because of their designs. Whether you are looking for a yellow-gold filigree engagement ring, a white-gold filigree engagement ring, or a rose gold filigree engagement, it pays to shop early and give yourself an adequate amount of time to get the correct size, cut, and clarity. In doing so you can ensure that you are getting the ring of your dreams.