The Most Royal Celebrity Engagement Rings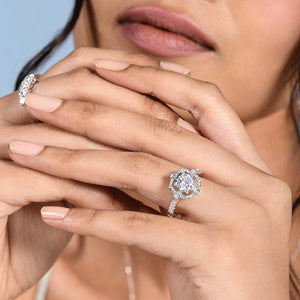 Engagement announcements are big news, and they're even bigger when our favorite celebrities announce their engagements. We compiled our favorite royal-looking celebrity engagement rings for some style inspiration - we'll discuss what makes each design stunning and unique.
TABLE OF CONTENTS
Ariana Grande
Ariana Grande and Dalton Gomez began dating in January 2020, got engaged in December 2020, and were married in 2021. Dalton Gomez custom designed her platinum engagement ring. Dalton wanted a contemporary look and had specific requirements. Ariana's ring features an angle-set oval diamond estimated to be about 5 carats with a pearl nestled next to it. The pearl holds sentimental value for Ariana; in 2014, her grandmother, Nonna, made Ariana a ring from her late grandfather's pearl tie pin. Nonna told Ariana that he told her in a dream that the pearl would protect Ariana.
With Clarity Alternative: If you're drawn to Ariana's ring, then you'll like the look of this three-stone marquise fine line engagement ring. Instead of three stones, you can opt for two to mimic Ariana's engagement ring. If you don't want platinum, you can select 14k or 18K white, rose, or yellow gold. The slim band and double claw set center stone add modern flair to this classic design. If you don't want an oval center diamond like Ariana, you can select a round or pear-shaped diamond.
Jourdan Dunn
Model Jourdan Dunn got engaged to streetwear clothing designer Dion Hamilton in 2020. Dunn's unique white gold or platinum ring is a halo-set oval-shaped diamond that is estimated to be 2.5 to 3 carats. It's set on a diamond eternity band that offers additional sparkle.
With Clarity Alternative: If you like Jourdan's halo-set ring, look at this oval-cut halo engagement ring. A raised diamond halo encircles an oval center diamond over a sparkling eternity band. If you don't want platinum or white gold like Jourdan's ring, then select yellow or rose gold.
Emily Ratajkowski
Emily Ratajkowski and Sebastian Bear-Mcclard married in 2018 after a few weeks of dating, so the ring came later. It's a unique pear-shaped and princess-cut stone paired on a yellow-gold band. The princess-cut looks to be about 2 carats and the pear is about 3 carats.
With Clarity Alternative: If you'd like a similar design, check out this petite three-stone marquise ring and select two stones instead of three. You can pick the cut of the stones and the metal to create a truly unique ring that represents you.
Selecting Your Engagement Ring
You've browsed and seen the amazing amount of choices you have for engagement rings. Celebrity rings provide inspiration ideas, but selecting your ring needs to be a personal decision. While each engagement ring is unique and beautiful, it's important to find one that represents you. Selecting the setting style, stone, cut, and metal should reflect your style and preferences.
If you'd prefer a customized ring, companies like With Clarity created an innovative process to provide affordable customization. In addition, their "Home Preview" options combines online and in-person shopping so you can try on jewelry at home with two replica rings. It's 100% free and allows you to shop with confidence. You select two rings to try on for three days. The replica rings look like "real" With Clarity engagement rings. They're made of a white metallic alloy and round one carat diamond simulant. Once you've tried on the replica rings, you mail the rings back to With Clarity. Additionally, With Clarity offers free shipping, easy returns, a lifetime warranty, and consultations with diamond experts. Their goal in providing these services is to make your engagement ring shopping experience a breeze!
FAQs
Which is better, three stone or two stone ring?
Whether you prefer a two-stone ring or a three-stone ring, they're both spectacular options so the choice depends on which look you want.
Three-stone rings
are popular and have more setting options as a result. The three-stone ring represents the past, present, and future, so it's a symbolic option. Two-stone rings are called "forever us" diamond rings that represent two individuals becoming one in marriage.
Does the solitaire engagement ring have any symbolism?
The solitaire engagement ring is a classic ring choice, and it represents the singular love that you have for each other.
Is a halo diamond ring a good choice for an engagement ring?
Halo diamond rings
give the illusion of a larger diamond and provide plenty of extra sparkle because of the halo.
Which is the most popular type of cut for an engagement ring?
Round diamonds continue to be the most popular choice for engagement rings.