A Shopper's Guide to Custom Necklaces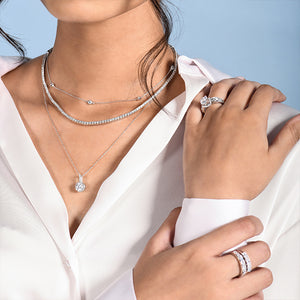 During the middle ages, brooches were worn not only to pin together cloaks and coats but also to add a pop of style to otherwise bland outfits. Between the 14th and 17th centuries, necklaces took over, eventually becoming even more popular. Often fitted with gemstones and gold, necklaces were originally used to express prestige, power, and wealth. Today, necklaces remain highly popular, however, they are worn for an array of very different reasons. From religion to sentimental reasons, necklaces are available in many styles and designs and can be used to express anything you like.
Modern Necklace Customization
While there is an undeniably diverse array of necklaces on the market from which to choose, customized necklaces are another option that allows you to stand apart entirely. From custom name necklaces to a custom dog tag necklace, the custom-made necklace world is full of potential; all it takes is a bit of your style input. In general, you can expect the following customization options when looking into purchasing a custom necklace of any kind.
Metal
When customizing a necklace, you can expect to choose between metals like 14K gold, 14k white gold, and platinum.
Text
For things like a custom nameplate necklace, custom initial necklace, custom dog tag necklace, or custom engraved necklace, you'll have the option to choose what text is put onto your necklace. Typically, the range of characters you can have engraved is around 13.
Photo
For a custom picture necklace, you'll want to find a picture that can be cut down and centered without losing the focal point of the image. Typically, close-up, intimate shots work best.
Pendant
If you looking at making a custom necklace pendant, there are usually many different shapes and sizes from which to choose. These range from hearts to less common symbols and basic shapes for engraving and the like. Here, you will also be able to decide between metals as well.
Chain
When going to customize necklaces, you'll likely have the option of customizing your chain. This often means the metal, length, and thickness.
Advantages of Necklace Customization
There are many benefits to a custom-made necklace, for example:
Adds a Personal Touch to the Piece
Whether you're looking to customize a necklace for yourself or a gift, having the ability to customize it gives you the freedom to truly express yourself and the meaning of the necklace itself.
Perfect Option for Gifting
The best gifts are those born out of thought for the recipient. That's why customized necklaces are the perfect gift option. Once you know what they like, you can show your appreciation by creating a gift that is unique to their tastes.
Adds Sentimental Value
Taking the time and consideration to get a custom-made necklace expresses a degree of sentiment that will live on as long as the necklace itself.
Allows You to Experiment with Designs
With so many options involved in the design process, customized necklaces provide a fun and unique opportunity to play around with different design aspects.
Enables Your Personal Sense of Style and Beliefs
Don't like gold? No problem. Would you prefer platinum? Great. No matter what your sense of style or belief system, custom necklaces allow you to get exactly what's true to you.
Types of Customizable Necklaces
In terms of necklace customization, there's an impressive array of options out there from which to choose. Check out some of the more popular custom necklace varieties below.
Custom Initial Necklace
Also known as a monogram necklace, a custom initial necklace is a timeless classic that saves time by expressing its message in the metal rather than through engraving. Seen hanging around the neck of Ann Boelyn back in 1500, the initial necklace became popular many centuries ago, maintaining its popularity today. In terms of customization, in addition to the initials themselves, these necklaces can also be customized according to metal and pendant type.
Custom Nameplate Necklace
Much different from many other custom necklaces on this list, the custom nameplate necklace only became popular in the late 1980s/early 1990s. Today, while they are less popular, they are still commonly seen in Latin and African American cultures with an array of designs, metals, and more. Typically, these necklaces are larger and much more pronounced than others.
Custom Birthstone Necklace
Custom birthstone necklaces are one of the more common customized necklaces out there, with widespread popularity all over the world. They are typically simple to customize, requiring you to choose the basics like the metal, chain type, and setting. Ultimately, these make great gifts and personal purchases as well.
Custom Charm Necklace
Charm necklaces date back to Ancient Egypt when Pharaohs first recognized the charm as a piece of jewelry. Today, they are widely used both personally and for gifting purposes. A custom charm necklace allows you to express yourself simply while making a personalized statement. Due to their small nature, you wouldn't have a charm engraved.
Custom Dog Tag Necklace
With a beginning that's based in the military, dog tags quickly spread to the jewelry world and are widely celebrated today by people of all kinds. When creating a custom dog tag necklace, you can expect to choose from a variety of chains and metal types, as well as what you want to be engraved.
Custom Necklaces and Metals
Yellow Gold
Yellow gold is typically best for someone with a classic sense of style who is looking to stay somewhat traditional. With plenty of warmth, luster, and value, it provides an excellent base for an array of additions.
Platinum
Platinum jewelry is a great option for those looking to escape the boundaries of gold without losing that air of sophistication. Not only that, but it also shines beautifully and has hypoallergenic properties making it ideal for those with allergies.
White Gold
White gold is an excellent, less expensive alternative to platinum with plenty of similar eye-catching silvery-white shine.
Rose Gold
Commonly seen in the antique jewelry world, rose gold promotes a soft, romantic appearance with a warm pinkish tint. While antique in nature rose gold is ideal for those with a modern style.
Sterling Silver
While sterling silver is one of the more affordable options on this list, that doesn't mean it lacks in quality. Silver is highly durable and promotes an impressive amount of shine.
Things to Keep in Mind When Customizing a Necklace
Budget
When shopping for any piece of jewelry, your budget should be the first thing you figure out. Once you know exactly how much you can spend, you will know what metals you can afford and go from there. In the end, it makes the customization process much easier.
Gifting
The next thing to consider when customizing a necklace for gifting purposes is the recipient's style. Then, not only can they enjoy the necklace, but they can appreciate that you took the time to consider who they are on a more intimate level.
Quality
Before purchasing your customized necklace, make sure the manufacturer is reputable, with the option to exchange or return the product should any issues arise. Only then can you be sure you're getting a quality product.
FAQs
What is The Cost of a Custom Made Necklace?
The cost of a custom necklace can vary dramatically between styles, metals, and features. Typically, you can expect the price to start at around $200, going up from there.
Are Name Necklaces Still in Style?
While they died off in popularity over the last few decades, name necklaces are making a huge comeback with a big degree of popularity and a presence as a key component of fashion lines as recent as 2021.
How Long Does it Take to Make a Custom Necklace?
In terms of time, it generally takes 4-6 weeks to create a custom necklace from start to finish.
Can You Customize All Types of Necklaces?
Yes, to some degree all necklaces can be customized, even if it's just the chain itself.