Best Jewelry Gifts for Self-Love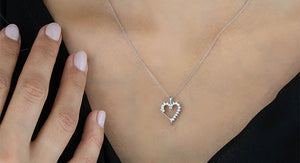 These days, everyone is feeling a bit stressed. Whether it's due to canceled vacations, having the kids all day, or working from home, burnout seems just around the corner. This is especially true since our homes right now are the center of all activities. Where we used to leave work problems at the workplace, we are now at our "workplace" 24/7. Perhaps the biggest casualty is the opportunity for self-care. Fortunately, treating yourself to a piece of jewelry from With Clarity can help you cope with life's challenges.
Why Self-Love is Important
The truth is, people who are psychologically healthy generally know how to practice self-love. Yet understanding this whole concept is key to its practice. According to psychologists, self-love is whatever practices let you give yourself some respect and weather the storm. It means giving yourself a break sometimes. Not taking other people's criticisms seriously and safeguarding your overall health.
Why is this so important? In short, we tend to be our own best allies. Nobody knows what we need more than we do. Sometimes that need is as simple as taking a stroll around the neighborhood to clear our heads. But no matter what our current needs are, neglecting them often comes at a cost. Burnout, health problems, and relationship breakdowns all can result from our not knowing how to self-love. The bottom line is that if we can't love ourselves, then we can't perform our best for other people.
Finally, if we love ourselves then it frees us to enjoy life. That walk on the beach, whether alone or someone special, will be more pleasurable. Or maybe you'll get greater enjoyment out of that awesome joke somebody told you. Even hobbies can seem better than before if we just love ourselves. In turn, we lead happier, healthier lives.
Self-love gifts are a great way to build yourself up.
Most of us practice self-love with a little "me time." This could be going to the spa, spending an evening out with friends, or even just relaxing with a good movie at home. All of these give you the opportunity to think about something other than the daily grind of chores and career. However, they are all transitory: the experience is over in a few hours at most.
For a longer-lasting way to celebrate yourself, consider self-love gifts. These can be enjoyed for a long time, often many years. In particular, pieces of jewelry are the best self-love gifts you can get yourself. Jewelry, especially if it is chosen carefully, projects that you value yourself. Even better, self-love jewelry can help cheer you up when times are tough. Serving as a reminder of how valuable you are is the greatest strength of these gifts.
Lab diamonds make good self-love gifts.
One of the things that everyone loves about diamonds is their sparkle. Diamonds can light up your face, your neck, or your hand depending on what jewelry they're set into. However, the other great thing about diamonds is their versatility. Diamond jewelry can be worn with just about anything, both during the day and at night.
Lab diamonds make great self-love gift ideas because they are real diamonds, only more affordable. This means that more people can afford to buy them just because, as opposed to being reserved for lavish occasions. Even better, though, is the romantic appeal of diamonds. Most women are used to getting diamonds from the men in their lives. But set as jewelry for self-love, lab diamonds can help remind us to love ourselves first.
Lab diamonds jewelry for your self-love needs
Here at With Clarity, we designed the Made For You collection with "just because" gifts in mind. There's plenty of variety, so it's important to know what kind of jewelry to get yourself. Style is always a concern, too.
Self-love rings
First, you should consider getting yourself a self-love ring. These are a great choice because every time you look at your hand, the diamonds will remind you of how special you are. Plus, if you are feeling down about your relationship then a diamond ring can remind you what's important: your happiness.
Lab diamond earrings
Another great self-love gift is diamond earrings. These are great because they can be worn every day, and with a wide variety of outfits. In this case, the diamonds will sparkle on your ear and call attention to how pretty you are. What could go wrong with that?
Lab diamond pendants
Finally, diamond pendants are always classic. Here, you get that diamond sparkle around your neck, and it can light up your face. Besides this, pendants can be worn with many different outfits, from a business suit to cocktail dress. Or even jeans, if that's your style.
Self-Love jewelry from With Clarity
Now that you've thought about different options for jewelry, let's look at some specific pieces we offer. This selection is designed to fit any budget or sense of style.
---
If you've always envied your friend's engagement ring, this is a lovely alternative. With 34 diamonds forming an oval, the Enthrall ring is truly a modern classic. But, since it sports several small lab diamonds, you won't break the bank. We've designed this ring in 14kt white gold for enduring style.
---
Love both stud earrings and a bold statement? You should check out these earrings set in 14kt yellow gold. Our expert jewelers have set 7 diamonds in each earring, for a total of 14. You'll especially love how the earrings offer the look of large diamonds at a small price. Plus, they'll really light up your face.
---
The Heart Pendant is perfect if you really want to show how much you love yourself. That's because we've crafted this pendant with a 14kt white gold heart. With such classic styling, the Heart Pendant is equally at home with jeans or a cocktail dress.
---
This lovely 14kt rose gold ring mimics the classic round solitaire design. Well, almost. This halo ring represents a peaceful tranquility. If you're trying to think happy thoughts all the time, then this ring is for you.
---
For the true fan of solitaire diamonds, these studs feature an understated elegance. We've combined a small diamond in each earring with budget-friendly 14kt white gold for a subtle sparkle. These are a nice choice for everyday earrings, and also appropriate for someone who travels a lot. Take your love of self anywhere you go.