Your Ultimate Guide to Shopping for Diamond Earrings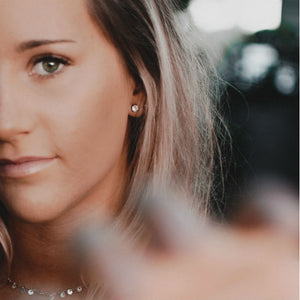 Diamond earrings, unlike engagement rings or wedding bands, are often changed--allowing for an endless collection. This guide is the ideal companion when shopping for a pair of diamonds earrings for women, or even working with a company like With Clarity to custom craft your perfect pair.
TABLE OF CONTENTS
Diamond Earring Types
Which Metal Should You Choose?
The metal choice is another important factor in selecting or crafting your earrings, and they're generally available in a variety of stunning metals such as white gold, yellow gold, rose gold, and platinum.
White Gold
White gold is a lighter metal and thus a great choice for younger girls or those with smaller earlobes.
Yellow Gold
Yellow gold works well with any gemstone or diamond color, but its warm hue is especially suited to emphasize the color of green and red gemstones.
Rose Gold
Rose gold is a soft pinkish metal that looks beautiful against both light and dark skin tones. While diamond earring guides would pair rose gold with gemstones of any color, this metal is popularly used with warmer toned gems and diamonds.
Platinum
The cool luster of platinum makes it an exquisite choice for real diamond earrings. While platinum's high density makes it a stunning and attention-getting choice, consider avoiding platinum if your earlobes cannot support heavier earrings.
Gemstone Standards for Earrings
And finally, the diamonds. Compared to diamond engagement rings, standards for diamond quality are often less stringent when purchasing earrings. Gemstones in engagement rings are often closely examined by friends and family while earrings are not--instead often hidden by hair. While the diamond cut is always important, the clarity and color of the stone in earrings need not be to the same quality of those used in engagement rings.
While diamond rings are often saved for nuptials, these earrings would make a beautiful gift for any occasion. They're a gorgeous choice to celebrate any special day or to wear every day.