How to Stack Lab Diamond Bracelets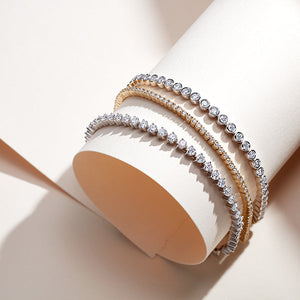 Diamond bracelets are a classic, timeless piece of jewelry that won't ever go out of style. It's one reason that diamond bracelets are a popular fine jewelry option all over the world. Lab diamonds have made diamond jewelry more accessible for all by providing the brilliance and beauty of earth-mined diamonds at a relatively affordable cost.
Another benefit to purchasing lab diamond bracelets is that they're versatile pieces. You can wear them alone or purchase several to stack. You can also find lab diamond bracelets in various styles as well: infinity bracelets, tennis bracelets, and bangles.
TABLE OF CONTENTS
How to Stack Bracelets?
There is a knack to stacking bracelets. In general, do not cover more than a third of your forearm with bracelets. First, take a look at the sizes of bracelets. If you have thinner lab diamond bracelets, you can wear more bracelets. If you want to stack larger pieces, then three to five is a good rule of thumb. If you're wearing larger pieces, don't overshadow the smaller bracelets that you're stacking. Remember you can always mix and match metals, textures, and styles of bracelets. For example, you can mix in a leather cuff or a watch along with your lab diamond bracelets.
Here are a few other tips for stacking:
Don't forget to add some color! In addition to diamonds, consider adding a pop of color to your stack.
Mix widths–wear one thicker piece can be paired for every 2-3 thinner bracelets.
Select a focal bracelet. Wear one piece that is the focal point of your stack. This can be a watch or an eye-catching piece that will draw the eye.
Try mixing rigid bracelets with flexible ones.
Mix delicate with chunky bracelets to see how the stack looks
Have fun stacking! Every stack is different and you can express your individuality and style with every bracelet combination.
Give the Gift of Jewelry
If you have a jewelry lover in your life, lab-made diamond bracelets make a great gift for a special occasion, like a birthday or holiday present. They're a circle symbolizing the infinite amount of love you have for one another. And they can be worn by men and women. You can also purchase a bracelet for yourself–you deserve to treat yourself.
If you're buying a lab-diamond bracelet, keep the following points in mind:
Measure your wrist to determine the correct length for the bracelet. With a flexible measuring tape, measure just above the wrist bone, then add approximately ¼ inch to 1 inch (a ½ inch is average) depending how fitted the bracelet should be. If you don't have a flexible measuring tape, use a piece of paper and then measure that. You don't want a bracelet that is too big and slides off.
Ensure the bracelet has certified lab diamonds. Buy from a reputed brand that offers lab-diamonds certified by a world-renowned authority like IGI
Keep budget in mind and pick the metal accordingly, as this features affect both the appearance and cost of the bracelet
If you're giving a bracelet as a gift, consider your loved one's personal style as you shop. Select the metal and style that aligns with your loved one's tastes. You can't go wrong with a lab diamond bracelet!
Research any brand that you're considering to see their return and exchange policies, customer service ratings, and other shopper's experience with the company.
Look at the clasp if it has one to see how easy it is to open and close. Some clasps are challenging to fasten by yourself.
See how comfortable the bracelet fits. If it's uncomfortable to wear, it likely will stay in a jewelry box.
Caring and Storing Lab Diamond Bracelets
Clean your lab diamonds periodically to remove dirt and debris that can build up over time. To clean your lab diamond bracelets, use mild soap (dish soap works well because it breaks up dirt that can make diamonds appear cloudy or dull) mixed with warm water and a soft toothbrush. Soak your bracelet for 10 to 20 minutes, and then gently scrub your bracelet with the toothbrush under warm running water.
Store your lab diamond bracelets separately in a softly lined jewelry box to protect other jewelry from scratches from your diamonds. You also don't want the metal from your bracelet to get scratched from other pieces of jewelry either.
FAQs
Who certifies lab diamonds?
Both the IGI and GIA certify lab diamonds. IGI provides specific gradings for qualities like color and clarity. The GIA has started fully grading lab-created diamonds recently, but GIA-rated lab diamonds are harder to find.
Are lab diamonds sturdy enough for everyday wear?
Yes, lab diamonds, like natural diamonds, are hard stones that are perfect for everyday wear. Both lab and natural diamonds have the same chemical composition, optical properties and physical features as natural diamonds.
How many bracelets should you wear while stacking?
Generally, don't cover more than a third of your forearm with bracelets. Stacking depends on the size of bracelets that you're stacking. For thinner bracelets, you can wear many. If you're stacking larger bracelets along with a watch, consider wearing three to five total. If you're mixing bracelet widths, stick to the ratio of one larger bracelet for every 2 to 3 thinner bracelets.
Can you mix metals while stacking bracelets?
Yes, you can mix metals while stacking bracelets. Rose and yellow 14K gold go well with white gold and platinum. You can have a monochromatic bracelet look or a mixture of metals. Either looks great!