Top 5 Lab Grown Diamond Necklaces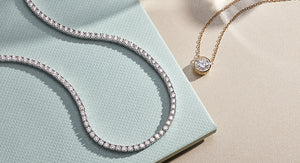 What do diamonds represent?
Diamonds are a timeless favorite. They have a brilliant sparkle that pair perfectly with any occasion. Moreover, diamonds are an extremely durable stone that's perfect for an everlasting bond. It takes a lot of thoughtful planning, research, and careful decision-making to purchase a diamond. Therefore a diamond is an ideal gift for someone whom you want to show an immense amount of tender-loving, care.
Why is gifting diamond jewelry a great idea?
A necklace is a thoughtful way to show someone you care. It can be a gift for either a man or a woman, and it does not have to be a romantic gift. A necklace is a perfect way to show someone in your life how much of a significant impact they made on you.
For the time that you are looking for a romantic gift, a necklace is a great way to communicate the love and adoration you have for your partner. It is a great way to reaffirm your connection without the pressure a traditional ring may bring. A necklace is simple, yet meaningful. (It is also harder to lose!)
What kind of person would enjoy a lab diamond necklace?
A lab diamond necklace is perfect for an individual who loves sparkles and the environment. Moreover, a necklace from With Clarity is a perfect gift if your partner is ethically concerned about natural diamonds' origin. However, if you are not too concerned with its procurement, lab created diamonds are perfect for both brilliance and budget.
Additionally, a lab made diamond necklace is perfect for someone with a unique sense of style. You can create and pick one-of-a-kind pieces with diamonds to fit their personality.
What is a lab grown diamond?
Lab grown diamonds are man-made diamonds manufactured through technological processes in controlled lab environments. The results of a lab created diamond compared to a natural diamond are exactly the same--chemically and optically.
Are lab diamonds real diamonds?
Lab created diamonds and their natural counterparts are made of the same elements--mainly carbon. The difference between the two types of diamonds is how they are made, not the material used to make them. Therefore, you can not tell a difference with the naked eye.
How long does a lab diamond typically take to grow?
Lab diamonds could be made in two to six weeks. The time duration depends on the growing method and the carat size of the stone. Compare this to a natural diamond that can take billions of years to be created. Learn more about the lab diamond growth process
How does one shop for a lab grown diamond?
Shopping for a lab grown stone does not differ much from shopping for a natural diamond. It is still important to consider the major visual characteristics of diamonds: carat, cut, color, and clarity. Not only is it important to consider how you want your diamond to look, but you also need to consider how much you want to spend. The price you pay for a lab grown diamond is very much dependent on where you purchase it (online or in-store), and if it is custom-made.
Positives of purchasing a lab diamond:
Lab grown diamonds are more likely to be less expensive than mined diamonds. You can even get "special sizes" when purchasing a lab created diamonds. This enables you to purchase a unique diamond tailored to you and your budget.
Learn more about lab diamond pricing versus natural diamond pricing here.
Additionally, lab created diamonds have a higher probability of being ethically sourced. You do not have to worry about how they were obtained since they are only made in a lab by specialists. At With Clarity we have made the commitment to only carry conflict-free diamonds because we want all our customers to shop with more confidence.
Quick tips before buying a lab diamond:
It is important to vet the jeweler before purchasing a lab grown diamond from them or any diamond, really. Make sure to read reviews and customer testimonials on Google Business and Better Business Bureau before getting involved with someone guiding you through an important investment.
When shopping for a lab created diamond, be sure to look for certification from a highly reputable institution. This will help verify your purchase and help you understand the carat weight, cut, color, and clarity of your diamond. Obtaining official certification for your diamond is beneficial because it verifies your purchase, and money spent.
Other important considerations are using a credit card for purchase protection. Most importantly, get the answers to all your questions--like the jeweler's return and insurance policies, and shipping methods.
Here are five necklaces for the perfect present: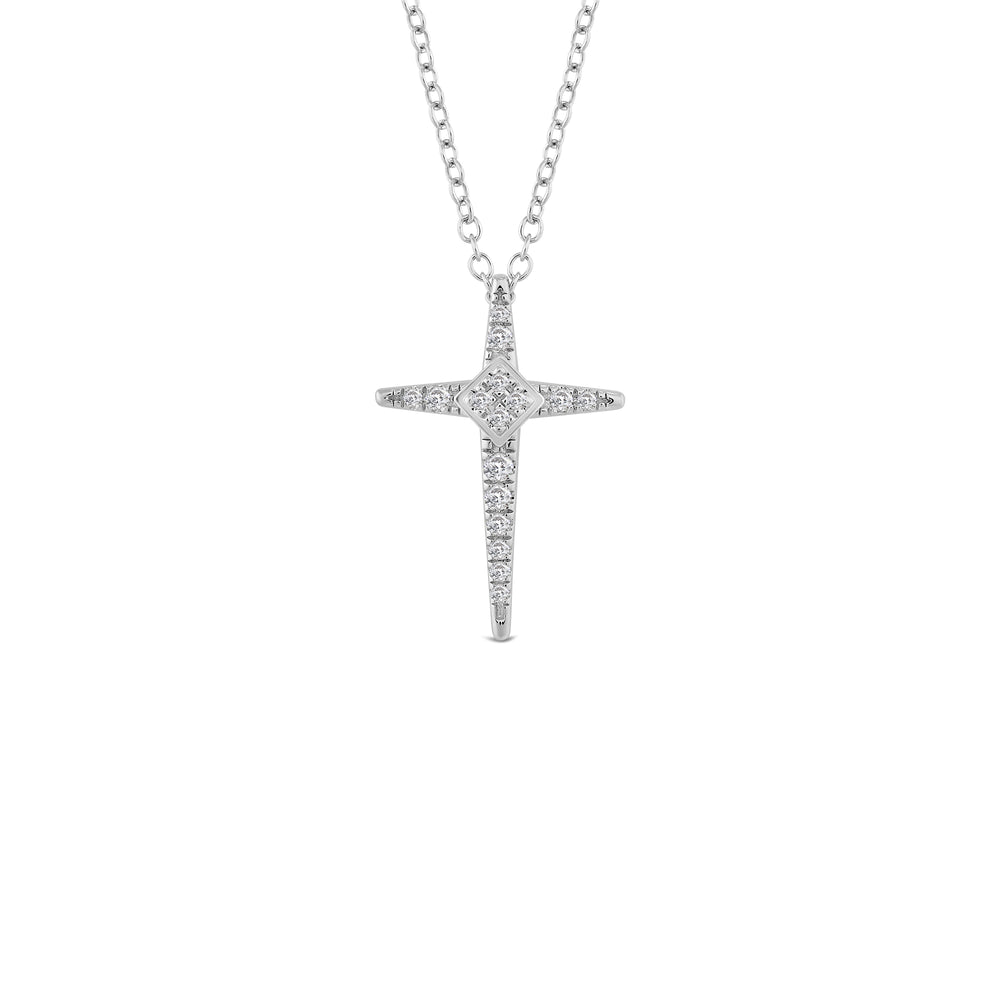 ---
Pointed Lab Created Diamond Cross Pendant
This stunning North star inspired cross pendant is fashion must have. As gifts, north star cross encourage loved ones to be brave and explore. Forever tethered to the same spot in the night sky, the north star has long been a symbol of guidance, confidence, and independence.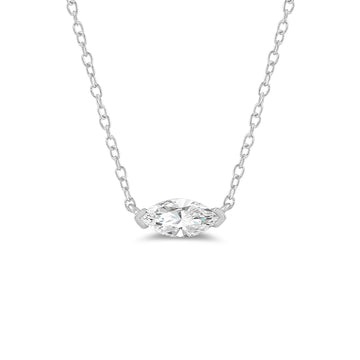 ---
East West Set Marquise Lab Created Diamond Necklace
A contemporary choice for an everyday diamond necklace. This white gold necklace features a marquise diamond in an east-west setting. It sparkles with a statement but does so discreetly, perfect for heightening any look, including casual outfits.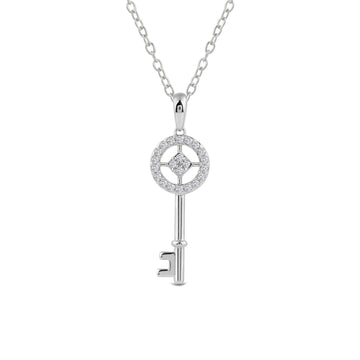 ---
Lab Created Diamond Antique Key Pendant
This lovely vintage inspired key pendant draws its inspiration from the round windows of mansions and palaces of yesteryears. its like having a key to your locked heart to let the light enter through it.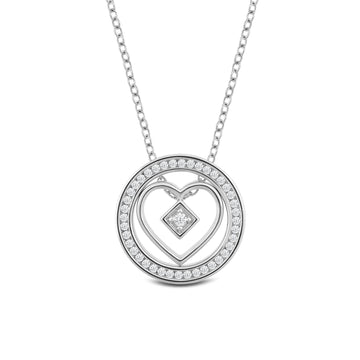 ---
Two In One Lab Created Diamond Heart In A Circle Pendant
Love comes in many forms, and its symbol - the heart - is no exception. Here is one white gold heart framed by a ring adorned with round diamonds in channel sitting. Inside the heart is a quadrilateral frame dotted by a single round diamond. Wear this necklace (or send it as a gift) to celebrate and represent a special kind of love - one that surrounds you and fills you up.