Best Engagement Rings for a Pisces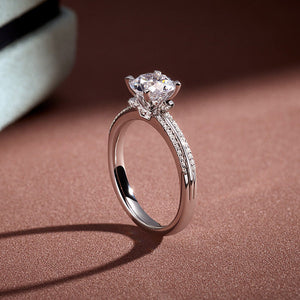 Zodiac signs provide insight about your personality by providing clues, traits, likes, and dislikes. If your significant other is a Pisces, they have a birthday between February 19 and March 20. Pisces are known for being romantic, artistic, and sensitive. They're a water sign who is smart, creative, and intuitive. Pisces have colorful personalities and imagination, so they generally enjoy spending time reading, exploring, or creating art, food, or music. Pisces style is soft, feminine, and whimsical. They catch the eye without being too over the top, and exhibit a free flowing style.
Top Engagement Rings for the Pisces in Your Life
If you're planning a proposal for your Pisces love, you might be wondering what style of engagement rings they'd prefer. We selected our favorite styles for the Pisces in your life.
---
Pisces will love this ring because they have an eye for artistic designs. This setting takes inspiration from vintage designs and organic shapes, this beautiful filigree engagement ring features milgrain embellishment that accentuates the backbone of the shank and extends to the delicate diamond detailing that in turn reaches up to the stunning center stone to hold it like a flower. Make it your own by selecting the center stone size (1 to 5 carats) and shape (round, princess, radiant, cushion, emerald, or oval) as well as the metal (14K or 18K rose, yellow, or white gold, or platinum).
---
Pisces are drawn to nature, so the floral elements will appeal to the Pisces you love. This setting is a stunning solitaire with a dainty and demure profile. Its center gem (round, radiant, cushion, emerald, or oval) in 0.5 to 5 carats is surrounded by a sparkling halo of diamonds in a floral motif. Complementing the feminine flair of this ring are milgrain details on the band's shoulders and a graceful "twist" surprise underneath the centerpiece. Select your favorite metal to make it your own (14K or 18K rose, yellow, or white gold, or platinum).
---
Pisces are hopeless romantics and this setting's romantic detail and symbolism make it perfect for this zodiac sign. It features 0.46 carats of accent diamonds featuring a three stone style with classic tapered baguettes and round paved stones. The three stones symbolize the past, present, and future of your relationship. You have plenty of center stone options in terms of cut (round, princess, radiant, cushion, emerald, pear, marquis, Asscher, or oval) and size (0.25 to 10 carats).
---
Pisces are eye-catching, but not over the top, which is why this setting is appealing. Not your ordinary solitaire. This reinvented setting offers a look that's a little less conventional with its intricate filigree and milgrain detail work on the tapered band. This ring enchants whether viewed from the top or the side. Customize by choosing your cut (round, radiant, cushion, emerald, or oval), center stone size (0.5 to 5 carats), and your metal (14K or 18K rose, yellow, or white gold, or platinum).
As we wrap things up, keep the following points in mind to help you find the perfect engagement ring for the Pisces in your life. Everyone has varying styles and budgets. Keep your engagement ring within your budget by carefully selecting the metal. Platinum is great for sensitive skin, but will cost you more. If you're concerned about your budget, take a look at lab-created diamonds. They're affordable and optically, physically and chemically the same as earth-mined diamonds. You likely want a ring that represents you and is unique. A fabulous way to get a unique ring is to work with a brand like With Clarity that allows you to create an affordable custom ring, and you get to try two engagement rings on at home with their Home Preview program. They want to make your engagement ring buying experience as easy as possible, so they offer free shipping, easy returns, lifetime warranty and consultations with diamond experts.
FAQs
What type of engagement ring should I pick for a Pisces?
Pisces signs are known for being artistic, romantic, and sensitive, so engagement rings with vintage elements, rings with symbolism, like three-stone rings, or rings featuring a nod of blue for this water sign all will delight your Pisces love.
Is aquamarine a good choice for an engagement ring?
Aquamarine is a 7.5 to 8 on the Mohs hardness scale, so it is a durable gemstone for jewelry. You'll need to protect your jewelry from scratching and banging it against hard surfaces.
Are three-stone rings still popular?
Yes, three-stone rings are a popular, timeless look that symbolizes the past, present and future of your relationship. It's a meaningful symbol of your love.
What is a vintage style ring?
A vintage style ring isn't a ring that was made in the past hundreds of years ago. Instead, it's a ring that features vintage style elements that gives it an antique look. Some women adore vintage rings–they have unique details that make the setting stand out.