Best Engagement Rings for an Aquarius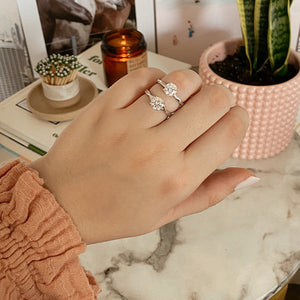 What's your sign? Has anyone ever asked you that? Your zodiac sign often reveals clues about your personality because many zodiac signs have distinct characteristics. Sometimes your zodiac sign aligns with your personality and sometimes it doesn't. If you're an aquarius or love an aquarius, keep reading to discover the ideal engagement rings for this special sign.
Aquarius were born between January 20 and February 18. This air sign is said to be innovative, progressive, rebellious, and humanitarian. Aquarius is represented by the water bearer–a mystical healer who bestows water, or life, upon the land. They're known for their funky fashion and style that contrasts with an often overlooked sensitive side that needs appreciation, support, and love.
Aquarius people are quirky and adventurous trendsetters, and somehow they make all of their fun style choices work, including unexpected pairings, statement pieces, and funky prints. This sign's fashion experimentation allows both everyday outfits and dressed up outfits stand out.
Engagement Rings for the Aquarius in Your Life
We've taken all of what we know about the Aquarius sign to create a list of stunning engagement ring options.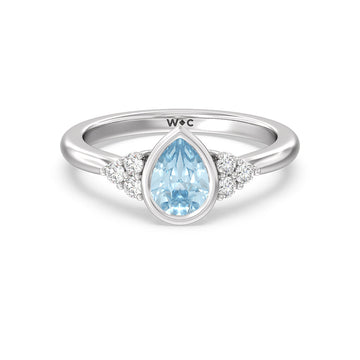 ---
Marked by independence, aquarius signs don't like to be instructed what to do and have a free flowing personality, much like flowing water. This is why an aquamarine engagement ring would work well for an aquarius. This three-stone ring with a Pear Aquamarine center on a bezel setting speaks of modern elegance. A trio of lab diamonds frames each side of the center gem with a modest sparkle.
---
Aquarius signs tend to like creative, funky style, so they'll be intrigued by the fine details of this piece. A beautiful vintage leaf pattern meets below the center stone with hand milgrain and bezel and pave setting styles for 0.20 carats of diamonds. Plus, you can customize it–choose a center stone in the cut you prefer (round, radiant, cushion, emerald, or oval) and the size you want (0.5 to 5 carats).
---
For an engagement ring that's unconventional and original, you'll need to look at this design's detail. The halo bloom of this ring is inspired by hydrangea flowers. It's adorned with delicate features including a peek-a-boo blue sapphire and a swoop of pave diamonds on the gallery. The center stone can be anywhere from 0.5 to 5 carats in addition to the 0.90 carats in the band.
---
Your aquarius love will appreciate this ring because of its unusual center stone placement. It's called an east west style prong setting that holds the center diamond that will definitely draw attention. It's a distinct look that sets it apart from classic solitaire rings. Select an emerald or oval center stone in 0.25 to 10 carats. You can also customize the metal (14K or 18K rose, yellow, or rose gold or platinum).
---
Aquarius signs adore unique and one-of-a-kind items, so we selected this design for our list. It has a modern take on geometry that will win your love's heart. This design steps out from the traditional engagement ring with an Art Deco vibe. Select a center stone in the cut (round, radiant, cushion, emerald, or oval) and size of your choice (0.5 to 5 carats). The dashing ring features a large, sparkling diamond center stone flanked by angular side stones from the step-cut family. This ring is unique, sleek, and sophiste–perfect for an Aquarius.
As we wrap things up, keep a few points in mind. Metal options impact the look of your engagement ring as well as the cost. You'll want to select the metal that matches your sense of style and fits within your budget. Some with sensitive skin choose platinum because it's hypoallergenic. Remember that you can always select lab diamonds–they're an alternative to earth-mined diamonds, look exactly like natural diamonds, and are affordable. In addition to selecting a metal that fits your love's (or your) style, make sure the engagement ring design matches your love's style and is unique to their personality. Afterall, you're the one who will wear it and you need to love it. If you want to try on a couple different options and give them a test drive, browse the rings at With Clarity where you can try on two engagement rings from home. See how they look on your hand and spend time finding the perfect ring for you. With Clarity also has some great benefits to make engagement ring shopping easy–free shipping, easy returns, lifetime warranty, and consultations with diamond experts.
FAQs
What type of engagement ring should I pick for an Aquarius?
Generally aquarius signs are drawn to unique items, so perhaps an engagement ring with unique details or vintage flair. Something that makes the ring stand out from the others.
Which stone is lucky for Aquarius?
Amethyst is the February birthstone and Garnet is the January stone, so these stones could be lucky. Often aquamarine is associated with the aquarius sign because of the similarity in their names.
Are vintage engagement rings popular?
Vintage engagement rings continue to grow in popularity–they have unique details and you can often find vintage-inspired engagement rings that are new but have a vintage vibe. Some women really love the vintage look and one-of-a-kind rings.
Which are the most popular diamond shapes for an engagement ring?
Round diamonds are the most popular shape for engagement rings.