Best Vintage Emerald Cut Diamond Engagement Rings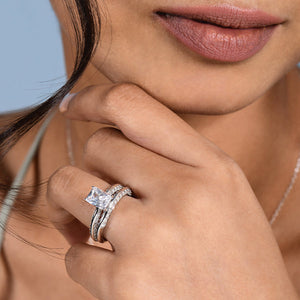 Everyone will agree that getting engaged is exciting. After all, we typically only choose a spouse once, and ideally we will spend the rest of our lives with that person. Once you have decided to get married, it's time for the proposal.
Many partners spend a lot of time planning how to propose to their intended. For some, it involves a romantic dinner, while other partners may prefer a long walk in the woods or a favorite activity. However, one thing that nearly all proposals have in common is a ring. More than just a trend, vintage engagement rings for women are becoming increasingly popular. They come in many sizes, shapes, and colors. These days, one of the most popular trends is emerald-cut diamond engagement rings.
Let's look at these lovely choices, including why they are popular, how you can choose the perfect ring, and what you should consider while shopping. This way, you can be more confident about your purchase and focus on the proposal itself.
What is a vintage engagement ring?
Technically, a vintage engagement ring is one that was made 50 or more years ago. However, for most of us, the idea of vintage engagement rings is actually a reproduction or an imitation of a vintage style. We refer to these as vintage-style engagement rings in the industry, but for the purposes of our discussion here, we will refer to them simply as vintage diamond engagement rings.
There are several reasons why vintage engagement rings are so popular these days. One of them is that vintage inspired engagement rings come in a huge variety of sizes, shapes, and styles. In other words, this is not a monolithic category of rings. Rather, it reflects the idea that marriage and romance are centuries-old concepts and that many couples long for the days when divorces were rare and families stayed together.
Another reason why many couples choose a vintage gold engagement ring is that they want something with timeless elegance. Many modern designs are very plain and have the sharper angles of contemporary design. On the other hand, vintage Art Deco engagement rings and similar styles are unique, feminine, and romantic.
Which diamond shapes are featured in unique vintage engagement rings?
Strictly speaking, vintage engagement rings can have almost any diamond shape. And for many of these designs, there's more than one shape featured in the piece. However, the two most common shapes for vintage rings feature round and emerald cuts. In the rest of this article, we will talk about emerald cut engagement rings.
Why should you consider an emerald cut diamond ring?
There's no question that your choice of diamond shape is at least partially a matter of taste. However, there are some other reasons why you might consider an emerald cut stone. First, if your intended loves a statement ring, you should know that emerald cuts have a white surface area that makes the diamond look larger than it actually is. Similarly, because an emerald cut diamond wastes less of the rough during cutting, it is more economical to purchase than a round cut of the same carat weight. This means that you can get more bang for your buck.
Similarly, there are aesthetic benefits to emerald cut diamonds. Because they are longer on one side than the other, they can accentuate the length of the wearer's finger. For example, if she has short stubby fingers, and emerald cut diamond can camouflage this. Likewise, if her fingers are already long and slender, they will look even more so with that ring.
Emerald cut engagement rings can also be advantageous because of the cut-off corners. This means that her diamond is less likely to snack on something or to get chipped in an obvious place. Similarly, an emerald-cut diamond can be paired with many other stones. For instance, three-stone emerald engagement rings are stunning.
Emerald cut engagement rings from With Clarity
whether you want a very simple design with cathedral settings or something more elaborate, we've got you covered. We can even make you vintage sapphire engagement rings from our premade catalog. With that in mind, let's look at some of our diamond styles. Whatever your taste, there's something for everyone.
Choosing the perfect engagement ring
Even if you have a good idea of what you want, choosing the perfect ring can seem daunting. However, besides your budget, there are several things you can consider.
Choose your metal based on your style and budget. In other words, choose your metal color based on her sense of style. Then, choose the carat weight based on budget. If she has sensitive skin, you should probably opt for platinum.
If your budget is especially tight, consider lab diamonds or moissanite. Both of these are less expensive than mined diamonds. Yet, they still have that irresistible sparkle.
Always pick something that she will love. If it doesn't suit her style, there's a good chance you want to exchange it. Then, she won't end up wearing the ring you proposed with.
Always buy from a reputable jeweler. The last thing you want is for her to hate the ring and you are not able to return it. Of course, you might also need to return a ring if she has skin allergies you didn't know about or if there are other concerns.
Fortunately, no matter first style and your budget, the perfect ring is always out there. Our gemologists are ready to help you make the right selection.
FAQs
Is emerald cut diamond a good choice for an engagement ring?
Absolutely! In fact, women have worn emerald cut engagement rings for centuries. The bigger issue is whether or not she would like it.
Does an emerald cut diamond shine?
Yes. In fact, emerald cut diamonds are better known for their shine than their sparkle. It's a feature of the step cut technique.
Are vintage engagement rings trending?
Yes, and they have been for years. Practically speaking, this means you can confidently purchase a vintage-inspired ring and know that it won't be dated soon.
Which is the best diamond cut for an engagement ring?
Strictly speaking, anything that she will love and that fits in your budget. However, emerald and round cuts are probably the most timeless.