How to Upgrade Her Engagement Ring to a Lab Diamond Ring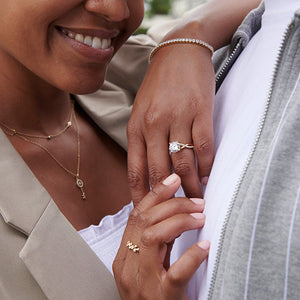 While an engagement ring may be a piece of jewelry, it carries so much more significance than your average ring. From the moment you slip it on, it will remain one of your most priceless possessions. However, you don't have to be wed to the ring used during the proposal. Many couples choose to upgrade their engagement ring.
You may upgrade your ring for a new style that reflects your personality and modern trends. Alternatively, your budget may have increased since you proposed, and you want to upgrade the ring to reflect the jewelry you dreamed of being able to afford. Regardless of the reason, if you're considering refreshing your engagement ring, lab-grown diamonds are something you certainly should consider. These gorgeous gems can offer you all the beauty without sky-high prices.
Why Lab Diamonds are an Engagement Ring Must
With Clarity has embraced lab diamonds, and we will tell you why! Lab diamonds are real diamonds. Optically, chemically, and physically a diamond grown in a lab is the same as a mined diamond. This is because they're grown with the same materials and process (though considerably sped up) as natural diamonds, which means you get the same stunning features for a price of around thirty percent less.
Additionally, lab diamonds are sustainable and 100% conflict-free. These durable stones will last forever, meaning you can pass on an eco-conscious legacy with your brilliant gem. Available in a wide variety of cuts, sizes, colors, and shapes, lab diamonds can enhance the beauty of your engagement ring without harming your budget or the Earth.
How to Upgrade Her Engagement Ring with Lab Diamonds
There are a few ways in which you can upgrade an engagement ring. We'll start with the easiest and most common.
Replace the center stone. The most popular option is often to replace the center stone with a larger diamond. You can likely afford a bigger carat stone with lab diamonds than you think. Sometimes, changing the shape may also be desired. For example, a more modern cushion cut may replace a classic round brilliant. When you replace the stone, only the setting may have to be updated, leaving the rest of the ring largely intact.
Embellish by adding side stones. If you want to retain most of your engagement ring but enhance it slightly, adding lab diamonds as accents can be a great idea! They won't change your ring too much, but embellishing the shoulders or the whole shank can add just the sparkle she is looking for. As the diamonds will need to be set into the shank, this type of upgrade can be slightly more invasive.
Opt for a ring jacket. Have you ever heard of a ring jacket? It comprises two (but sometimes one) bands that sit around your existing ring. They can contain lab diamonds and intricate detailing like milgrain. They don't make any changes to your existing ring while adding an instant upgrade.
Add a pop of color. Did you know lab diamonds come in more colors than traditional white? Adding a pop of blue or pink can give your engagement ring a whole new look. Colorful lab diamonds can be used as the center stone, accent stones, or in a ring jacket.
Considerations When Upgrading an Engagement Ring
If you've decided it is time for an upgrade, keeping the following points in mind can help you choose the best lab diamond additions for her engagement ring.
Research different styles and find which ones best suit your current engagement ring. If you don't want to drastically change the ring or spend a fortune doing so, choose an upgrade that can be easily incorporated into her current ring.
Decide on a budget. As when you were picking out her current engagement ring, you should never shop without a budget. The price ranges for various embellishments can vary. Still, lab diamonds are always a more budget-friendly option than Earth-mined diamonds.
Talk to an expert at With Clarity to help guide you through the entire process. Whether it is learning more about lab diamonds or building a ring with an expert designer, the friendly team at With Clarity can help!
Upgrade with Ease
We knew there had to be a better way to shop for and buy beautiful engagement rings, which is a driving motivation behind With Clarity. Those sentiments apply to upgrading your engagement ring too! We want to help you feel confident and overjoyed with your ring upgrade, assisting your every step of the way. At With Clarity, we're confident that beautiful, durable, and conflict-free lab diamonds are an excellent choice for your engagement ring enhancement.
FAQs
Does upgrading change the look of the ring entirely?
Upgrading can completely change the look of your ring, but only if you want it to. Enhancements like accent diamonds can add to your ring without drastically changing it.
Can a natural diamond ring be upgraded with a lab diamond ring?
A natural diamond ring can be upgraded with a lab diamond, especially if you want to replace the center stone with a bigger diamond.
Can you change the shape of the diamond during an upgrade?
You can choose a new diamond shape or cut during an upgrade; often, this means that the setting will need to be slightly altered as well.
Is it possible to add diamonds to the band at a later stage?
During an upgrade, a jeweler can add diamonds to the band of an existing engagement ring. Full or half-shank options are availablea