Everything You Need to Know About Low Profile Engagement Rings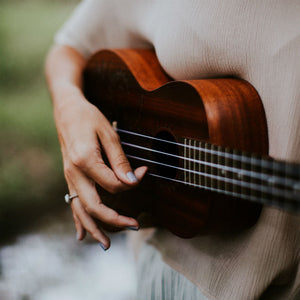 Let's face it: We naturally pick engagement rings by how much we like it — and how it'll look on our fingers.
While how it looks is definitely important, it's not the only factor you should think about. Your lifestyle also plays an important role in your ring, meaning that picking out the one with the highest diamond isn't always the right choice. Instead, consider one of the beautiful low profile engagement rings instead that is full of style and function.
What is a low profile engagement ring?
Low profile engagement rings, also called low set engagement rings, are exactly what they sound like: a ring made to sit close to the finger, including the center stone.
This means the center stone must have a girdle — or the part of a diamond that separates the top (crown) of the stone from the bottom (pavilion) — to accommodate a lower profile. Diamonds with a longer girdle must have a higher profile to fit the stone.
Opting for a low profile engagement ring also means that the setting is created to sit flush with your skin, so many cathedral rings — a setting that creates an arch at the center to allow for a longer girdle — aren't a good choice. On the other hand, bezel settings are often low profile with stones encased in a metal collar to keep it protected against snags.
Who should consider low profile engagement rings?
Low profile engagement rings are perfect for anyone who wants to wear their rings without inconvenience (especially if you love pockets or knit sweaters!).
That said, there are certain lifestyles and careers that make rocking a low profile engagement ring the best choice. If you who work in a hands-on job — like in the medical field or in production — you should only wear low profile engagement rings, especially if you plan to wear the ring while at work. The reason is simple: High profile engagement rings have diamonds and prongs that are more likely to get caught on tools, in machines, snag work gloves or scratch other people. Diamonds can also break off from the setting if it's accidentally knocked against a hard surface.
Love CrossFit, yoga or kickboxing? We don't recommend wearing an engagement ring while you're working out, but it's easy to forget. Keep that from becoming an issue by opting for a low profile engagement ring.
Does getting a low profile engagement ring limit my options?
We mentioned that bezel settings are often low profile, but that doesn't mean it's the only option you have when it comes to low profile rings.
At With Clarity, we have multiple options for you to choose from when it comes to low profile engagement rings, including halo rings — like the Plain Shank Halo Engagement Ring and the Flowing Halo Diamond Engagement Ring.
You can get also get engagement rings that are low profile with accent pave diamonds, like the Tapered Cathedral Diamond Engagement Ring, and solitaire low profile engagement rings, like the Cathedral Weaved Solitaire Diamond Engagement Ring.
Does a low profile affect the ring price?
Low profile rings don't have a direct impact on the price you'll pay. Instead, the price — no matter if its low profile or high profile — is dependent on your diamond's particular combination of the 4 Cs, along with the setting you pick, the accent diamonds you add and the metal you choose for the ring.
How to pick the right low profile ring for you
Shopping for the perfect diamond engagement ring can be overwhelming, but you're not in this alone. With Clarity has expert gemologists on staff who can help break down the whole ring-shopping process — from budget to buying — so you'll get the most from your investment.