Rings for a Lowkey Gal: Minimal Engagement Rings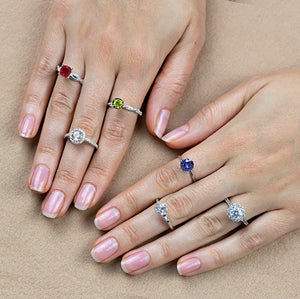 Finding the perfect engagement ring for your lowkey fiancée may appear to be a daunting task. Sparkling fairytale jewelry abounds, but what do you do when your partner isn't excited by all that glitz and glam? Luckily, there are unique, minimal engagement ring options for your one-of-a-kind love.
Oftentimes, we find ourselves thinking of the large gemstone rings worn by celebrities. However, every woman has her own style. If your fiancée's taste runs towards simple elegant ring styles or minimalist engagement rings, there are a variety of options that will fit into your partner's preferences.
Which Style Elements Support a Minimal Engagement Ring?
Unique Gemstone Choices
Rather than focusing on flash for a fiancée with an understated style, look for a simple, contemporary design solitaire engagement ring like this split shank solitaire diamond engagement ring. Choose a single solitaire gemstone offset with your fiancée's favorite metal for a stunning statement that will stand the test of time. Look for a dainty engagement ring with simple lines rather than a flurry of details.
If your fiancée isn't the diamond type, you can find lovely solitaire engagement rings with a variety of gemstones. Opting for a colored gemstone engagement ring allows you to create a unique, modern ring. Depending upon the gemstone you choose, your ring can both be creative and cost-efficient.
Here at With Clarity, we offer an array of gemstone choices. Each gemstone is available in several shapes to allow for a special one-of-a-kind engagement ring. If you are looking for a unique colored stone engagement ring for your lowkey gal, you may wish to consider a lovely London Blue Topaz or a cheerful Peridot center stone.
If cost is less important for you and your fiancée, consider a fiery (natural or lab) Diamond, a deep Blue Sapphire, or a rich Ruby engagement ring. Other popular gemstone options are passionate purple Amethyst, sparkling Aquamarine, stylish Black Diamond, or brilliant Moissanite.
Bonus step: Gemstone shapes, and other customizable ring settings
Add your fiancée's favorite colored gemstone, in one of six shapes (Round, Princess, Cushion, Emerald, Oval, Pear), for a modern take on a traditional engagement ring. If your fiancée is a fan of something different, could really love the fun flare a colored gemstone ring would have. You can add to the uniqueness of your engagement ring by your choice of metal band and setting. From white gold to rose gold, there are many customizable options to ensure that the ring is perfectly unique and fitting for your fiancée. For a modern minimalist style, consider a single solitaire, bezel set gemstone. Ultimately, it is important to always keep your fiancée in mind when designing their ring. You want the ring to be perfect representation of her and your love.
View Colored Gemstone Ring Catalog
Subtle Elements of Style
Choose a ring design that offers effortless beauty through interesting simple details. Look for a setting that allows subtle elements to speak your words of enduring love. For example, an elegant setting like this ring, the Twirling solitaire diamond engagement ring, which adds a romantic touch without complexity. Subtle details like a twisted, crisscrossed, or knife-edge band allows you to create a look all your own.
Smaller Carat Weight Gemstones
Rather than searching for a flashy statement piece, focus on small diamond cluster rings or single solitaire stones that fit with your fiancée's understated style. Remember simple doesn't have to mean uninteresting or boring. A small cluster of diamonds is an inconspicuous way to add sparkle without appearing so overdone.
Is it Okay to Have a Small Engagement Ring?
When we shop for an engagement or wedding ring, it is easy to get caught up in social expectations. Remember, this ring is a statement of the love you and your partner share. So, clearly it is more important for you to choose a ring that fits within your fiancée's style than it is to impress others.
If you choose a flashy engagement ring for your lowkey gal, you may quickly find that you have overwhelmed her with something that detracts from her style rather than adds to it. Simple engagement and wedding ring styles like a petite solitaire ring add a pop of sparkle without drawing attention away from your fiancée's personal style.
Many women with a more simple and/or minimalistic fashion style might prefer a ring with more metal and less emphasis on the gemstone. This means that your lowkey gal may prefer a ring with simple elegance over a large overly embellished ring. Your fiancée may also prefer less emphasis on the size or carat weight of the gemstone(s). More about Carat Size and Weight
Is 1 Carat too Small for an Engagement Ring?
Again, the answer to this question can best be answered by your partner's style. An engagement ring with a two-carat stone may just be what some women want. However, if your fiancée prefers a low-key style, a 1-carat gemstone ring may be exactly what your partner prefers.
Benefits of a Minimalist Ring
Not only is it okay to have a small engagement ring, there are also benefits of the minimal look. For example, if your partner lives an active lifestyle, they will not have to worry about a large diamond getting in the way. More so, they will also not have to worry about the ring clashing with their outfit or their other jewelry pieces. Lastly, minimal engagement rings are classic and tend to be timeless. They will never go out of style.
To sum up: How to get a Minimal Engagement Ring
If you are shopping for the ideal, simple wedding ring or engagement ring for your lowkey gal, remember to keep her style in mind. You can make a smaller ring unique and engaging by:
Choosing an engaging gemstone with rich color and sparkle, in the shape that your partner prefers, will help you create a special ring that your partner will love.
Involving visually interesting elements in the setting and band of your fiancé's engagement ring, allows you to create a unique statement.
Choosing a unique pairing to metal and gemstone color. Remember creating the ideal ring for your lowkey gal is a series of choices. Consider gemstone shapes and metals that speak to you and your fiancé for a unique engagement ring choice.
Benefits of a minimalist engagement ring
Ideal for those brides who want to draw too much attention to their bling, minimalist engagement rings make for a beautiful choice and say it all without saying too much. Simple, elegant, and sparkling – that's exactly what a minimalist engagement ring stands for. The designs of these rings are eternally stylish and do not fluctuate on the basis of trends so the minimalist bride will always have a treasure on her finger. We also love that these rings have the ability to complement other jewelry like a wedding band or other favorite stacks as well as all types of clothing. Another advantage of a minimalist engagement ring is that it is comfortable enough to wear on an everyday basis and can easily catch your eye with a discreet sparkle as you go about your daily chores. They are also a more affordable option as compared to bigger engagement rings because minimalist engagement rings are lowkey yet stylish. Minimalist engagement rings have a way of being more reflective of the wearer's thoughts and thus are an intriguing representation of the bride-to-be and your love.
Do you know when they say less is actually more? That's exactly what we had in mind while designing our minimalist engagement rings.