The Most Famous Heirloom Engagement Rings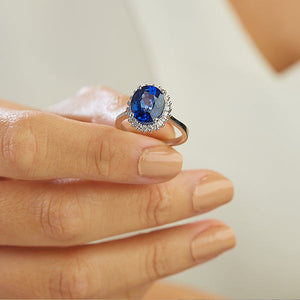 Some engagement rings are iconic–not only because of breathtaking design, but because of who owns the epic piece of jewelry. Some of the world's most iconic engagement rings are worn by royals. While many swoon for celebrity engagement rings, there's nothing more iconic than a royal engagement ring. We'll look at the five most famous heirloom engagement rings and share what makes them timeless.
TABLE OF CONTENTS
Queen Elizabeth's Diamond Ring
Then known as Princess Elizabeth, she and Prince Philip first met in 1934 at the wedding of Princess Marina of Greece and Denmark to Prince George, Duke of Kent. Their engagement was officially announced on July 9, 1947 and they were married November 20, 1947. Prince Philip used some stones from his mother's tiara, Princess Alice of Battenberg, to create Queen Elizabeth's engagement ring. Her ring featured 11 diamonds total, with a 3-carat round solitaire and five smaller stones on each shoulder. It was set in platinum and some historians suggest that the modest center stone of this ring shows that it was designed to be worn every day. The Duke of Edinburgh used more of his mother's tiara's stones to create a bracelet for Queen Elizabeth as well.
Princess Margaret's Ruby Ring
Only a few pictures exist of Princess Margaret's engagement ring from Antony Armstrong-Jones. He designed the ring to resemble a rose using a center ruby surrounded by a ring of diamonds made to look like petals. Rose was Margaret's middle name, so his custom engagement ring was romantic and thoughtful. The engagement ring was set in platinum on a yellow gold band. The center stone wasn't a deep red ruby–instead it was more of a pink red, also a nod to Margaret's middle name.
Antony Armstrong-Jones, a photographer commissions for portraits of the Royal family in the past, first met Princess Margaret at a dinner party thrown by the princess's lady-in-waiting, Lady Elizabeth Cavendish in 1958. Antony was then hired to photograph Princess Margaret, which ignited a romance between them. Princess Margaret and Antony secretly got engaged in October 1959, but their engagement wasn't made public until February 27, 1960. They married on May 6, 1960. It was a historic day because it was the first time a royal wedding was televised and the first time in centuries that a king's daughter married a "commoner."
Princess Diana's Blue Sapphire Ring
Princess Diana's sapphire ring is a familiar heirloom ring. It features a 12-carat blue Ceylon sapphire. The large sapphire is surrounded by 14 sparkling diamonds and is set in white gold. Unlike other royal rings, Diana selected her engagement ring from an assortment of rings that Prince Charles presented to her. This stirred things up a bit because her ring wasn't custom designed. It's said that royals prefer to have unique jewelry, which means commoners do not have access to similar designs. Princess Diana's engagement ring challenged the royal family's traditions.
The engagement of Prince Charles and Diana Spencer was announced on February 24, 1981, and they wed later that year on July 29 at St. Paul's Cathedral. The wedding was called the "wedding of the century" because of its lavishness and the popularity of this couple. The couple officially divorced in 1996, but Diana loved her sapphire ring so much that she continued to wear it.
Meghan Markle's Three Stone Diamond Ring
Prince Harry designed a three-stone engagement ring for Meghan Markle. The three-carat cushion cut center stone is from Botswana–a special place for the couple. The two diamonds on either side of the center stone, estimated to be about one carat each, are from Princess Diana's collection. It's set in yellow gold, Meghan's favorite, and is a beautiful and sentimental heirloom ring.
Prince Harry and Meghan's engagement was announced in November 2017, and they married May 19, 2018 at St. George's Chapel at Windsor Castle. Once Meghan and Harry announced their pregnancy in October of 2018. Shortly after this announcement, Meghan's engagement ring was redesigned so that the original band was replaced with a thin, yellow gold band set with tiny pavé diamonds.
Princess Eugenie's Padparadscha Sapphire Ring
Princess Eugenie's engagement ring is also unique and dazzling. It features a 3 to 4-carat padparadscha sapphire in a unique pink-orange shade. The rare sapphire is surrounded by 10 round brilliant diamonds, two pear-shaped diamonds near the band, and is set in Welsh gold per royal tradition. Princess Eugenie's now husband, Jack Brooksbank, selected the rare sapphire because it changes color when it hits different lights, and it reminded him of Eugenie.
Princess Eugenie, daughter of Prince Andrew and Sarah Ferguson, became engaged to Jack Brooksbank, tequila salesman on January 22, 2018 while on vacation in Nicaragua. Princess Eugenie and Jack Brooksbank first met while skiing in Switzerland in 2010 and later said it was love at first sight. They got married on October 12, 2018, at Windsor Castle.
Closing Thoughts
Each of these heirloom rings is unique–not only because they're stunningly beautiful but because they're worn by royals. These engagement rings designs have inspired plenty of replicas, sparked trends, and will continue to be cherished for centuries.
FAQs
Who owns the most iconic heirloom engagement ring?
One of the most iconic heirloom rings is Princess Diana's 12-carat sapphire ring that was halo set with diamonds. This ring sparked a trend for engagement rings with colored center stones and increased the popularity of sapphire engagement rings.
What is the meaning of an heirloom engagement ring?
An heirloom ring is a ring that is passed down from generation to generation. This ring stays in the family as a memorable ring to celebrate love, engagements, marriages, anniversaries, etc.
Which is the most timeless engagement ring design?
A classic round brilliant solitaire engagement ring is a timeless, clean design. This design never goes out of style! You'll see both modern and vintage solitaire engagement rings.