Vintage Inspired Gemstone Engagement Rings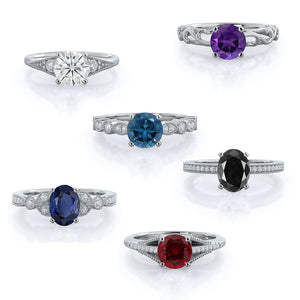 History and Trends
Many trends come and go, but some styles stay popular for decades or even centuries. Now more than ever, many people are returning to the beauty and elegance of vintage-inspired gemstone engagement rings. Though modern diamond rings have recently dominated the market, unique gemstone rings are now having their moment to shine—literally!
Vintage-style rings are rising in popularity as people look for ways to showcase their individuality and personal tastes. Rings are available in more colors and styles. Meaning there's sure to be a beautiful engagement ring that perfectly suits your individual taste.
From royalty to today's A-list celebrities, vintage gemstones rings have been the go-to choice for many stylish personas. Kate Middleton, whose engagement to Prince William is one of the most famous engagements of modern times. She frequently sports a sapphire ring that was once Princess Diana's. Halle Berry, who's known for her chic style and taste, famously wears an emerald, vintage-inspired gemstone engagement ring.
Choosing a Vintage-Inspired Gemstone Engagement Ring
If you're considering expanding your jewelry horizons past traditional diamonds to beautiful gemstone engagement rings, there are a few things you need to keep in mind. If you're on a budget, consider rings that feature London Blue Topaz, Peridot, and Amethyst . These gems tend to be more affordable, while still offering stunning style, quality, and beauty.
Most important C for gemstone rings:
Though you should consider the 4 Cs (cut, color, clarity, and carat) for all jewelry purchases, when it comes to gemstones engagement rings, the most important factor by far is color. Whether you're looking at a rich blue sapphire or a luxurious purple amethyst, the color quality will make all the difference in terms of the value and beauty of the stone.
Terms commonly used for vintage-inspired rings:
Even if you consider yourself a jewelry pro, there are a few terms you'd want to familiarize yourself with when shopping for a vintage engagement ring. Don't worry, we got you!
Milgraining: Tiny metal beads that are added to the border of jewelry pieces.
Scroll Metalwork: Many vintage rings include metalwork that features designs and motifs. Everything from leaves, to flowers, to even birds can be found in this style of incredible detailing.
Yellow Gold Band: Though white gold is a popular band choice for modern style engagement rings, yellow gold is actually the classic, traditional choice for vintage ring bands.
Halo: This style of setting features a center stone that's fully encircled by a ring of smaller stones. This contributes to the effect of making the center stone look larger.
Emerald Cut/Shape: This is a style that features a rectangular face with stepped facets, and which has been a popular choice for stand-out jewelry pieces for centuries, as it dates back to the 1500s.
Princess Cut/Shape:

This cut features a square shape with sides that form an inverted pyramid under the face. This style was popularized in the 1960s and has been a favorite for vintage-inspired rings ever since.
If you're considering going with a vintage-inspired style for your engagement ring, With Clarity offers a variety of options that are sure to fit any look and budget. We offer customizable rings with the option to choose between 8 gemstones (Moissanite, Blue Sapphire, Ruby, London Blue Topaz, Peridot, Aquamarine, Amethyst, Black Diamond. Additionally in six various shapes with 14kt or 18kt white/yellow/rose gold plus platinum.
Popular vintage (inspired) gemstone ring options
If you want to leave the design of your engagement ring to our experts, contact us here to receive non-commission-based advice. Read more to see our most popular vintage-looking gemstone ring options:.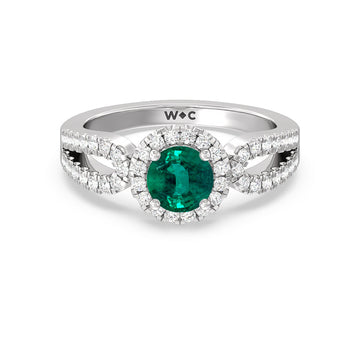 Round Peridot and Lab Diamond Classic Three Stone Ring
Tell a story with this meaningful trilogy ring. This stunner is set with three stones: one round Peridot sandwiched between two lab-created diamonds. The three alluring gemstones can represent the past, present, and future, or friendship-love-fidelity, or three virtues important to your life. Regardless of the symbolism you want this ring to embody, expect it to provide you a glistening reminder for years and years to come.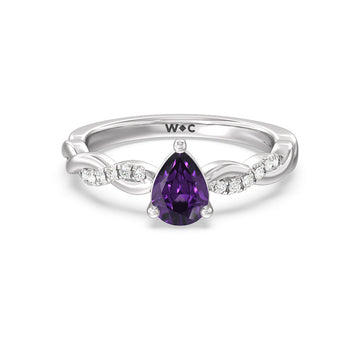 Pear Amethyst Petite Twisted Lab Diamond Ring
Expect this ring to leave a touch of sophistication to your looks. A plain and polished band gracefully intertwines with a petite diamond pavé band. Dotting the center is a Pear Amethyst with a rich color.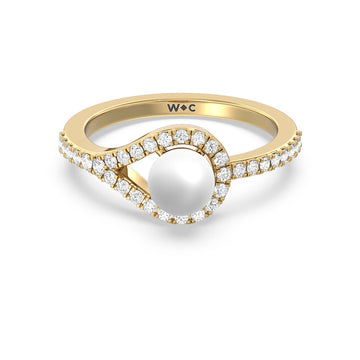 Pearl Ring With Lab Diamond Loop Shank
This uniquely designed gemstone ring is guaranteed to be a conversation starter. It features a diamond-studded shank with a single looped end that hugs an exquisite pearl. This unconventional piece makes a style statement that cannot be ignored.