WHAT RING SIZE AM I? ALL THE WAYS TO FIND OUT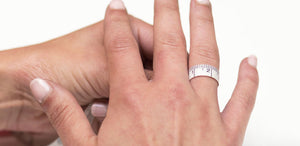 In the movies, marriage proposals always go off without a hitch: The man slips the right on his love's finger — and it fits perfectly. They never get into the details of the ring size, but somehow he just knows. In the real world? It doesn't always work like that — and it's possible that you don't even know your own ring size. But how will your future husband or wife know your ring size if you don't know the answer to "what ring size am I?"
No one wants to send back their engagement ring for resizing, but it's actually really easy to figure out the ring size of your finger. And if the ring doesn't fit? Resizing is actually a seamless process that doesn't take a ton of time or effort. Here at With Clarity, for example, you'll only pay for shipping your ring. We don't change you for resizing because we don't consider our job done until you love your ring.
But we hear you; it's better to get it right the first time. Here are all the ways to nail your ring size before getting your ring.
What ring size am I? Here's how to find out
Buying clothes can be a total guessing game. One company's size 6 can fit more like an 8, while another brand's fits like a 4.
Luckily, that's not the case when it comes to rings sold in the United States and Canada. Other countries base their ring sizing on a letter system, but jewelers in these two countries all follow a standard ring size system given in millimeters and based on the inner circumference on the ring. The range for women's rings goes anywhere from size 3 to 9, with size 6 or 7 being the most common.
In a bricks-and-mortar store, jewelers find out the answer to "what ring size am I?" by using a mandrel, a metal tool that has markers to indicate ring size based on how it fits on the ring finger. The process is a tiny bit more time consuming when shopping with online jewelers like With Clarity — emphasis on tiny, because it's still really easy (and doesn't even require you to change out of your PJs).
Here are the easiest ways to find out the answer to "what ring size am I?"
Measure another ring that fits the same finger. Take one of your other rings and compare it to the With Clarity size guide to find the approximate fit.
Use string or dental floss. Take a piece of string or floss and wrap it around your finger (but not too tight). Mark the place where the string or floss meets and measure against the With Clarity size guide to get the approximate size.
Head into a local jewelry store. The service is actually free, so there's no need to feel pressure to buy anything. It's very common to pop in, get your finger measured with a mandrel in-store, and then finish buying an engagement ring online.
Buy a ring sizer from Amazon. Don't trust yourself to find measurements? Hop on Amazon and buy a ring sizer. These tools are inexpensive and have every standard size (and half size) to get an accurate fit.
Tips for finding the right ring size
Again, getting your ring resized is a simple process — but getting it sized right the first time is always the best option. Here's how to nail the sizing before you even get the ring:
Always measure your ring size at the end of the day when your fingers are the largest. Our hands naturally swell throughout the day — and during exercise — so you want to based your measurements on when your finger is the largest.
Measure the ring finger on the hand you'll wear it on. Hand and finger sizes can differ, so make sure you base sizing on the finger you'll wear the ring on.
Allow a little room for your knuckle. Knuckles tend to be larger than the actual finger, so make sure you account for that while taking measurements. You want the ring to meet a little resistance at the knuckle, but not too much.
Turn off scaling when printing a size guide. The With Clarity size guide to rings is accurate, but printers can throw off the measurements on certain settings. If you're going to print the guide, make sure the scaling option is off so you don't get a warped image or print out.
Take measurements over multiple days. Swelling, salt intake and other factors can influence your finger size from day to day. To combat that, simply take measurements over a few days — at the same time of day — and use the average to find the right ring size for you.

Don't worry if you're concerned about finding the right ring size. The expert gemologists at With Clarity are always available to answer questions about everything from gemstone to ring sizing.