When's the Best Time to Get Engaged?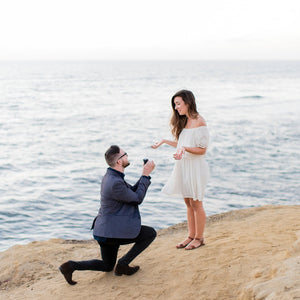 If the hard times brought about by COVID-19 have taught us nothing else, it's that nothing is as important as friends and family. For those of us in a serious relationship, these considerations also include questions about when is the best time to get engaged. In this guide, we'll talk bout some of the most important considerations as you approach this milestone.
Things No One Tell you About Proposals.
Are you (really) ready?
Before running out to look at engagement rings and the perfect proposal setting, ask yourself if your relationship is ready for commitment. Marriage is one of the biggest decisions you'll ever make in life, so it shouldn't be arrived at hastily. For this reason, it isn't surprising that people are waiting until they're older to tie the knot. In fact, the average age at first marriage is 29.8 for men and 28 for women.
Average engagement length
Although there's really no minimum amount of time you "must" be dating before marriage, the typical time from the first date to engagement proposal is around two years. Then, most couples plan the wedding for 12 to 18 months. One should note, this is an average amount of time, and the actual relationship lengths vary widely. Some people even live together for years without tying the knot. Of course, this isn't appropriate in all cultures but always look for proposal signs to see if he or she is ready.
Key steps & signs to look for before the engagement
More often, relationship experts recommend getting engaged when you are confident that you know each other well enough. This is a highly individualized measurement because some couples are better at building relationships quickly, while others take a long time. Meeting family and friends is a key step for most couples.
To determine if you are ready, consider how well your relationship weathers the storm. For instance, the COVID-19 crisis has deprived many of us of the opportunity to see one another regularly. Zoom and Facetime help, but couples who aren't living together may have gone months without a hug. However, this also means that if your relationship is still strong, there's a higher chance you can stay together through tough times.
Another sign that an engagement should work, is the ability to communicate and resolve conflict. Any time two people live together, there will be arguments. Having the ability to compromise easily just might mean you're ready for the proposal ring.
Best Time of Year for Engagement Proposals
If you're sure that you want to spend the rest of your life with your partner, it's time to plan the engagement proposal. Did you know that 40% of couples get engaged between Thanksgiving and Valentine's Day? While Valentine's day seems like the best time to get engaged, this date isn't on the top ten. In fact, the only top ten proposal date that isn't within a month of Christmas is Independence Day. Valentine's day didn't make the top ten, probably because the family is less likely to be present.
Another favorite time for a family gets together is, of course, Independence Day. Holidays are a great time to meet the entire family, even the people your partner doesn't get to see often. It's also a great way to ensure that everyone gets to celebrate your relationship. Having family around also gives plenty of unique engagement proposal ideas. Additionally, help with optimal times to do the proposal.
When Should you Buy an Engagement Ring?
Generally speaking, we recommend you buy an engagement ring one to two months before the best time to get engaged for you. After all, this is a major investment, and you don't want it to get lost. At the same time, it's important to shop around and look at many different rose gold engagement rings or other proposal rings. Take your time and ensure you're getting the right ring for her at the best price. The other reason to buy somewhat close to proposal time is because you might need to have the ring resized. Some jewelers have a time limit after the sale, during which they'll do it for free. Here at With Clarity, we have complimentary engagement rings and wedding band resizing within 30 days of receipt (note some ring styles cannot be resized).
Things to consider when buying a ring
When buying an engagement ring, there are three basic considerations:
1. Budget
2. Style
3. Values
First and foremost, never go for a ring that is too expensive. This is important because you don't want to be too far in debt because of the ring. Secondly, opt for a style she'll love. A current trend is oval engagement rings, which can come in a variety of gemstones. However, there are a lot of girls for whom you should always consider diamond engagement rings. Finally, values can be important. Here, you might want a sustainable engagement ring design or opt for colored gems.
Engagement Rings at With Clarity
At With Clarity, we work hard to offer a wide variety of engagement rings to fit any style, budget, and value system. In particular, we have lab and mined diamonds, along with a wide variety of gemstone rings cheap. Here are some considerations to think about.
Gemstone rings are an excellent option, both to suit a budget or style. Want something blue? At With Clarity, we have blue gemstones such as sapphire, aquamarine, and London blue topaz. This is a classic choice, but blue gemstones are also a lovely compliment on a blue-eyed partner. As an added bonus, London blue topaz is an inexpensive choice. Green gemstones are also available, including peridot. Other choices include amethyst, black diamonds, ruby, and moissanite.
Finally, if you want a diamond ring, there are multiple options available. Our store also offers diamond preset rings, which have a quicker turnout time than our custom engagement rings. These styles aren't customizable except for the ring size, but the designs are just as special. Of course, we also offer custom designs, which means you buy a diamond or a colored gemstone and setting. For diamond rings, the diamond and ring setting are priced separately, but we'll set the diamond in-house.
Final Comments about the Best Time to Get Engaged
Of course, all of the information about when to propose within this article is subjective. Do not feel pressured to propose because of the statistical information we have provided. Or when people tend to pick for the best time to get engaged. Stick to what feels the most authentic to you and your partner. Good luck with your engagement ring journey!