How to Style Gemstone Drop Huggies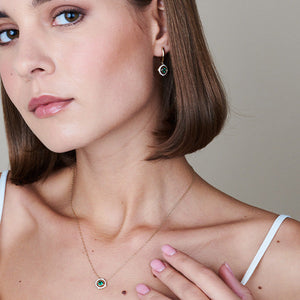 We're head over heels forhuggie earrings! Why? Because they're a chic, versatile, and classy accessory that nearly anyone can rock. Unlike traditional hoops, huggies aren't meant to be the focal point. This is great when you want another item of jewelry to shine, or you don't think your outfit calls for Jennifer Lopez-esque rounds. They sit close to your ear lobe, hugging it if you will, and are a bit wider than your standard hoop. Huggies can be worn solo or in multiples for a stacked look.
TABLE OF CONTENTS
These characteristics make them the ideal piece of jewelry to add a pop of color, sparkle, and class. Speaking of sparkle, gemstone drop huggies have plenty of glitz. In addition to the cuff-like hoop, they also feature a darling gemstone (sometimes in a halo of diamonds) dangling below. Captivating and unique, the jewel adds sophistication to the understated, dainty gold hoop.
How to Choose the Right Gemstone
There are various options of gemstones you can choose from. Selecting a precious gem for your huggie earrings is no different than picking one for a ring or necklace. You'll want to evaluate the stone for specific characteristics before you commit.
First, look at the color of the stone. Of course, you'll want to choose a color that you enjoy. It could be something sentimental, like your birthstone, or a color that complements your style. But beyond preference, evaluate the gemstone for how vibrant its color is. In most cases, specific stones have one color that is more valuable than others. For example, blue sapphires are more popular than green or yellow. Make sure that the color is even, or well saturated, and in a pleasing hue.
Next, decide on a cut. Gemstones can be cut like diamonds to have faceting that enhances their brilliance and sparkle. A poor cut can cause undesirable patterns within the stone and a lackluster appearance. Also, be sure that the cut of the stone complements its shape. Most gem cutters know how to optimize a stone's cut for each shape, such as marquise, emerald, or pear.
Finally, choose a carat weight. Because huggies are small and minimalist in style, you likely won't want to choose a giant gemstone. Lower carat weights can be the perfect size to accent your huggie without overpowering it.
Favorite Gems for Huggies
Aside from diamond huggie earrings, a handful of gemstones work particularly well with huggie earrings. These stones tend to be valuable but also aesthetically pleasing and durable.
In our signature collection, we've used birthstones to adorn our drop huggies. Birthstones are excellent because they bring both sentimental value and beauty! Many of them also happened to be the most popular types of gemstones for drop huggies. Including:
Mix and Match
Whether you choose your birthstone or a color that speaks to you, a drop gemstone huggie can be worn with nearly any outfit. The huggie style is incredibly versatile and can suit casual occasions or more sophisticated affairs. Similarly, vivid gemstones can be used to complement your attire or add an eye-catching contrast of color.
Style your huggie earrings on your lobes for a classy, traditional look. They pair very well with elegant gowns in which you'll typically wear an assortment of jewelry. You can also pair huggies worn in your lobes with a power suit or a colorful blazer for work. When your heading out with your friends on the weekend, huggies dangling from the lower portion of your ears can elevate your sweater or a casual blouse.
Alternatively, huggies can occasionally be worn further up the ear. Drop huggies look edgy on helix cartilage piercings. We wouldn't recommend them for your forward helix or tragus, though, because the gemstone can be a bit too heavy. A huggie styled in an upper piercing is a great way to add chic, alternative vibes to an outfit, be it casual or dressy.
Versatility is one reason why huggies are so awesome, so feel free to play with how you wear them and try out new styles!
Care and Maintenance
When not wearing your huggies, you'll want to properly clean and store them. In most cases, you can use a commercial jewelry cleaner approved for gemstones and the metal used for the huggie. A short soak and a gentle scrub are all they'll likely need. Then, dry them with a lint-free cloth.
Store your earrings in a safe pouch or box where they won't come into contact with other jewelry items. Storing your jewelry all together can lead to scratches and scuffs if the pieces scrape against one another.
Light cleaning and proper storage help to ensure they're gleaming and glittering for your next wear!
Huggies are a very trendy earring style. They're popular for how easy they are to wear with any outfit or occasion. If you want to elevate your gold huggie, consider a gemstone drop huggie. Classy and colorful, you can't go wrong with this accessory!
FAQs
What are huggie earrings?
Huggie earrings are a smaller version of the traditional hoop. They "hug" the ear lobe and tend to be a bit chunkier than classic hoops.
Which gemstones are safe for everyday wear?
Many gemstones are durable enough for everyday wear. The most popular options are sapphires and rubies.
Can you wear drop huggies on formal outfits?
Drop huggies go great with formal outfits because they work well with other jewelry accessories commonly worn with formal attire. Huggies with gemstones can look and feel classy and sophisticated.