Best Wedding Venues in New York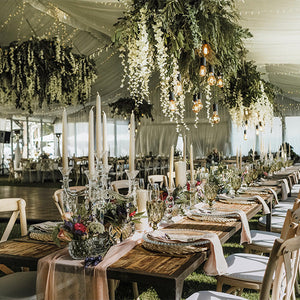 New York presents a world of opportunities for couples looking to get married. First, you have the ever-popular "City of Dreams." New York City, that is. NYC wedding venues boast posh locations, amazing views, and plenty to do for guests. Alternatively, if you're considering outdoor wedding venues in New York, the more rural upstate area is filled with breathtaking scenery. Whether you want a rooftop venue or a location atop the Catskill Mountains, New York is undoubtedly one of the best places to get married!
We're not the only ones that think so. Hundreds of couples flock to the state each year to exchange their vows. Why? Mainly because it offers a little bit of something for everyone. 
Why Get Married In New York?
The Big Apple is filled with gorgeous locations to say your vows. There are rooftop settings that feel like Paris or a picturesque winery. Other spots offer views of your favorite iconic landmarks, such as the Statue of Liberty. Additionally, it's not hard to find a classy indoor venue that can be made into your dream setting for your nuptials.
New York has plenty of options if you desire a waterfront wedding or a rustic-inspired affair. The Catskill Mountains are stunning, particularly in the fall. Large green spaces, like parks, provide a blank slate for outdoor themes. Botanic Gardens, such as those in Brooklyn, don't even require you to travel upstate for a lush feel.
Of course, iconic New York City Hall always makes a perfect spot for those looking to get married in New York without having a full-blown wedding in New York. Whatever you and your partner desire, the Empire State has it! 
Top New York Wedding Venue Choices
If you need some inspiration for wedding venues in New York, look no further. These are our top choices for where to tie the knot in NY. 
American Museum of Natural History
To have your wedding here, you don't have to be a history buff. Its stately halls make for a lovely backdrop, and they offer on-site catering. If guests aren't wowed by the beautiful architecture, they certainly will be when taking in the colossal dinosaurs and other exhibits. It's the ideal spot for those who want something classically "New York City" but also unique. 
Brooklyn Winerygs for Women
Who knew you could feel as if you were on the hills of a Tuscan winery just by heading over the bridge to Brooklyn? It's a fantastic combination of chic and rustic. Urban touches blend with rich colors and lush foliage for an air of natural romance. The full-service team is a nice touch too. 
Glenmere Mansion
Just over an hour outside the city sits Glenmere Mansion, nestled in the rolling hills of the Hudson Valley. This historic estate has lovely gardens, fabulous guest accommodations, and a spa for a pre-wedding makeover. This is a must for New York wedding couples looking for a sophisticated venue that once hosted royalty. 
City Hall
When it comes to small wedding venues in NYC, you can't overlook City Hall. It's classic, chic, and affordable. You can get married directly in the City Clerk's office with only your closest friends and family. Plus, the incredible historic architecture, both inside and out, boasts a swoon-worthy wedding photo backdrop. 
The Plaza
From the Grand Ballroom to the Terrace Room, a wedding at The Plaza Hotel is like stepping back into history. Each elegant and grand space is perfectly equipped from floor to ceiling for your special day, including architecture, modern outfittings, and plenty of room for all your guests. 
New York Public Library
Bibliophiles will adore this venue, but so will anyone who appreciates classic New York City iconography. The New York Public Library boasts a charming and upscale feel for intimate weddings. Renaissance-style architecture, towering ceilings, and unmatched grandeur await! 
Weylin
Located in Brooklyn, Weylin is a restored historic building turned posh event space. The Rotunda is a unique feature to be admired by all your guests, as are the charming features, including mosaic marble floors and wooden carvings. Couples wanting a period or vintage wedding day should consider this venue. 
Tribeca Rooftop
Tribeca certainly makes every list of rooftop wedding venues in NYC with its sprawling view of Manhattan and its urban industrial vibes. Modern and trendy brides will be head over heels for the skyline backdrop that looks gorgeous day and night. Possible outdoor wedding venues in NYC don't immediately bring to mind towering buildings in the heart of the city. Still, the Tribeca rooftop may just have you rethinking your list. 
The Rainbow Room
The 65th floor of 30 Rockefeller Plaza in the center of Midtown Manhattan is home to the Rainbow Room, a glamorous upscale event space. It's one of the best wedding venues in NYC for couples looking for versatility. Well suited to both classic and contemporary, this gorgeous space can make all your wedding dreams come true. 
The Foundry
Industrial goes glam in the unique Foundry event space. As one of the most unique Long Island city wedding venues, your wedding will be a day to remember! Exposed brick walls, indoor balconies, and sweeping views of the skyline are the perfect features to achieve each couple's distinct vision. On the smaller side, couples looking for intimate micro wedding packages in NYC may want to consider this trendy venue. 
Tips To Keep In Mind When Choosing a New York Wedding Venue
Location: Location is perhaps the most crucial factor, especially for an outdoor wedding. The scenery plays an important role in the feel of your big day. Additionally, think about how easy it will be for guests to travel and stay near your venue. 
Style: Each venue offers a slightly different flair. Consider how the features of the space will work with your wedding theme and vision. 
Capacity: Do you want an intimate affair or a large-scale event? Capacity is often based on fire codes and cannot be changed, so choose wisely to accommodate your guest list. 
Budget: It is no secret that some venues are more affordable than others. Don't blow your budget on the location, as you will likely have less to spend on decor, food, and dress. 
Décor: Aside from thinking about how well the aesthetics mesh with your theme, you may want to check if the venue rents its own decor. Some locations may already have many features you like and can help cut down on decor costs. 
Hiring a Wedding Planner: Does the venue have a dedicated wedding theme? If you have a wedding planner, can they travel to your New York venue? New York City may be the City of Dreams, but it takes a specialist to make your dream come alive!
FAQs
How much does a wedding in New York cost?
The costs range wildly, varying from a couple of thousands of dollars to over fifty thousand. Generally, weddings in the metropolitan area of NYC cost more than upstate or rural venues.
Which is the best time to get married in New York?

Most couples opt for late spring into early summer. The state isn't too hot or cold, and the budding landscape offers gorgeous views. Fall makes an excellent next choice for your "I do" date.
Can you have a rustic-style wedding in New York?

Of course! Upstate New York offers more scenic, natural settings. However, you can also find rustic venues in the city's heart, such as the Brooklyn Winery, outfitted with foliage and natural decor.
Which months should be avoided if you plan to get married in New York?

Generally, you'll want to avoid the cold winter months. While the city blanketed in snow can be beautiful and locations may be more affordable, travel can be a nightmare. The chilly temps also limit you to indoor venues only.