A Guide to Simple Promise Rings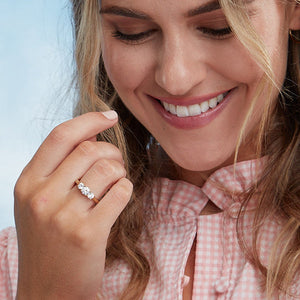 What are Promise Rings?
A promise ring is given to a partner as a gift to show your commitment to a monogamous relationship. These days, people use it as a precursor to engagement. In simple words, the promise ring symbolizes the love and commitment between the woman and man. It shows that couples are ready to spend their entire life together and support each other in difficult times.
Elegant simple promise rings are not a new concept. In fact, history shows that they have been around for a long time. During the 2nd century BC, promise rings were worn by Roman brides. This was because Roman law stated that couples need to wait for a certain period of time before getting married.
What Options Do You Have?
It's best to opt for promise rings that are simple so that your partner can wear them regularly. You can choose between white or yellow gold metals or even rose gold for something more unique. You need to pick them based on your budget, preferences, and your partner's choice. All these metals are super durable and offer you high-end designs.
Besides that, you also need to choose between lab and natural diamonds. Natural diamonds are mined from the earth. On the other hand, lab diamonds are made from the same material, i.e., carbon, but in labs. They have the same physical, chemical, and optical properties as natural diamonds.
We ensure that all our rings are created with diamonds that are ethically sourced from vetted diamond cutters. Our Preset Rings have a guaranteed minimum color and clarity and our build your own rings ensure that you can choose a center diamond to be the start attraction of your promise ring.
Tips to Consider Before Choosing a Simple Promise Ring
Metal
White gold is a classic choice that is versatile and matches with all outfits and other jewelry types. Yellow gold is a traditional choice that can have benefits like making diamond shine brighter due to the color contrast. Finally, rose gold is a on trend and warm romantic tone that looks beautiful on all skin tones.
Setting
There is a great range of ring settings available in the market. Whether you are looking for promise rings for men or women, here are some ideal options for you:
Prong Setting
Channel Setting
Bezel Setting
Gemstone
Need amethyst, aquamarine, period, moissanite, or a real diamond promise ring? It's important to decide which type of gemstone will suit your partner's personality and which can define your relationship with your partner.
Budget
Of course, you need to estimate how much you can afford before making a decision. If you are on a budget, it's best to look for brands that offer quality promise rings at different prices, like With Clarity.
The symbolism behind the design
You need to think about the message you want to give through the ring. Every ring style, stone, and ring color symbolizes something. You need to pick a ring that purely indicates the way you feel for your partner.
FAQs
What Finger do You Wear a Promise Ring on?
You can wear a promise ring on the ring finger of both hands. If your partner has given it to you as a symbol of future commitment, you need to wear it on your left hand.
How Long Should a Couple be Together before a Promise Ring is Given?
You can offer a promise ring after six months to a relationship of one year.
Do both Partners Wear Promise Rings?
Yes, both partners can wear promise rings. In fact, couple promise rings are pretty popular.
Can Any Ring be a Promise Ring?
There is no exclusive design and style for the promise ring. You can purchase luxury to basic promise rings that are no different from other types of rings.
Is Promise Ring the Same as Purity Ring?
A purity ring is offered to a partner to promise to remain pure till the couple gets married. It's a way couples use to stay celibate until marriage. A promise ring is used to remain faithful to your partner and show your commitment to them.