Engagement Ring Etiquettes: What Are They, and What You Need to Know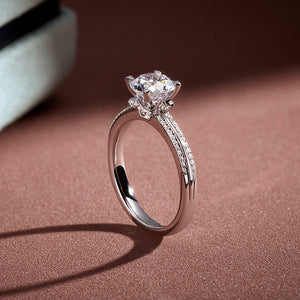 The manners and traditions associated with giving and wearing an engagement ring are referred to as engagement ring etiquette. It is a crucial aspect of the engagement process that anyone thinking about proposing should take into consideration.
TABLE OF CONTENTS
Engagement ring etiquette may help make sure that the proposal is a special and meaningful experience, from choosing the ideal ring to wearing it on the finger properly. In this blog post, we will explore some of the most important aspects of engagement ring etiquette and cover everything you need to know.
Who Pays for the Engagement Ring?
Traditionally, the man has been expected to pay for the engagement ring as a symbol of his commitment to the relationship and his ability to provide for his future wife. But since societal attitudes have changed recently, many couples are opting to divide the cost of the engagement ring.
Some couples may also opt for a more personalized approach, with the ring being passed down from a family member or chosen for sentimental reasons. Ultimately, the decision of who pays for the engagement ring should be a mutual agreement between the couple, taking into account their financial situations and priorities.
How Much Should You Spend?
It can be challenging to decide how much to spend on an engagement ring. Although a traditional guideline is to spend around two or three months' worth of a salary on the ring, this of course isn't a strict rule. Your own financial situation is the most important aspect to consider while creating an ideal budget for your ring. The last thing you want to do is put yourself and your partner under financial strain by purchasing a ring that's out of your budget. Communicating with your partner will help determine what your budget is in the first place.
It's also good to take into account the current market trend and compare the price of the ring with similar ones in the market. Always keep in mind that your love for one another is more significant than the ring, which is merely a symbol of your commitment to one another.
Tips for Choosing a Ring
Choosing the perfect engagement ring for your partner can be a daunting task. One of the most important things to consider is your partner's personal style. It helps to think about the types of jewelry that they already wear. Their lifestyle is also a factor. For example, if they have a job that requires them to use their hands a lot, a ring with a lower profile or a more durable metal might be a better option.
The 4Cs of a diamond—carat, cut, color, and clarity—must be understood to make the most informed decision. Researching the many kinds of metals and gemstones that are offered, as well as their relative toughness and cost, is also a smart idea. If your partner wants a diamond, do you know if they prefer earth-mined, or lab diamonds? It's best to communicate with your partner about the specifics so you can be sure that you're getting something they will love.
Another tip is to take your partner's ring size into account. If you're unsure of their ring size, you can contact a jeweler for a ring sizer or try to find a ring that they currently own and use it as a reference.
Engagement Ring Etiquette Dos and Don'ts
When it comes to the engagement ring, there are a few dos and don'ts to keep in mind. One of the most important things to keep in mind is to keep the proposal a surprise. Another good etiquette that might not matter to everyone but many still care about is to ask for the blessing of your partner's parents before proposing. This shows respect for family tradition and can also be a nice way to include them in the process.
When it comes to the actual proposal, it's necessary to make sure that the ring is properly sized and fits comfortably on the finger. Consider getting the ring resized if needed. It's beneficial to insure the ringand to keep all the documentation and certificates that come with the ring in a safe place.
On the other hand, it's not appropriate to propose with a ring that you can't afford or that puts you under financial strain. Also, it's not right to pressure your partner into accepting a ring they don't like or to make them feel guilty for not liking the ring.
Ultimately, engagement ring etiquette is about showing love, respect and consideration for your partner.
The Takeaway
In conclusion, choosing an engagement ring involves a balance of tradition, personal preference, and budget. It's important to communicate openly with your partner about finances and to consider their personal style and lifestyle when selecting a ring. Remember to keep the proposal a surprise and to show love, respect and consideration for your partner, their family and the tradition surrounding the engagement ring.
Keep in mind the 4C's of a diamond and avoid proposing with a ring that you can't afford. And most importantly, remember the ring is just a symbol of your love and commitment, what truly matters is the love you have for each other.
FAQs
Would my partner mind if I suggest an engagement ring design?
It depends on your partner's preferences. It's best to first communicate with your partner and ensure they feel comfortable with your input in the ring selection process.
Is there an easy way to figure out my partner's ring size?
One way to figure out your partner's ring size is to secretly borrow one of their existing rings and take it to a jeweler for measurement, or use a ring sizer.
Is it mandatory to spend 3 month's salary on my partner's engagement ring?
No, it's not mandatory at all. The most important thing is to spend an amount that is comfortable for you and your partner.
Who keeps the ring if the engagement is called off?
The person who initiated the engagement usually keeps the ring, but it depends on the specific circumstances.