A Floating Halo Is Gorgeous, But Might Not Fit Your Lifestyle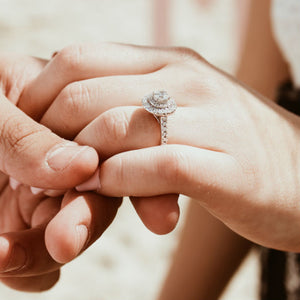 The "floating halo" might sound like a legendary boxing maneuver or a particularly effective cocktail. And it might well be! But if you're right here right now, chances are you're interested in buying the perfect engagement ring — and learning about the floating halo will get you closer to your goal. See, the halo is one of the most popular engagement ring styles. And choosing a floating halo might lend your selection the perfect level of personalization. How to know? Just read on.
TABLE OF CONTENTS
What is a floating halo?
In a halo setting, the center stone is encircled by a ring — or halo — of small accent stones. The halo style has a number of benefits. The first is impact — namely that the ring of accent diamonds can make the central diamond seem larger than it actually is, creating a field of sparkle.
In a floating halo ring, the center diamond is separate and distinct from the halo accent diamonds, with the focal diamond positioned above the halo, when you're examining it head-on.
Benefits of a floating halo
What are the advantages of a floating halo setting, in which the circle of accent stones is appreciably separate from the central diamond? First, it makes the center stone the true center of attention. At the same time, the accent stones' role as accentuator is maintained, and perhaps enhanced — they draw attention to the main attraction. That's particularly true in the floating halo's tiered approach; they provide bright shine and sparkle, but from two distinct physical levels.
A floating halo setting will give your ring more dimension, allowing more light to hit your center diamond. Multiple dimensions are a key unsung bonus to this setting: Generally, a floating halo will allow room for a wedding band to sit flush against the engagement ring.
Things to consider before getting a floating halo
Before you commit to a floating halo setting, remember: A floating halo will make your ring considerably high-set. That may not be right for some lifestyles and careers. If you have a particularly active job or hobbies in which your hands see a lot of contact, a floating halo setting can get caught on clothing and other objects, and it could scratch you.
If you're a doctor, a nurse, or an athlete, for example, you may want to check out our Engagement Rings for Doctors and Nurses, which feature low-cut settings that can weather high impact. And for a complete breakdown of the differences in the height of settings, check out our guide to high setting vs low setting engagement rings.
Price of a floating halo
Good news, if you're interested in a floating halo: The floating part of a halo setting doesn't automatically cost more. Instead, the price comes down to how many accent diamonds are used in the setting. Flush halos — the opposite of the floating halo — can use just as many accent diamonds, so you're unlikely to see a huge price difference between the two.
Ready to start shopping? We're here to walk you through the process. At Four Mine, our expert staff gemologists are highly experienced in working with couples to find the right ring for everyone. They can walk you through a diamond's GIA certificate — which lists the carat weight of a diamond and its accent stones, plus ratings on various qualities — so you'll know how to best concentrate your budget.