Best for a budget-conscious couple: Moissanite Rings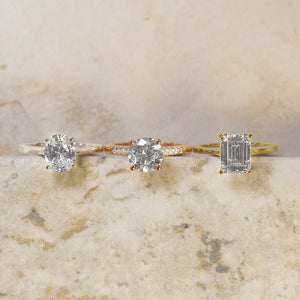 Now that you've found the partner of your dreams, it's time to announce your intentions--perhaps with a moissanite ring. We get it, when times are tough, finding a ring your partner will love, on a budget, is more important than ever. While some couples are meeting their budget with colored gemstone rings, others prefer something more traditional. After all, white goes with everything. If you want a high-quality white stone ring that meets your budget, consider moissanite. Let's talk a bit about this unique, white gemstone and what your moissanite ring options are at With Clarity.
Budgeting for an Engagement Ring
Before you even start looking for an affordable engagement ring, it's important to know how much you should spend. At the same time, you should know your partner's taste well enough to have an idea of what you can buy with your budget. Does your partner want something understated, yet elegant? Sophisticated metalwork? Tiny diamonds to go with a larger center stone? Are there any practical considerations? This information, in addition to affordability, should help you decide on a budget.
Why is it important to stick to your budget?
Once you've decided on a budget, it is important to stick to it. After all, nothing is worse than buying a diamond engagement ring you cannot afford, and your partner will not appreciate. Think about it this way: spending too much money on the ring will give you less money for the wedding. Worse, it can land you in potential debt. If your partner is the thrifty sort, they will object to the amount of money you spent on rings. Throw in some regret at spending so much money, and you have a disaster.
How much does the average engagement ring cost?
Prices paid for engagement rings vary widely, with some couples spending under $1,000 for some gemstone rings, all the way up to millions for the diamond, ruby, and sapphire variety. However, the average spent on engagement rings sits at around $5,900. Couples can find that figure to be out of their budget, so they will need more affordable options. One alternative is lab diamond rings, where the prices are lower while still featuring a genuine diamond.
Why to know you/your partner's gemstone preferences
When deciding on your budget, you should consider if your partner would approve of lab created diamonds or colored gemstone wedding rings. Although lab created diamonds are real diamonds, they have a different origin than mined diamonds. Moreover, this conversation also aligns with mined colored gemstones vs lab grown gemstones. Sometimes, it's okay to spoil the surprise when looking for the perfect ring.
Moissanite Rings: a popular option
Increasingly though, couples are considering moissanite engagement rings to help keep the cost down. Generally speaking, moissanite is a colorless gemstone that looks like a diamond. Couples can pick up a large moissanite at an affordable price. If your partner likes statement rings, but you don't have much money, this is a great option to consider.
Chemically, moissanite is a gemstone called silicon carbide. It was first found in nature by Henry Moissan. He was exploring an Arizona meteorite crater during the late 1800s, and initially thought he had found diamonds. Later on, they discovered that the crystals were a different mineral. Later on, it would be named for Dr. Moissan and produced in a lab. Since it is a manufactured gemstone, consumers can easily buy an affordable moissanite engagement ring.
Not only does this gemstone look like a diamond, but it's nearly as durable. It's partly made of carbon, lending it similar optical properties. However, its greatest asset besides appearance and price is durability: moissanite is the second hardest gemstone in the world, at a 9.5 hardness rating. For that reason, moissanite wedding rings in a good setting will last for many years. With all these benefits, it isn't surprising that more and more couples are choosing to purchase moissanite solitaire rings.
Shop Moissanite Solitaire Rings
Choosing a White Stone: moissanite vs. diamond
Now that you understand what moissanite is, let's look at how it compares with other affordable engagement ring options.
Moissanite vs. lab diamond
Lab made diamonds are real diamonds, because they are crystals of pure carbon. They also have the same hardness as a natural diamond, along with the same optical properties. Typically, lab diamonds are 15-30% cheaper than their mined counterparts. This is due to nearly unlimited supply, shorter supply chains, and reduced cost of production. Lab created diamond rings are a great option for couples looking to save a little money while still buying the "real thing." They are neither natural diamonds nor cubic zirconia.
On the other hand, moissanite has a different chemical composition, along with slightly different optical properties. To the untrained observer, there's generally no difference in terms of how that oval moissanite engagement ring looks on the hand when compared to its diamond counterpart. However, the price tells a different story. If you want a 2 carat moissanite ring, you will save a ton of money. In fact, for a round moissanite stone that size, you can expect to pay around $1,900, while the natural diamond will set you back over $11,000. Remember, you'll spend 15 to 30% less for the lab diamond, which would be around $8,000 to $9,500. Either way, the savings are significant.
Moissanite vs. natural diamond
In addition to the differences from lab diamonds, a natural diamond is not man made. Rather, it is mined from the earth. It's also the most expensive option. If you want an inexpensive natural diamond ring, you'll need to choose one with very small stones.
Want a little bit of both worlds? Think about one of our moissanite diamond rings, which uses moissanite like a colored stone in the middle.
Among the more popular options include moissanite halo engagement rings, which you can find on our website. We also offer lovely rose gold moissanite engagement rings if that's the preferred style.
Tips on picking a white stone
At the end of the day, our advice is simple: pick something that you can afford, and that your partner will love. Whether it's cheap moissanite rings that still hold the "wow" factor or a sweet lab diamond ring, you need to remember your loved one will wear it for a lifetime. We love the fact that you can buy a moissanite solitaire for affordable prices, whether it's an emerald cut moissanite ring, a pear cut moissanite ring, or something else entirely. No matter your taste and budget, we'll be happy to give you the advice you need without all the pressure. Contact us by phone at 1(844)-234-6463 or email at service@withclarity.com. Our Live Chat is available during business hours Monday - Friday, 10 AM - 5:30 PM ET.