Rose Gold Trends, Styling & Popularity
By:

Editorial Team
Read Time:

3 mins
Metal Education
May 26, 2023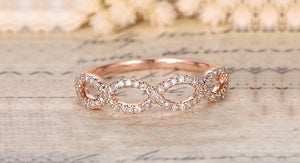 Popularity and Trends in Rose Gold Rings
Getting engaged is a milestone moment in any relationship and what better way to cement the union than with a beautiful ring? There's a plethora of engagement rings to choose from, including traditional yellow gold rings, precious platinum and fashionable rose gold rings. Engagements are also synonymous with sparkling diamonds and for a real showstopper rose gold diamond rings are hard to beat.
About Rose Gold
Rose gold rings are made up of copper and gold – blended to create a metal alloy that (as the name suggests) has an attractive rose colored hue. The composition of 14kt rose gold is typically 58.5% gold and 41.5% copper and silver. 18kt is 75% gold and 25% copper and silver. The mix of copper with gold dictates the actual shade you end up with – ranging from an orangey tint to a pinker tone and through to a more prevalent red tinge. The dusky pink variety has seen a sharp rise in popularity and is now viewed as an on-trend alternative to yellow and white gold. You will see many a bride-to-be sporting dazzling rose gold diamond rings alongside their wide smile, as they happily share the news of their engagement.
Rose Gold Popularity
Rose gold became all the rage in Russia back in the 1800's (it was so popular there that it was once known as Russian gold). Then, in the 1920's Louis Cartier created the coveted Trinity ring, bravely mixing white, yellow and rose gold in a unique intertwining design – said to denote harmony. Rose gold rings have since become very popular and aside from engagement rings you will find a whole host of jewelry available in this stylish tone. From elegant wedding rings to voguish watches and smart bangles – rose gold is currently bang on trend.
Rose gold seems to be featured everywhere at the moment, you will find it on the catwalk, being sported by sleek models and teamed with designer apparel. It seems that celebrities are determined not to be left out either and are intent on celebrating their forthcoming nuptials by showing off amazing rose gold diamond rings.
The current appeal of rose gold rings may also be due to people seeking to move away from tradition and convention. Gone are the days of the classic large white wedding complete with church, standard vows, three tier iced cake and bouquet throwing. Not that are is anything remotely wrong with following the traditional route. It's just that today there's a whole new world of wedding choice – which extends to a vast selection of engagement rings and wedding rings. Rose gold has a subtle beauty and warmth, the pinky color no doubt conjures up images of romance. No wonder it's been one of the favored styles when it comes to engagement rings.
How To Wear & Show Off Rose Gold Rings
Traditionally there were two camps of jewelry aficionadas – those who prefer gold and those who champion silver. Preference can be based on personal taste, budget and even the tone of your skin. Some feel that yellow gold and silver are a little harsh against their skin. However, rose gold seems to have the uncanny ability to suit many people. It could be that rose gold comes from a subtler pallet, offering a more muted, yet still classically chic look.
In terms of engagement rings an "on-trend" look is not just for the young fashionistas of the world. Due to the ease of wearing rose gold and its ability to suit almost anyone rose gold diamond rings are increasingly being chosen. The eye-catching sparkle of the diamond is the perfect partner for the understated elegance of the rose gold.
Rose gold may be unique in its appearance but that doesn't mean you should be scared of what to team it with. You can work the look to great effect by mixing your metals. Think back to that Trinity ring, was Cartier concerned that yellow gold, rose gold and silver would clash? Absolutely not! The ring was considered an iconic design and helped to put rose gold rings firmly on the map.
As for your wardrobe try and complement your rose gold rings and jewelry with accessories that carry a copper hue. The warm color of the copper should be a great match for rose gold – think copper colored shoes (which are also on trend right now) teamed with rose gold bangles and rings for a look that screams "I can rock this trend."
Clothing wise you can play it safe by teaming rose gold rings with colors in a similar pallet – think earthy browns and dove grey. Or you could be a bit braver and plump for a bit of a contrast – turquoise can really add depth to your look and highlight your rose gold jewelry perfectly.
Final Thoughts on Rose Gold
Rose gold is a great choice. It hits the right notes in the fashion stakes and suits a whole variety of people – regardless of hair color and skin tone. You can match it with plenty of other jewelry and showcase it with varying garments from your wardrobe. We can confidently say that rose gold rings are for anyone. If you are fortunate enough to be getting married and are looking at engagement rings, look no more. Rose gold diamond rings are real statement items and offer a fantastic way to declare to the world "We are in love and are getting married."
Shop Rose Gold Rings
Use left/right arrows to navigate the slideshow or swipe left/right if using a mobile device