How to Wear an Anniversary Band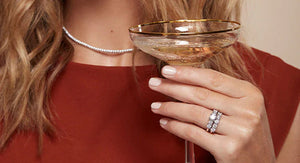 When you set the date for your special day, one of the most exciting things is the rings. Specifically, your wedding and engagement ring. There is nothing like the experience of picking out the symbols of the love that you and your partners share. But did you know that the symbols don't stop there?
Couples often wonder what they should get for their significant others to commemorate the day of their union each year. But not many know there is such a thing as an anniversary band. So, let us tell you more about anniversary bands, and see if they might be suited for you and your significant other for your anniversary this year.
What is an Anniversary Band?
What is an anniversary band? It is not as complex as you might think. It is very similar to a wedding band. However, it is used to represent the time you and your partner have spent in a committed relationship with each other, and the time you will continue to spend, rather than representing your union as spouses.
Which spouse gets the anniversary band? It can be either or both! In some cases, it is a gift for women. But many couples like to get matching anniversary bands, just like some get matching wedding bands. So, it makes a great anniversary gift for everyone!
When is an Anniversary Band Purchased?
As many married couples may (or may not) know, there are certain gifts that many couples give at certain anniversary milestones throughout their marriage. For instance, the second anniversary is the "Cotton Anniversary," where partners get one another something made of cotton. The third is leather, the fourth is flowers, and so on. Of course, some couples prefer to forego tradition and get each other special, more tailored gifts.
Anniversary bands are no different in this regard! Some couples choose to use anniversary bands to celebrate big milestones, such as the 10th, 25th, etc. Or they opt to mix things up and give them as gifts on interim anniversaries. There are no steadfast rules that dictate when you can/must give anniversary bands. Here's a hint: that means they make wonderful surprise anniversary gifts. So don't be shy about getting diamond anniversary bands.
How is an Anniversary Band Different from a Wedding Ring?
It all depends on you, and your specific tastes. Jewelry is your accessory, to wear and use as you see fit. Let your personal style be your guide! For example, with anniversary bands for her, she might wear them as follows: on the opposite hand from her engagement/wedding rings, in a trio with her engagement and wedding rings, or as a replacement for her wedding band, while she stores her wedding band somewhere special.
Please note that different styles, such as a simple, 14k white gold anniversary band, could be worn in a completely different way (i.e., on a completely different finger, like perhaps the thumb. Or for an anniversary band with gemstone settings (3-stone, encrusted, etc.) might be worn on the middle finger. Ultimately, it is up to you and your beloved.
Matching Anniversary Bands & Engagement Rings
This also depends on your personal preference. An anniversary band that matches your engagement/wedding rings is beautiful, classy, and it certainly adds to the bling you show the world that tells them that you share your life with someone. However, it can be completely different from your other rings. Or it could be complimentary, without being compatible. It's up to you. Work with our gemologists to see if there is an anniversary bands stack that will match well with your engagement ring and wedding band. Looking to have your anniversary band stand out, you can choose an alternative metal color or something with larger accent diamonds.
What is the Symbolism Behind the Anniversary Band Designs?
There aren't multiple meanings behind the anniversary band. In truth, its symbolism is in its in a name. The anniversary band symbolizes, you guessed it, your anniversary. More complex symbolism comes with engagement or wedding rings. However, we do have a tiny suggestion. A clever idea for an anniversary band for her (or for him, as well) would be to choose a style that has one stone set in the band for every year you have been married. This makes for a memorable 5 year anniversary band. With Clarity has a full range of 5 stone anniversary bands, that are available set with lab grown diamonds or natural diamonds.
How Do You Clean and Care for Your Anniversary Band?
Any time we get a new piece of jewelry, one of our first concerns is how to care for it. Fortunately, cleaning your anniversary band does not have to be any more difficult than cleaning any of the rest of your jewelry. We recommend good old-fashioned soap (non allergenic AND mild, so it doesn't react with the metal in your band) and warm water. However, if you have a trusted jewelry cleaner that isn't harsh or abrasive, you may use that, too.
For dirt and debris that gets in the hard-to-reach crannies around the gemstones, you can either speak with your local jeweler about an appropriate jewelry brush, or you can buy a super soft-bristled toothbrush and use that. In any case, cleaning your anniversary band, no matter what style or stones you choose, will be easy and painless.